11 March 2021 | Aschaffenburg
bayernhafen Aschaffenburg – robust in times of crisis thanks to skill at developing interfaces
2020 financial year: 1.22 million tonnes of goods moved by inland waterway and rail – up 3.3% on 2019; bayernhafen invests € 10.6 million; jubilee year 2021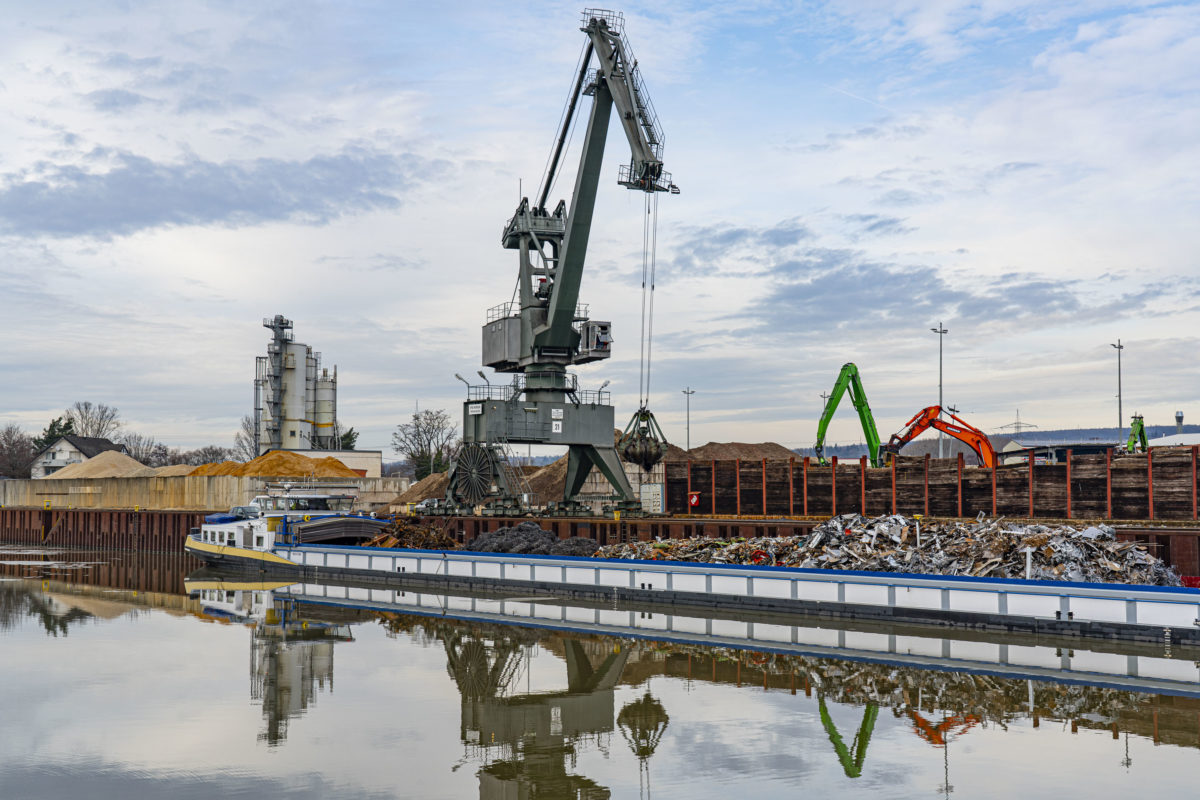 Aschaffenburg, 11 March 2021 – bayernhafen Aschaffenburg brings together a highly diverse range of goods and shifts long-distance traffic from the road networks to the two environmentally friendly transport modes of inland waterway and rail. Even – and indeed, particularly so – in times of crisis, we must be able to rely on the steady supply of the goods that meet our daily needs and that companies in Bavaria can continue to deliver their products to their customers. In the 2020 financial year bayernhafen Aschaffenburg moved 1.22 million tonnes of goods by inland waterway and rail – a 3.3% increase on 2019, corresponding to around 200 fewer truck journeys per day.
"
We join forces with our customers – the companies operating from our ports – and other partners to maintain essential transportation and handling operations as well as to carry out pioneering projects.
Anja Bokeloh Head of Technology and Operations
Although cargo and freight handling fell by 6.6% in 2020 to 685,751 tonnes, rail freight handling grew by 86,641 tonnes to 534,106 tonnes – a significant increase of 19.4% on 2019.
Goods such as fuels, rail sleepers, timber, metals and construction materials, as well as industrial goods such as machinery and control cabinets are transported by inland waterway and rail. For example, Blasius Schuster delivers raw materials by block train once a week to bayernhafen Aschaffenburg from the sand pits in East Thuringia and Saxony Anhalt. In the other direction, the train transports treated soil back to Thuringia, where it is used to restore the open cast mining areas.
In combined transport, 17,278 TEU (twenty-foot equivalent unit) were handled, 11.8% less than in the previous year. In addition to the transport of containers to and from the North Sea ports, in October the freight forwarder pe.tra transalp started transporting semi-trailers by rail. The new freight train connects the TCA container terminal in bayernhafen Aschaffenburg to Novara in North Italy, relieving the pressure on the motorway networks over the Brenner pass – by 32 trucks in each direction and round trip.
"Supply chains that work are essential for our society," says Anja Bokeloh, Head of Technology and Operations at bayernhafen Aschaffenburg, "Functional port operations are indispensable, particularly in such challenging times as these. We join forces with our customers – the companies operating from our ports – and other partners to maintain essential transportation and handling operations as well as to carry out pioneering projects.
Along with Bamberg, Nuremberg and Roth, Regensburg and Passau, bayernhafen Aschaffenburg is one of the six bayernhafen locations. Even in times of crisis, through its skill in developing interfaces, bayernhafen continues to achieve its goal of furthering the modal shift, because the ability of the bayernhafen locations to efficiently link the different transport modes enables businesses to opt for rail and inland waterway as alternatives to long-distance transport by road. Through this strategy, bayernhafen is making a key contribution to tapping the full potential of the different transport modes. This takes pressure off the road networks and reduces CO2 emissions.
Port infrastructure optimised
In 2020, bayernhafen once again maintained the high level of investment it had made over the previous years, investing around € 10 million in the redevelopment of bayernhafen Aschaffenburg's commercial sites and port infrastructure, such as in the redevelopment of quay 1.
In February 2021, work commenced on the modernisation of the port marshalling yard. In addition to the redevelopment of the points and the rail facilities in the port marshalling yard, the mechanical signalling will be replaced with a state-of-the-art signalling control centre. The objective is to improve operational safety and flow along with a reduction in noise and acoustic emissions. bayernhafen provides ongoing updates on its website about the work it is carrying out throughout the numerous construction phases.
"
Alongside our core business, we are also doing our bit to protect biodiversity. An exceedingly timely combination in the jubilee year
Alexander Zeiger
Head of Real Estate Business
New companies
OWA Odenwald Faserplattenwerk GmbH uses bayernhafen Aschaffenburg as the central cargo handling facility to supply its factory with materials, investing in a new depot for storing its most important raw material, perlite, which is used as a natural filling material in the production of ceiling panels. Construction on the depot commenced in October 2002 and is due to go into operation in April 2021.
New pier for river cruise ships
The Floßhafen municipal pier in Aschaffenburg has been operated by bayernhafen since 2019. During the 2020 financial year, 44 cruise ships docked at the port. In 2020 a dedicated pier for passenger ships was constructed in bayernhafen Aschaffenburg – in Werftstraße on the river Main – in order to relieve the inner-city berth at Floßhafen of solely ship-to-bus transfers. The new pier in bayernhafen Aschaffenburg is primarily geared towards cruise ship operators whose passengers would like to explore the sights in and around Aschaffenburg by bus, acting as a practical extra opportunity to do so.
Protecting biodiversity through habitat corridor concept:
Connecting habitats ensures that animal species can survive – because when animals are able to bridge the areas between the various habitats, they can establish contact and ensure their populations thrive. bayernhafen Aschaffenburg is now implementing a "habitat corridor concept." This involves developing land that is not used for commercial sites and temporary brownfields into biodiversity offsetting areas and transferring endangered species to these sites. The core areas are connected in the port via corridor structures along the railway land and quay walls.