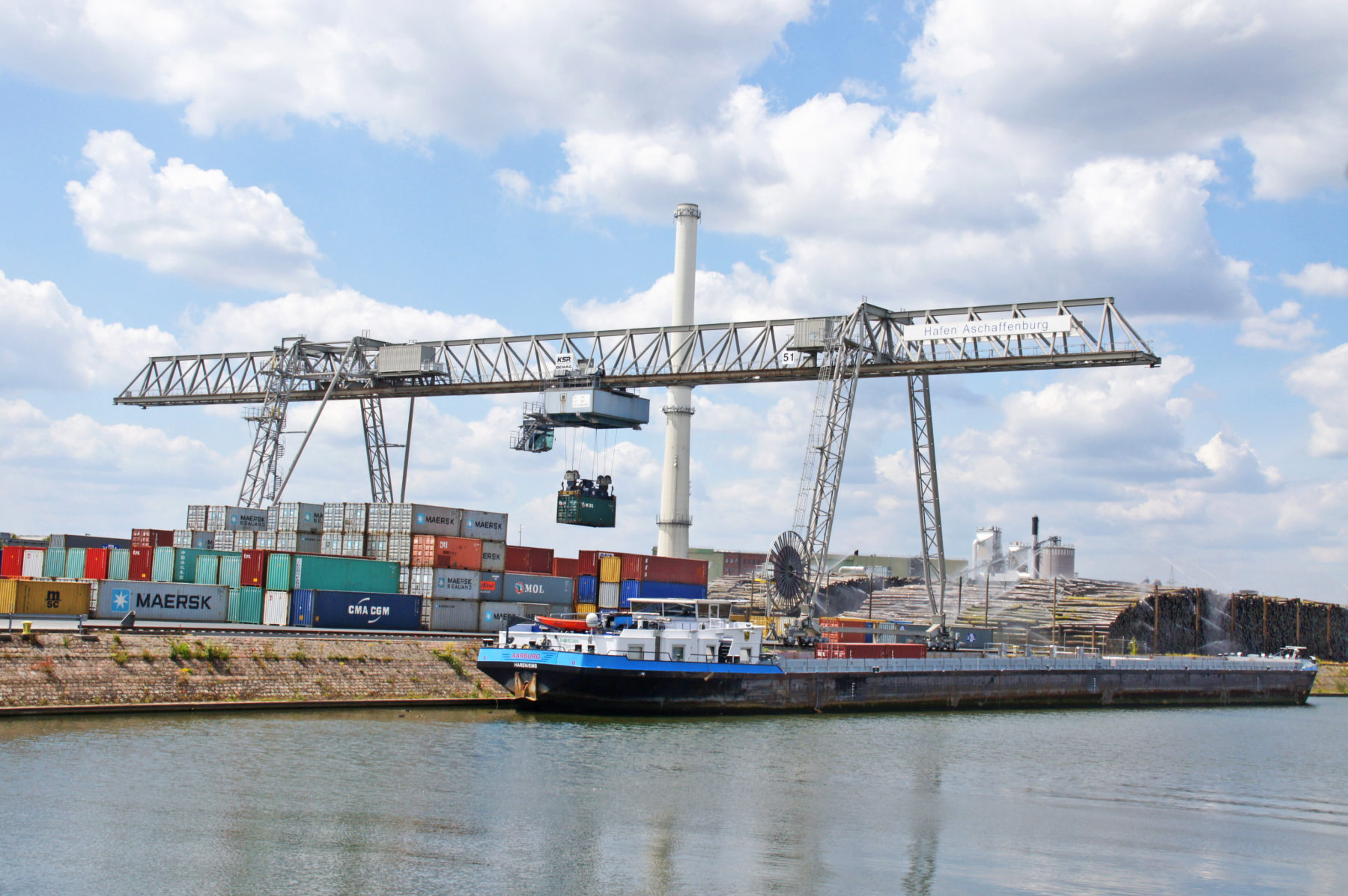 Logistics hub for the Bavarian Rhine-Main region
bayernhafen Aschaffenburg efficiently links the transport routes of inland waterway, rail and road, and is the key logistics hub for the Bavarian Rhine-Main region. It makes a significant contribution to the supply of goods to the region's inhabitants and businesses and provides regional companies with seamless access to international transport networks.
Aschaffenburg is a successful example of bayernhafen's "land recycling instead of land consumption" strategy: where required, land is prepared for new forms of use through intelligent land management. For decades, the port was home to an electricity power station and switching facilities. After the power station was decommissioned and the switching station was considerably reduced in size, at the beginning of the new century, bayernhafen succeeded in converting the site into a commercial area offering a diverse range of uses.
Handling by rail & water
1220000
tonnes
Road journeys saved:
71000
per year
Our high-performance infrastructure provides you with non-discriminatory and cost-effective access to the three equal modes of transport rail, road and inland waterway.
Furthermore, we efficiently manage the basic infrastructure such as the electricity network, water supply and sewerage system.
In order to provide the companies operating from our port with the best possible connections and accessibility, we permanently invest in the development of our infrastructure.
Should you experience any disruption or impediments when using our infrastructure, we can be reached around the clock via our location-wide hotline.
Central Disruption Management Infrastructure:
Accident Reporting Line (24 hr)
Phone 0800 7240 320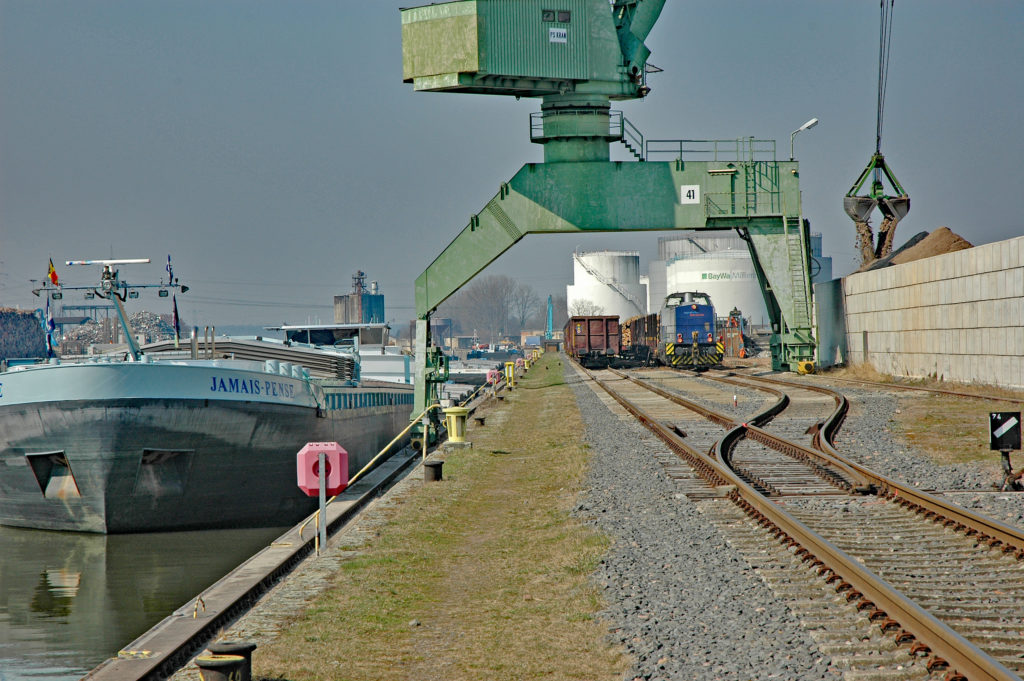 bayernhafen Aschaffenburg provides two docks and six quays with eleven cargo handling zones to handle your ship's cargo.
bayernhafen Aschaffenburg maintains a high-performance publicly accessible rail infrastructure network complete with port marshalling yard, signalling control centre and a total of 24 kilometres of rail network for the companies operating from its location. A trimodal CT terminal complements the infrastructure.
Our generously dimensioned track facilities in the crane section and the freight yard enable easy shunting, assembling, loading and unloading of block trains. Block trains of up to 700 metres in length can enter and leave the freight marshalling yard in our port.
Almost 90% of bayernhafen's land and four of the five quays are linked by rail to the port railway system.
bayernhafen Aschaffenburg is connected via Aschaffenburg Central Station to the trans-european rail network.
Our service facilities include workshops, which we rent to authorised persons subject to advance scheduling.
An infrastructure use agreement must be entered into prior to using the rail infrastructure service facilities.
bayernhafen provides its infrastructure to rail transport companies (RTCs) on a non-discriminatory and fee-paying basis. The RTCs are responsible for managing freight train transfers between the station and the port along with shunting operation within bayernhafen Aschaffenburg's railway infrastructure. A number of RTCs offer rail services at the location. We will be more than pleased to coordinate your enquiry.
The following RTCs offer rail services at our Aschaffenburg location:
IGE GmbH & Co. KG
Bahngelände 2 II. Stock
(Railway Station Hersbruck r.d.Peg.)
91217 Hersbruck
DB Cargo
Mainzer Landstraße 185
60327 Frankfurt
Starkenberger Güterlogistik GmbH
OT Kraasa
Gewerbegebiet 1
04617 Starkenberg
SGL – Schienen Güter Logistik GmbH
Fraunhoferstraße 9
85221 Dachau
Contact person

Facts & figures
How did bayernhafen Aschaffenburg develop last year? Which goods did it handle most?
Find answers to these questions and the most important facts and figures here.
Modal shift 2020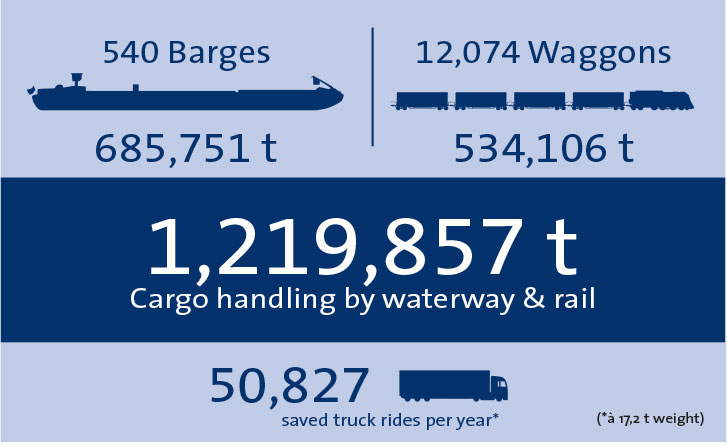 Inland waterway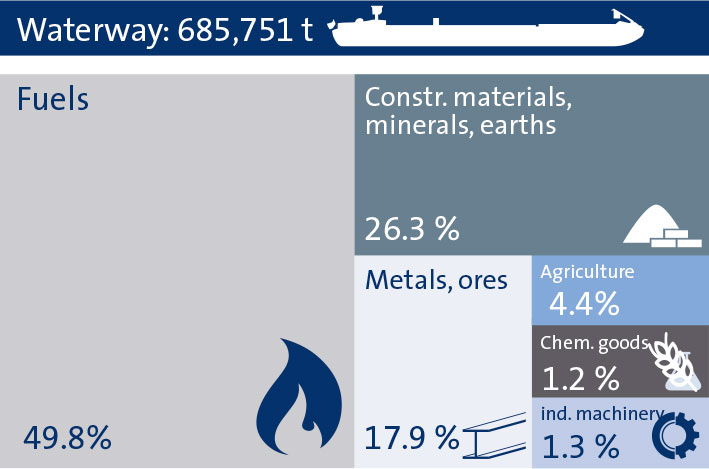 Rail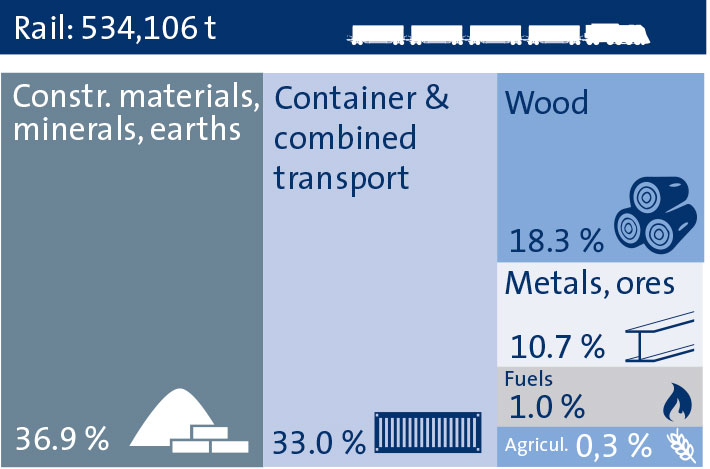 Contact persons