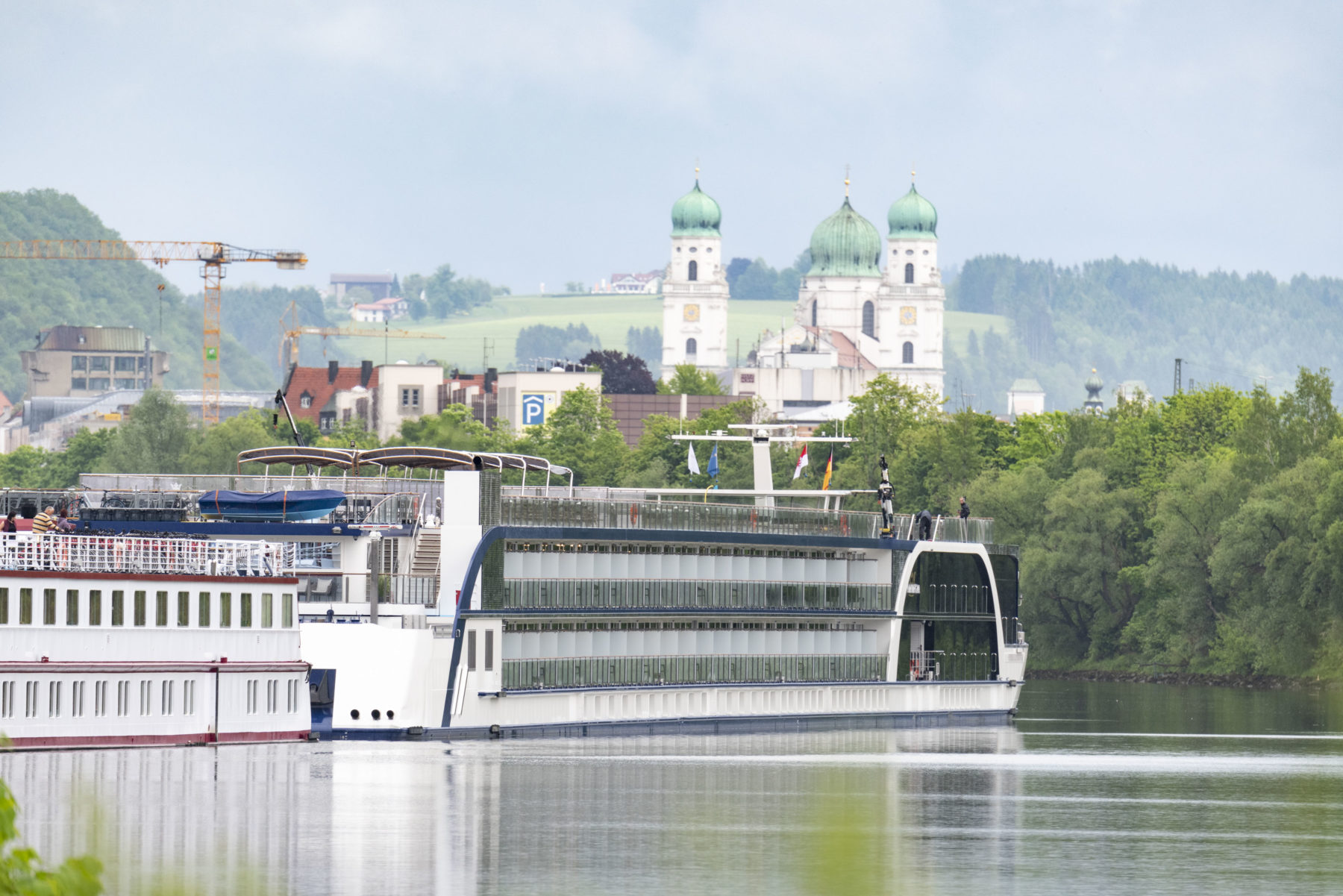 bayernhafen
         cruise services
With piers for river cruise ships in Aschaffenburg, Bamberg, Roth, Regensburg and Passau, we offer you five locations in Bavaria from a single source. This gives you a decisive advantage: whether you want to call in at one or a number of ports, make a short stop to let passengers board and disembark or intend to lay anchor for longer, bayernhafen is your first port of call. While your guests enjoy their time on shore, we and our partners replenish your freshwater tanks or ensure the proper disposal of your refuse and waste water: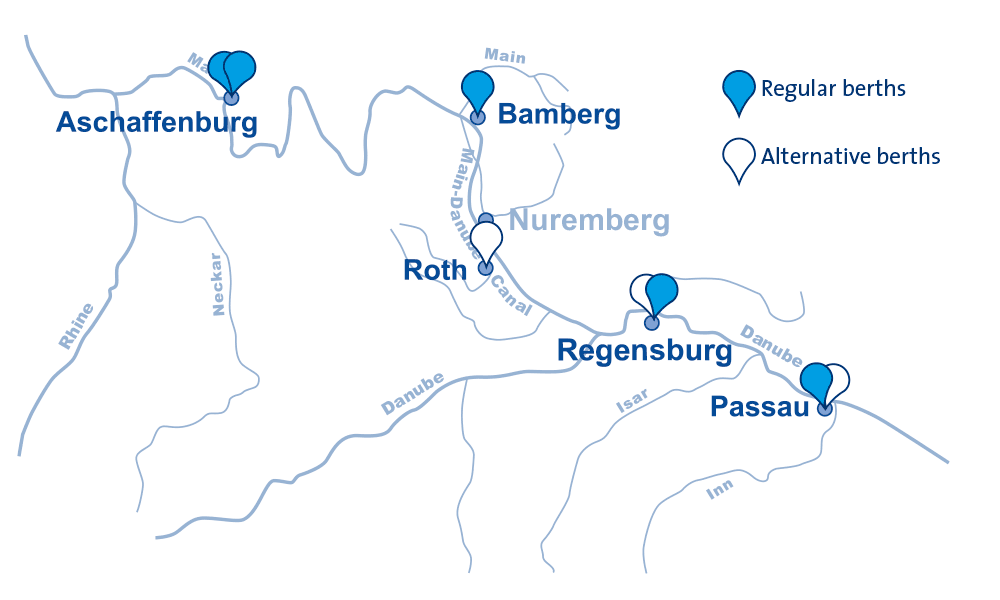 bayernhafen continually invests in infrastructure and utility services for river cruise ships. It is currently developing additional berths and power supply points, and is planning over the longer term to build cruise terminals and winter berths at a number of its locations.
The river cruise sector also benefits the cities
Research into the effect of tourism on regional economies shows that the river cruise sector also benefits the cities the cruise ships call in at. While they are on land, passengers spend money on goods and services such as souvenirs, cafés and restaurants, as well as on clothes. In addition, they spend on daytrip packages and bus transfers. They also deliver great promotional value for the cities they visit. Despite this, our partners and providers operating in the river cruise sector often face issues regarding acceptance of tourism.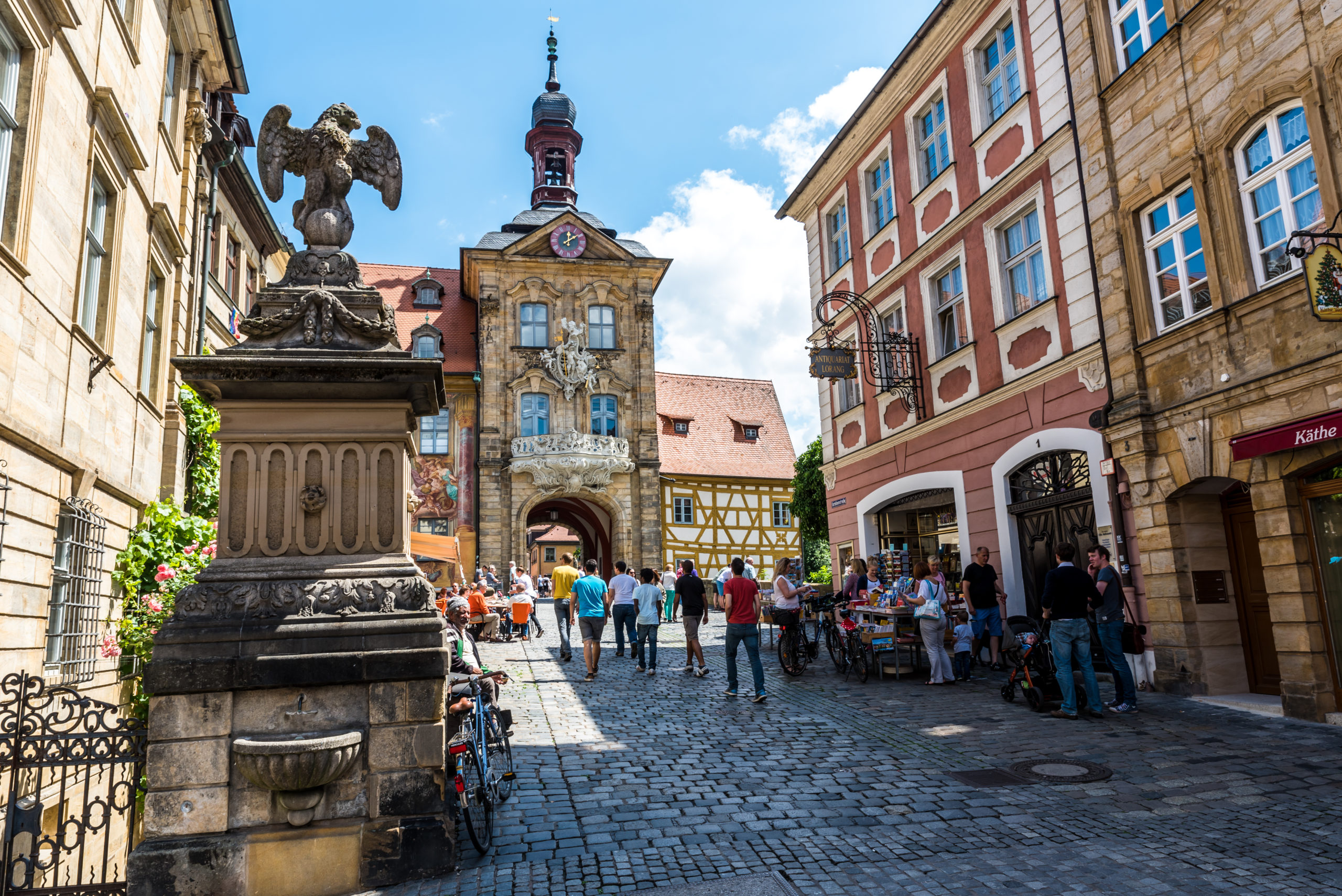 bayernhafen actively strives to balance the interests of the tourist groups and river cruise providers, on the one hand, and the city's inhabitants on the other, and regularly launches initiatives to promote mutual dialogue between both sides. At the end of 2016, bayernhafen in Bamberg joined forces with the City of Bamberg and the shipping company, Avalon Waterways, to organise the 'Cruise Ship Open Days' – the first event of its kind in Europe that has since gone on to inspire imitators in several cities on the Danube.
More about bayernhafen cruise services and your local contact partners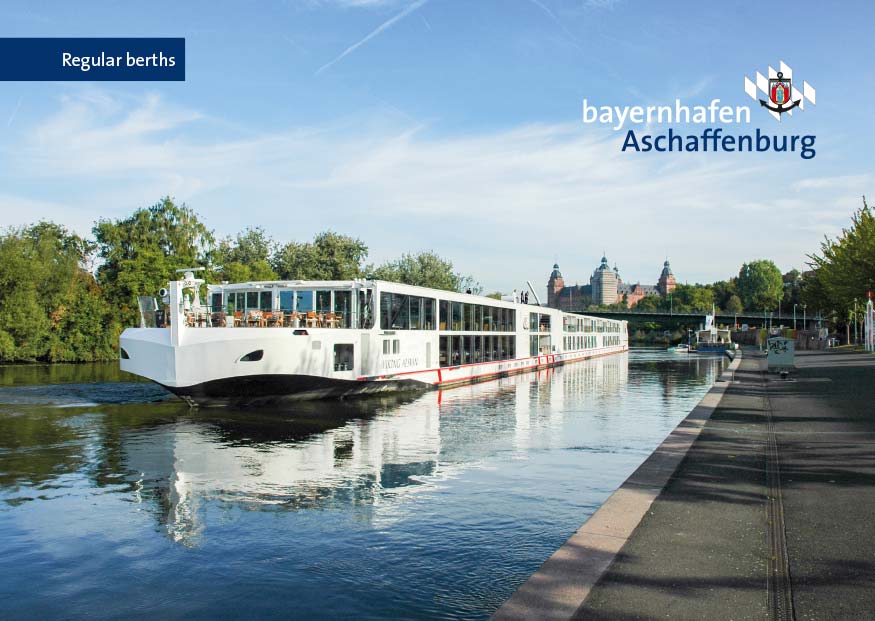 Regular berth Aschaffenburg Floßhafen
Main km 87.22 - 87.34, right-hand riverbank
Located a stone's throw from the gates of Frankfurt, Aschaffenburg is the jewel in the Bavarian crown. Right in the heart of the historical city centre, the Floßhafen is the perfect port of call for cruise ships. Even before they disembark, your guests can admire the imposing beauty of Castle Johannisburg and the roman elegance of the Pompejaneum. It is only a short walk from the pier to the sights and sounds of the picturesque historic town centre. Offering a wide range of shopping opportunities, culinary specialities and the heartfelt hospitality of the local people, your guests from all over the world will feel right at home.
We will take care of reserving a berth for you and will be more than happy to provide advice and assistance on docking at Aschaffenburg.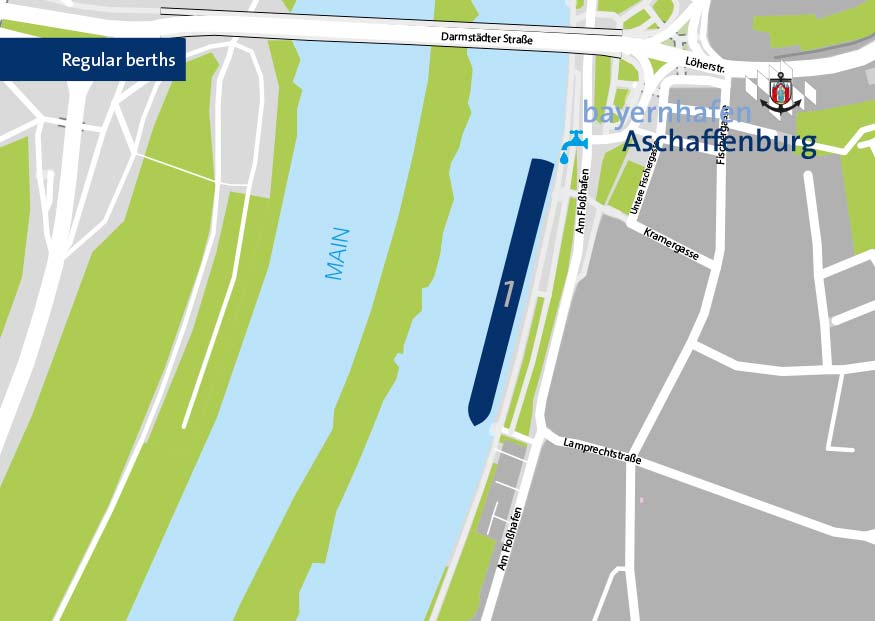 | | |
| --- | --- |
| | The Floßhafen pier is located close to the historic town centre of Aschaffenburg, with direct bus links via Darmstädter Straße. |
| | Shore power: 32A / 63A / PowerLock connection - Please contact Georg Kittel to register 7 days before docking. |
| | Drinking water supply: water supply terminal, throughput 23 m3/hr. Please register with Georg Kittel one day in advance. |
| | Range of refuse containers provided for waste disposal. Please register with Georg Kittel 8 days before docking. |
For drinking water, shore power and waste disposal, please register in advance.
Georg Kittel
Am Floßhafen 23, Aschaffenburg

06021 28086

0175 2466667

bootsvermietung@t-online.de
For reservations, please contact our Port Master in advance. We will be happy to assist you with your short-term docking needs:
Regular berth Aschaffenburg Mainlände
Main km 84.2, riverbank left-hand side
Let Aschaffenburg be your 'springboard' to excursions throughout the region.
bayernhafen has building more piers on the River Main and constructied a new pontoon landing stage for you. The location directly on the Main enables fast and uncomplicated docking and ensures your guests can board and disembark with ease. Excellent transport links mean your guests will be in Spessart or other destinations in the region in a blink of any eye. Even Frankfurt am Main is within easy reach. The Mainlände pier is the ideal transfer point to make up for lost time: while your guests enjoy their bus trip, the ship travels on to the next berth. Smooth loading operations are assured. We will also be more than happy to assist you with your short-term docking needs.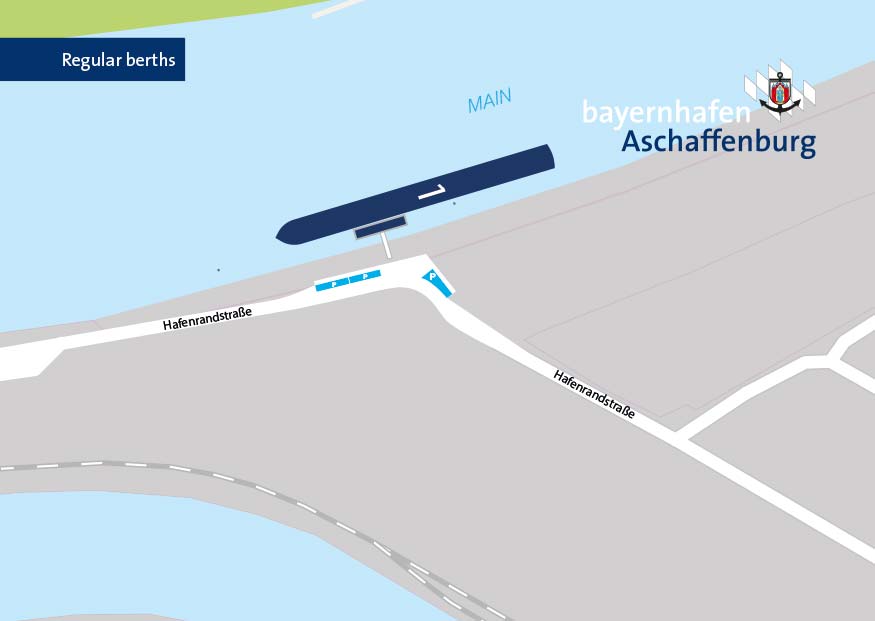 | | |
| --- | --- |
| | The Mainlände pier can be directly accessed by bus via Hafenrandstraße. Parking for buses directly at the boarding point. |
| | Drinking water: please direct your enquiry to our Port Master. |
| | Waste disposal: please direct your enquiry to our Port Master.. |
| | Waste water disposal: organisation of a vacuum tanker possible. Please register with the Port Master at least 2 days in advance. |