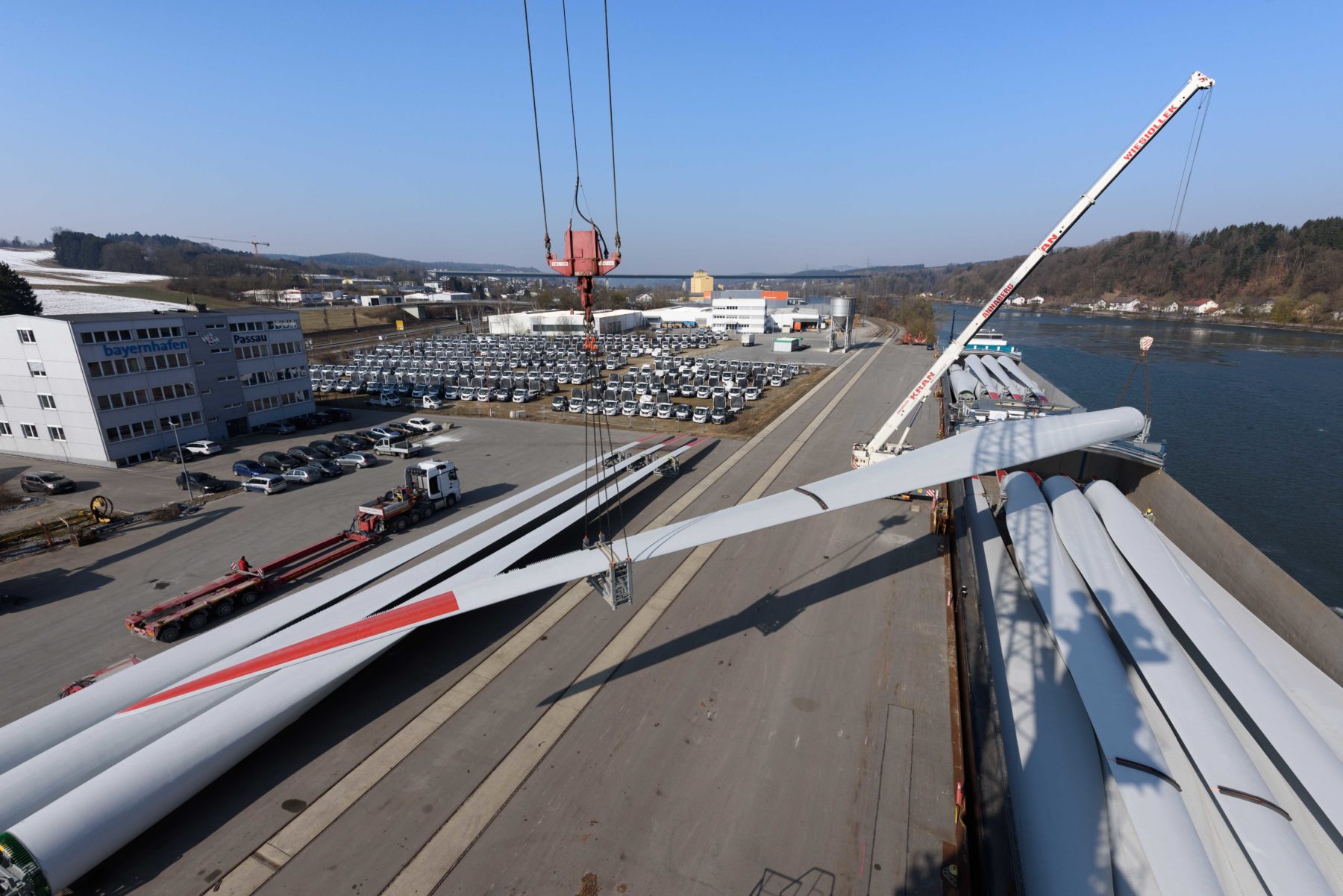 Bavaria's gate to southeast Europe
Locations

bayernhafen Passau
bayernhafen Passau efficiently connects road, rail and inland waterway. Its lightering services are of particular importance to shipping on the Danube. It is the last port on the Danube for ships coming from Southeast Europe before the undeveloped section between Vilshofen and Straubing. This stretch of the Danube requires cargo ships to adjust their draft accordingly through offloading a part of their cargo on to another ship or storing it temporarily on land.
As a result of its excellent accessibility for wide-load and high machinery components and associated handling possibilities, bayernhafen Passau plays an important role in securing the commitment of Bavarian plant and equipment manufacturers to the area. For example, filter plants or entire wind turbine blades are loaded onto river barge at Passau to be shipped to destinations around the world.
Lifting capacity
120
Tonnes
Handling by rail and water
448000
Tonnes
Road journeys saved:
26000
per year
Cargo Transfer & Logistics
Fully developed commercial sites, excellent infrastructure and trimodal connections to the three modes of transport – road, rail and inland waterway – guarantee the best possible conditions for basing your business in the region. bayernhafen Passau is the perfect location for companies operating in the logistics sector as well as for manufacturing companies who rely heavily on freight transport.
Our Land and Facilities Management service delivers the following solutions:
Development, leasing and rental of commercial premises, office buildings and warehouses
Support with planning and approval processes (building permits, etc.), as well as with financial matters
We will be more than happy to present our services to you in person.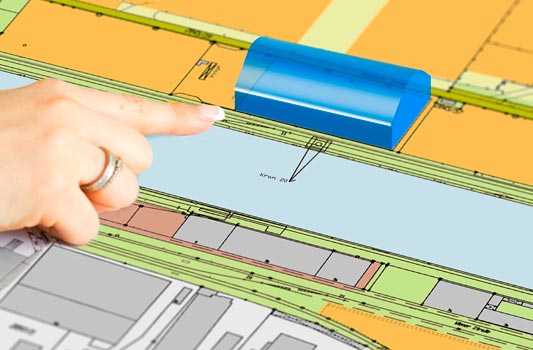 Are you looking for land for your business that
is tailored to your particular needs,
is connected to road, rail and/or inland waterway networks
is close to a large number of major road networks
enables around-the-clock operations
can be used at fair conditions through rental or leasehold agreements?
Would you like to be in good company and
tap into the expertise of the companies operating from the port (ideal mix of industries)
leverage the regional benefits of the location
thanks to our services, concentrate exclusively on your core business?
Then feel free to contact us today. We would be more than happy to present our services to you in person!
Currently available office space
Office and Administration Building Industriestr. 12
Covering an area of ​​1,350 m², these office and administration rooms are designed and furnished to the highest standard, and include a comfortable meeting room, recreation areas and ample parking spaces.
Key facts:
Office space on the ground floor: approx. 486 m²
Office space on the first floor: approx. 431 m²
Office space on the second floor: approx. 271 m²
Office space on the third floor: approx. 160 m²
Download the property brochure: Exposée Bürogebäude Industriestraße 12 (2 MB)
Please contact us for enquiries or to arrange a viewing appointment.
Currently available storage/warehouse space
From time to time, some of the companies operating from bayernhafen Passau offer spare storage/warehouse capacity for a reduced rent. We would be happy to coordinate your enquiry.
A wide range of goods are moved at bayernhafen Passau. In addition to traditional cargo such as cereals, fertilisers and animal feed, the port also handles minerals, earths and cement. We provide you with expert advice and practical assistance for all manner of heavy-lift transport projects, from operational organisation to successful execution. For high-and-heavy loads, truck-mounted cranes can also be deployed.
Through the use of our state-of-the-art port handling technology, we ensure that your cargo is handled seamlessly. Our LHM 420 mobile harbour crane can be used to handle single loads weighing up to 120 tonnes.
The location can also be used for lightering operations. As a certified cargo and freight handling company, bayernhafen provides lightering services directly to shipping operators in Passau.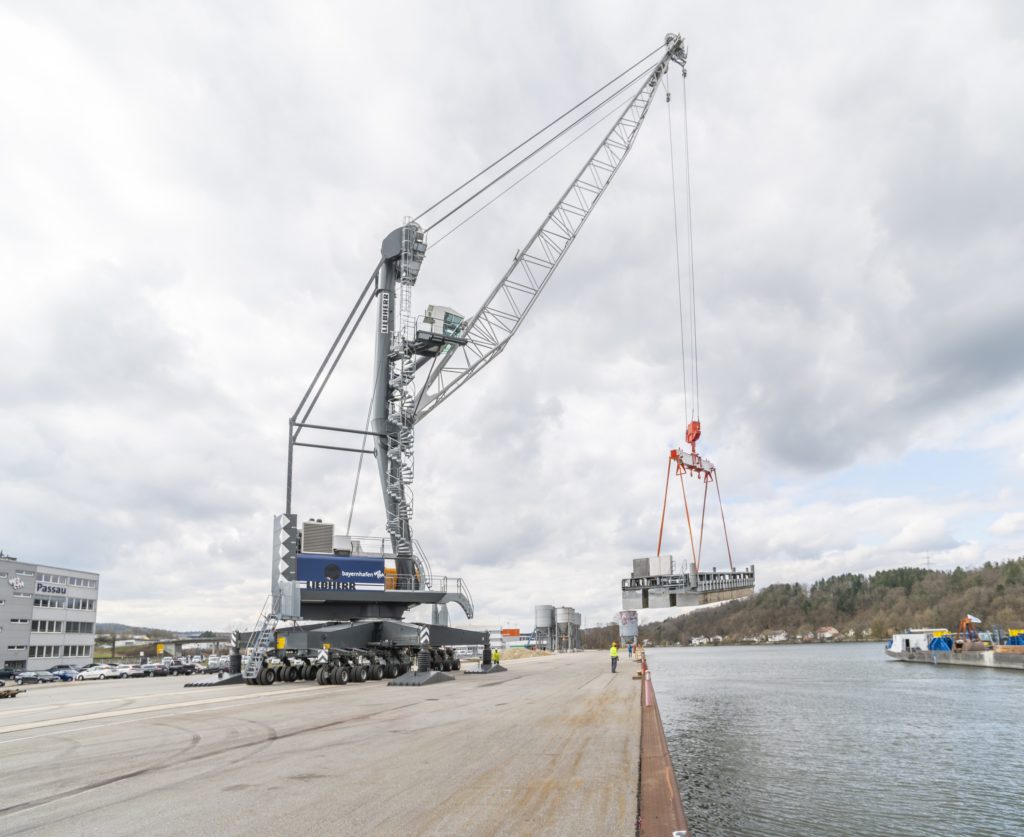 Would you like to find out more about our services or register your shipment for handling?
We would be more than happy to provide you with an individual offer.
We look forward to hearing from you!
Handling facilities
High-performance cargo-handling machines ensure seamless cargo transfer. Bulky cargo and ultra-heavy-lift groupage freight are transferred via the port's dedicated cranes or through the use of truck-mounted cranes. The roll-on/roll-off facility enables all types of road freight to be loaded and unloaded directly from ship to shore or vice versa without the use of cargo handling equipment. In addition, a railcar loading ramp is available for transferring freight onto rail.
Hydraulic handling equipment
For ultra-heavy-lift loads – groupage and bulk cargo – over large distances, with a reach of up to 48 m.
LHM420 Mobile Harbour Crane
Technical information:
Diesel powered - emissions level Tier 5
Undercarriage with 64 wheels (360° mobility); support base 12.5 m x 12.5 m (can be optionally reduced to 14.1 m x 10.8 m)
Jib length: 10.5 m to 48 m
Lifting capacity: max. 120.5 t on the hook
Accessories: hydraulic swivel hook; Heavy-lift cross-beam 6 m³ and 20 m³ motorised clamshell buckets
Material-handling excavator
Technical information:
Type: Liebherr A 944 C material-handling excavator, tyre chassis, total weight 58 tonnes, year of construction: 2008
Jib length: 13.5 m to 18 m
Lifting capacity: at a jib length of 13.5 m, approx. 7 tonnes on average
Accessories: hook cross-beam, clamshell buckets 3.5 m³, timber grapples 1.7 m³, orange peel grapples 1.1 m³ and 1.4 m³
The ro-ro facilities in bayernhafen Passau-Schalding (Danube km 2,233.450) are used to load road-going units, such as cars, trucks, trailers, and so on, directly on to barge. They have a rail connection with unrestricted loading gauges, and are connected directly to the inter-regional road network via the federal road B 8. There are no known restrictions due to clearance heights of bridges.
Technical information:
Width: 15 metres
Slope: 8°
Maximum load: 25 kN/m²
Passau-Schalding also provides a railcar loading ramp for so-called road-rail transport. This ramp enables road-going vehicles to be driven directly onto railway wagons without the need for cranes.
Scheduled ro-ro service:
Donau Star BG EOOD's fortnightly scheduled StarLines service has linked bayernhafen Passau to the Bulgarian port of Ruse and other ro-ro-ready ports on the Danube since July 2015. The two catamarans, "Jumbo II" and "Jumbo III", are capable of transporting up to 1,500 t. They need around seven days to travel down the Danube to Ruse and nine days for the return trip to Passau.
General Terms and Conditions for the Provision of Cranes (in German)
Heavy-lift handling
Bulky cargo and ultra-heavy-lift groupage freight are, depending on the tonnage, transferred via the port's dedicated cranes or via truck-mounted cranes.
Cargo transfer using the port's dedicated cranes
The LHM420 mobile harbour crane can handle up to 120.5 tonnes.
Cargo transfer using truck-mounted cranes
In addition, truck-mounted cranes can be deployed to handle up to 1,000 t.
Technical information:
Available shore length: 450 running metres
Max. load: outrigger load 4,800 kN distributed over 10 m²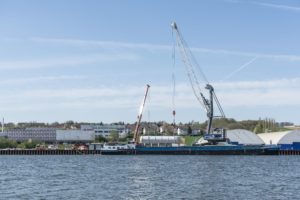 Terms and Conditions of Use and Fees for Heavy-Lift Handling
Storage capacity
bayernhafen Passau provides sufficient, suitably equipped storage capacity for storing bulk goods, groupage freight and heavy-lift cargo as well as the various combined transport unit loads.
Storage capacity:
External storage: 80,000 m²
Internal storage: 5,000 m²
Daily freight train services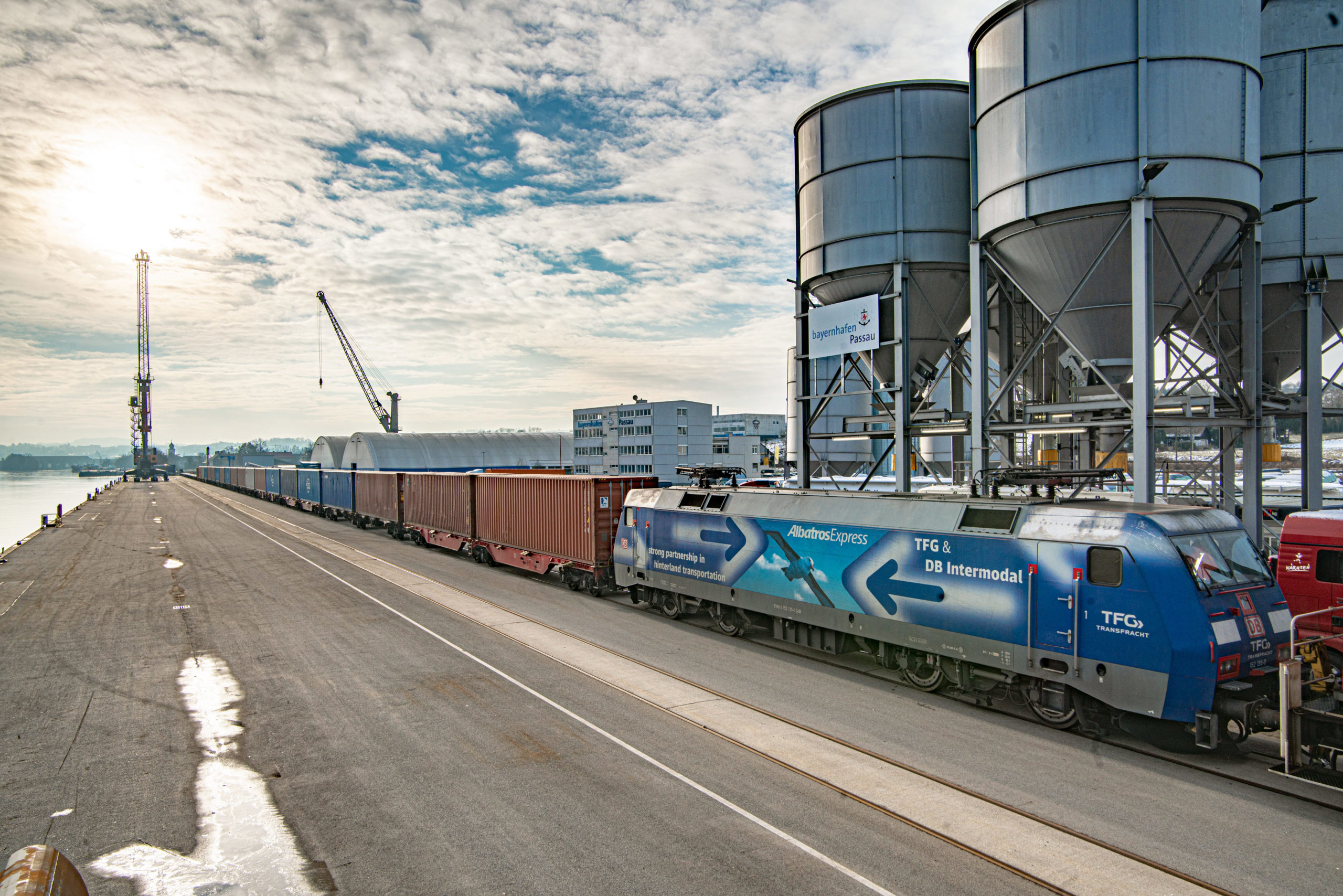 Passau optimally links the transport modes of inland waterway, rail and road. Thanks to our trimodal connections, we are able to deliver reliable and efficient Combined Transport (CT) services along with wagonload transport (WT). This enables us to implement sustainable and environmentally friendly intermodal transport concepts for you. Compared to road transport alone, rail transport achieves a reduction in greenhouse gas emissions of around 80%.
bayernhafen Passau is linked to the seaports of Hamburg, Bremerhaven, Bremen and Wilhelmshaven through daily freight train services provided through the AlbatrosExpress network operated by the DB Cargo subsidiary TFG Transfracht. TFG Transfracht has been the market leader in so-called seaport-hinterland container transport for over 50 years.
In addition to combined transport, the partners DB Cargo, TFG Transfracht and bayernhafen offer an additional service for wagonload transport.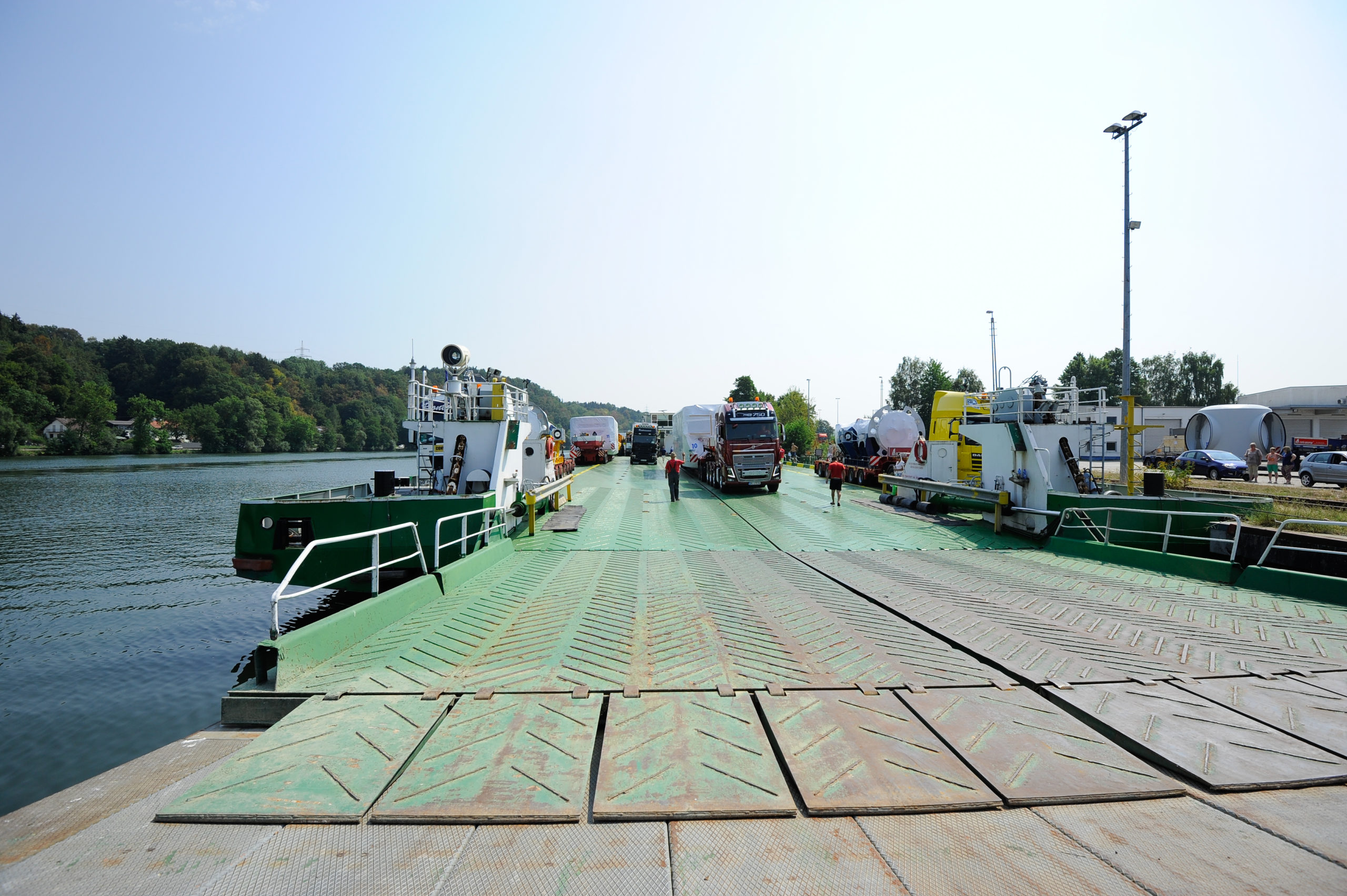 Modern, scheduled ro-ro services guarantee fast and smooth cargo and freight handling – in particular downstream along the Danube towards Hungary and Bulgaria, but equally so in the opposite direction. Wheeled cargo such as panel vans, tractors or threshing machines roll on to ro-ro ships at the starting port and roll off at the destination port. Non-wheeled cargo such as transformers or wind turbine blades are loaded on to barge on trucks.
Donau Star BG EOOD's fortnightly scheduled StarLines service has linked bayernhafen Passau to the Bulgarian port of Ruse and other ro-ro-ready ports on the Danube since July 2015. The two catamarans, "Jumbo II" and "Jumbo III", are capable of transporting up to 1,500 tonnes. They need around seven days to travel down the Danube to Ruse and nine days for the return trip to Passau.
Travel by river cruise ship has grown in popularity and is now an important pillar of bayernhafen's product portfolio. With docking facilities for passenger ships in Aschaffenburg, Bamberg, Roth, Regensburg and Passau, bayernhafen offers the river cruise sector five locations in Bavaria from a single source.
bayernhafen's locations are the starting point for tens of thousands of tourists from all over the world every year. While they enjoy their time on shore and explore the region, the ships can, for example, replenish their fresh water tanks or dispose of their waste. River cruises also benefit the cities they visit, as research studies on the regional value creation of tourism confirm. While they are on shore, the passengers spend money on items such as souvenirs, restaurants and clothes, along with expenditure on excursion packages and bus transfers. In addition, the advertising effect for the cities the cruise ships visit is enormous.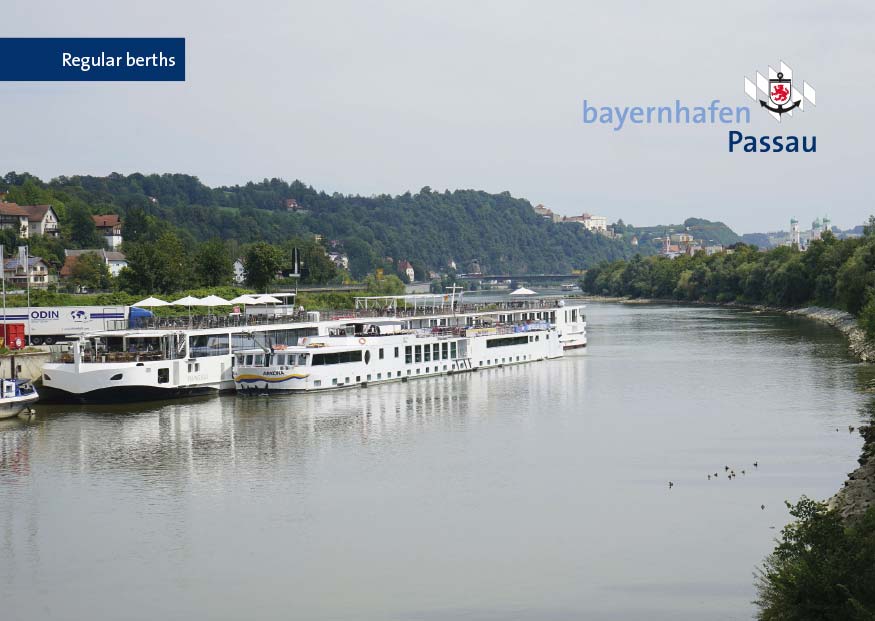 Regular berth Passau - Racklau
Danube km 2228
Known as the "three-river city" where the rivers Danube, Inn and Ilz meet, Passau is a popular point of departure for cruises along the Danube. High above the baroque historic old town towers the medieval fortress, Veste Oberhaus. Other fascinating places of interest include St. Stephan's Cathedral, with its characteristic onion towers, and the Old Town Hall. The pier at bayernhafen Passau-Racklau is within sight of the historic centre and complements the inner-city berths. Its convenient location means it is ideal for stress-free loading and embarkation far away from congested roads.
bayernhafen is investing in developing the pier infrastructure.
Plans are under way to build more piers.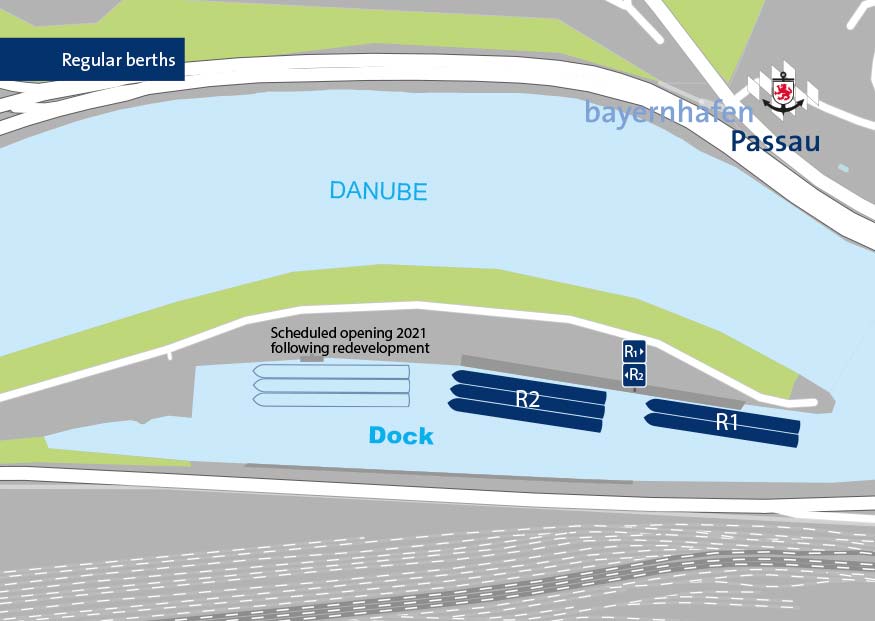 | | |
| --- | --- |
| | Buses can access the piers directly via the B8. |
| | For water supply, please register with our Port Master. |
| | For refuse disposal, please register with our Port Master.. |
| | Waste water disposal: organisation of a vacuum tanker possible. Please register with the Port Master at least 2 days in advance. |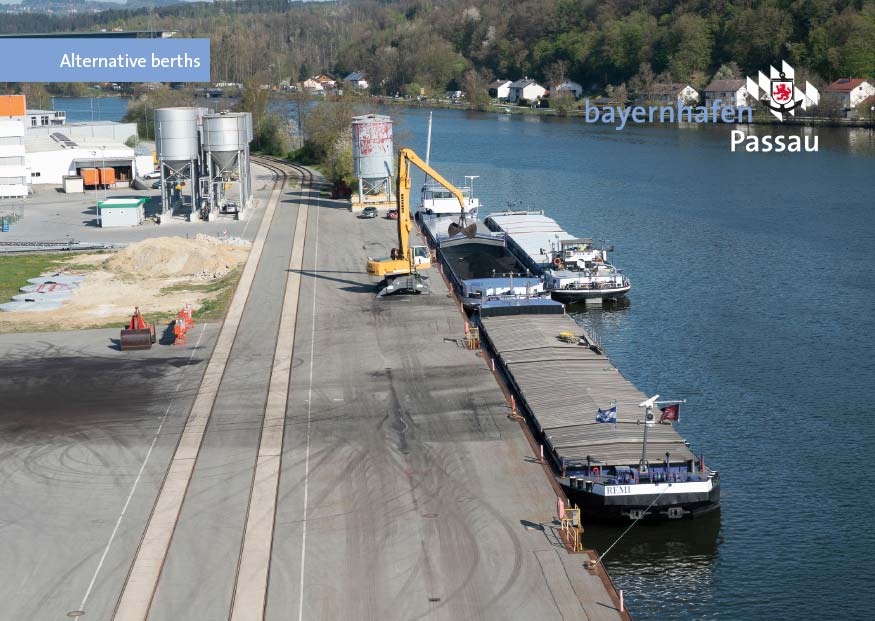 Alternative berth

Passau Schalding
Danube km 2233-2232
If the municipal berths are fully booked or you Contact partner need short-term docking, please ask our Port Master about docking facilities at bayernhafen Passau / Schalding. Please note that, due to ongoing material handling operations, permission to dock can only be given shortly before you lay
anchor.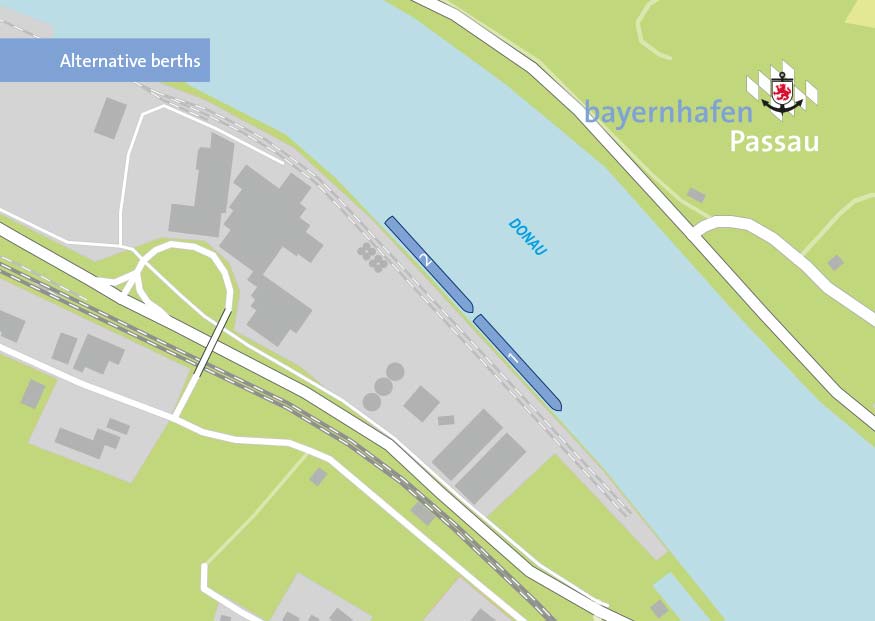 Contact partner
For reservations, please contact our Port Master in advance. We will be happy to help you with your short-term docking needs and questions about water & waste disposal.
18 June 2021
On 16 June 2021, the Passau-based bank, Sparkasse Passau, invited members of the public and the business community to the…
11 March 2021
Passau, 11 March 2021 – bayernhafen Passau pools the different types of cargo and freight and shifts long-distance transport from…
1 February 2021
Federal Minister of Transport, Andreas Scheuer, and the Bavarian State Minister for Housing, Construction and Transport, Kerstin Schreyer, praise the…
15 June 2020
At the end of May, the energy supplier MaierKorduletsch officially commenced operations at its wood pellet silo storage facilities in…
Facts & Figures
How did bayernhafen Passau develop last year? Which goods did it handle most?
Find answers to these questions and the most important facts and figures here.
Cargo handling by inland waterway and rail 2020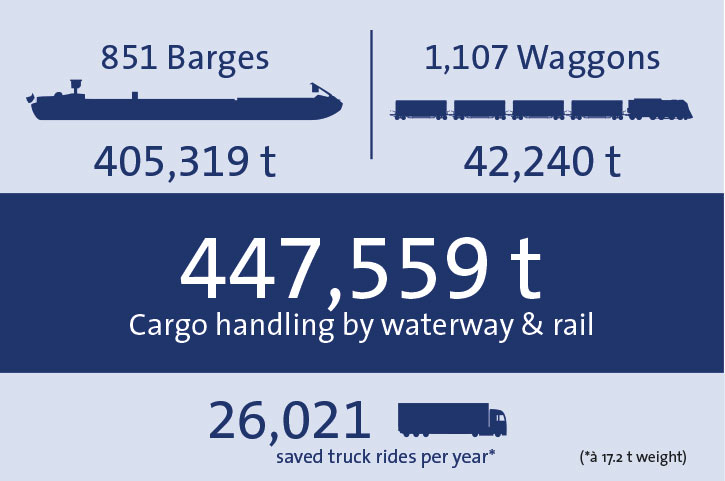 Inland waterway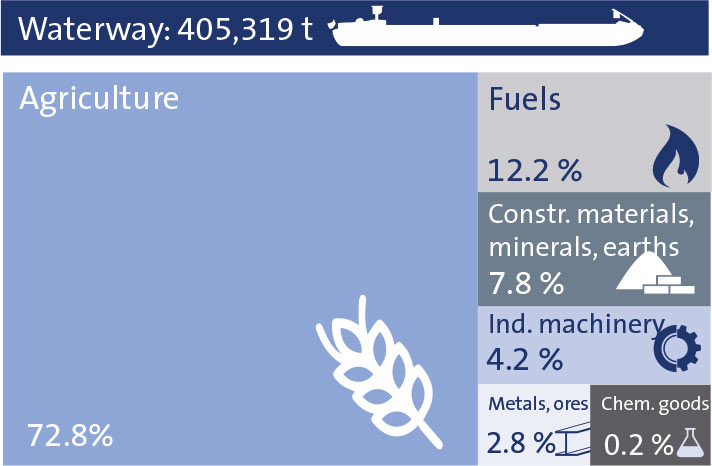 Rail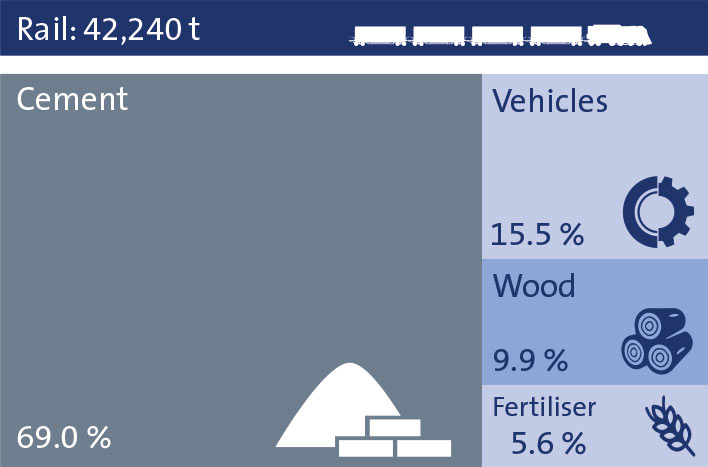 Operating information for rail and inland waterway traffic
Terms and Conditions for the Provision of Cranes (in German)
Inland waterway traffic
Drinking water, electricity supply and waste disposal
Drinking water can be replenished at the special water tank boat at bayernhafen Passau-Racklau.
Electricity 
Electricity can be obtained from the charging stations located near all of the quayside steps. The charging stations are activated by Mr Winkelhofer, please call 0172 / 851 8762 or Mr Schöffmann on 0172 / 287 5783
Refuse and waste disposal
Bilge water, water containing oil, oil deposits, liquid fuel residues or liquids that are hazardous for water organisms can be disposed of via bilge oil separator number 7 (contact the Port Master).
Household refuse accruing on your ship can be handed in free of charge to the companies performing handling operations at the port.
Recyclables, bulky refuse or problematic waste can be handed in to the municipal recycling centre.
If dangerous objects enter the port waters, please inform the Port Master's office and the Water Police immediately.
Rai traffic
In its capacity as a bayernhafen location, bayernhafen Passau provides its customers and the companies operating from the port rail track totalling 3 km in length and a railcar loading ramp.
bayernhafen Passau has its own rail freight station number (265041).
You can obtain more details on our rail facilities or the Rail Infrastructure Usage Agreement by contacting our rail operations manager.
Early on in its history, the favourable location of the "Three River City" was already taken advantage of for trade on the Inn and Danube rivers. The first ship pier, the "Passauer Lände" landing area is located in the historic part of the city.
In 1900, as a result of the growth in  freight transport, it was decided to build a winter port, or a port of refuge as it was referred to at the time. To this end the Racklau Island was joined to the right bank of the River Danube via an upward slanting dam 1068 metres in length, built facing against the current. A 667-metre long quay wall, rail and road access turned the former island into a full-scale port.
Passau-Racklau saw the launch of the most easterly German inland port in the winter of 1902 / 03.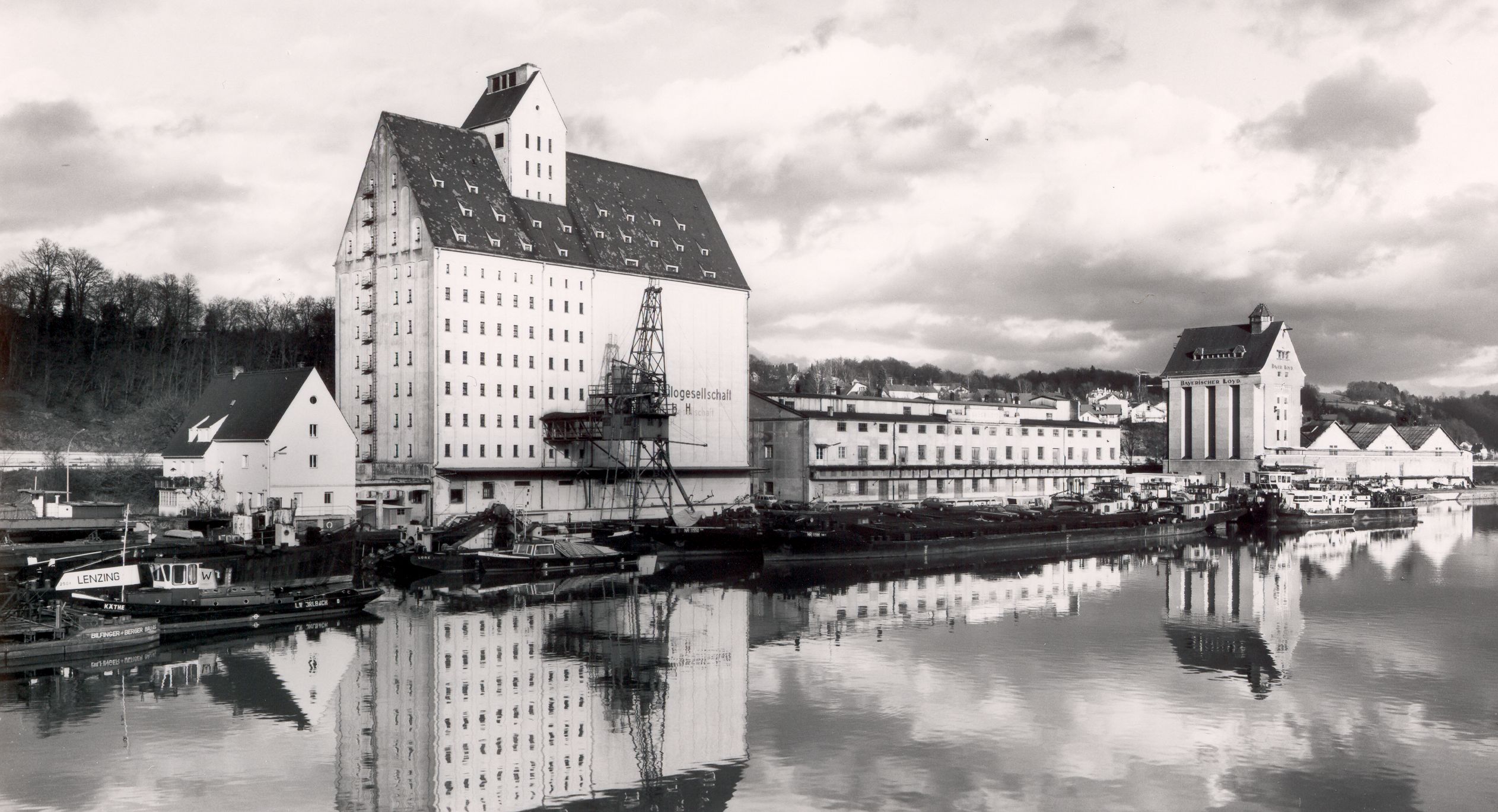 The port during the 20th century
In 1922 construction began on the Kachlet weir. Through the straightening of the stretch of the Danube between Auerbach and Hofkirchen, ships could travel 120 km further west without great difficulty. The loss of its lading port had a significant impact on cargo handling in Passau.
The ro-ro facilities in Passau-Schalding
The shipping of road-going units necessitated the building of roll-on/roll-off facilities in Passau in the 1980s. In 1983, construction of the ro-ro facilities began in Schalding about 5 km north-west of Racklau.
As a result of its location upstream from the the Kachlet weir, almost constant water levels could be maintained, facilitating year-round navigability at full draft. For Passau the start of ro-ro transport meant a huge boost for cargo handling.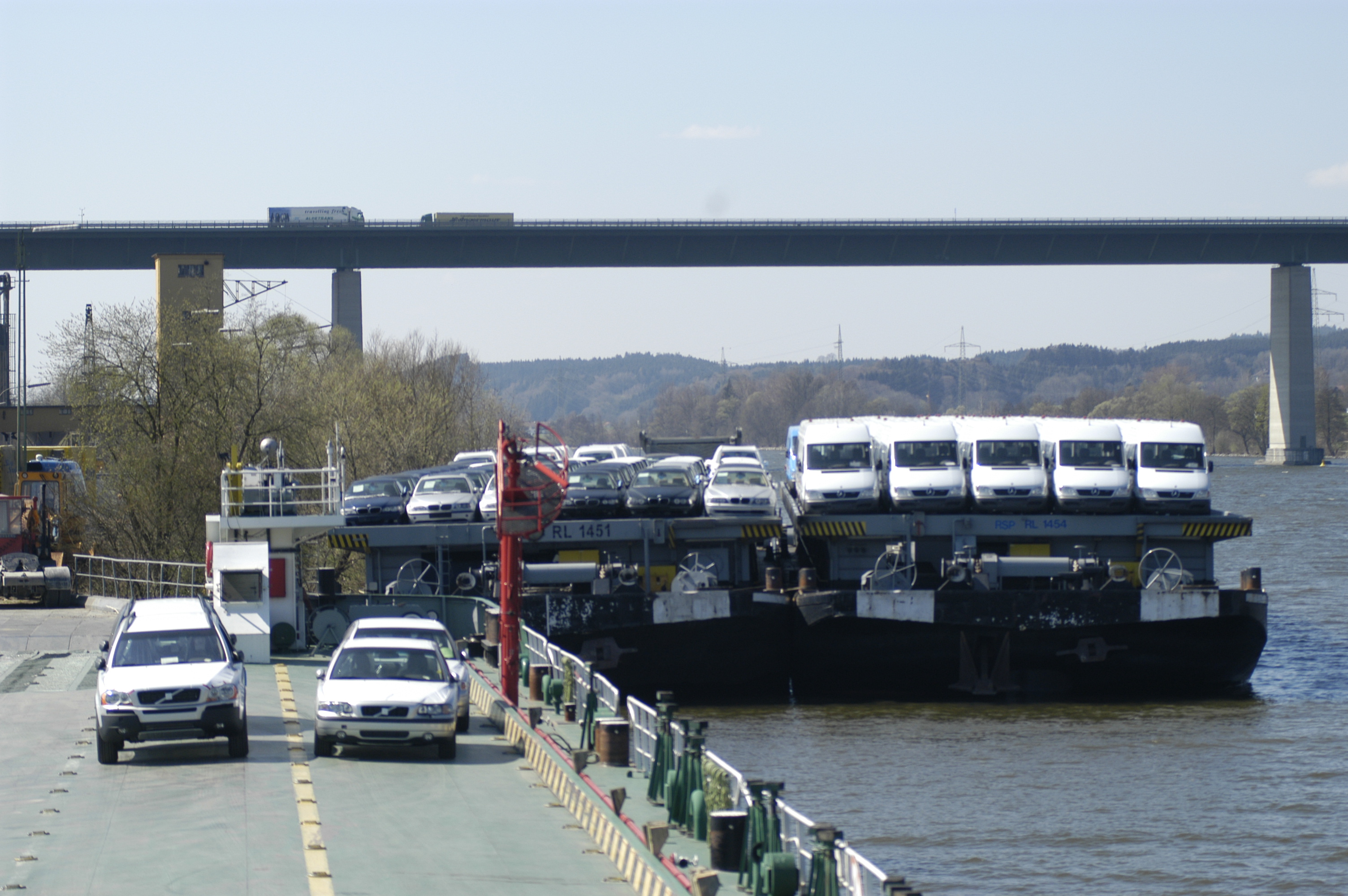 Passau-Schalding expansion
Surveys and research conducted among freight forwarding and cargo handling companies in the Passau region demonstrated that there was sufficient potential in this sector for a high volume of shipping-related traffic. However, using Passau-Racklau as a sustainable trimodal port was not possible at this location because it was only free from flooding to a limited extent and also because of the absence of a rail link despite its proximity to the city centre.
For this reason, the operator of the location, Bayernhafen GmbH & Co. KG, decided to expand the Passau-Schalding location, bit by bit turning it into a high-performance, demand-based trimodal port location complete with cargo handling and storage facilities.    
In the initial construction phase, a vertical cargo handling embankment of roughly 450 metres in length was built downstream from the existing ro-ro facilities and the mobile port crane that was already in use was relocated here. In order to efficiently link the various modes of transport, the cargo handling embankment was equipped with rail track installed in such a way that they could be driven over.  
In order to extend the handling possibilities, depending on the respective volume, further mobile handling equipment was used as required and in a timely manner, equipped with various load handling devices for specific goods. Additionally, to meet the increasing demands made on rail, an extra siding, the length of a block train, was integrated into the port facilities.
In addition to these measures, further cargo handling and storage facilities that could be implemented successively and on-demand had already been planned in advance to cope with increased use of the port. In the process, the conditions for obtaining planning permission to upgrade the port were already met.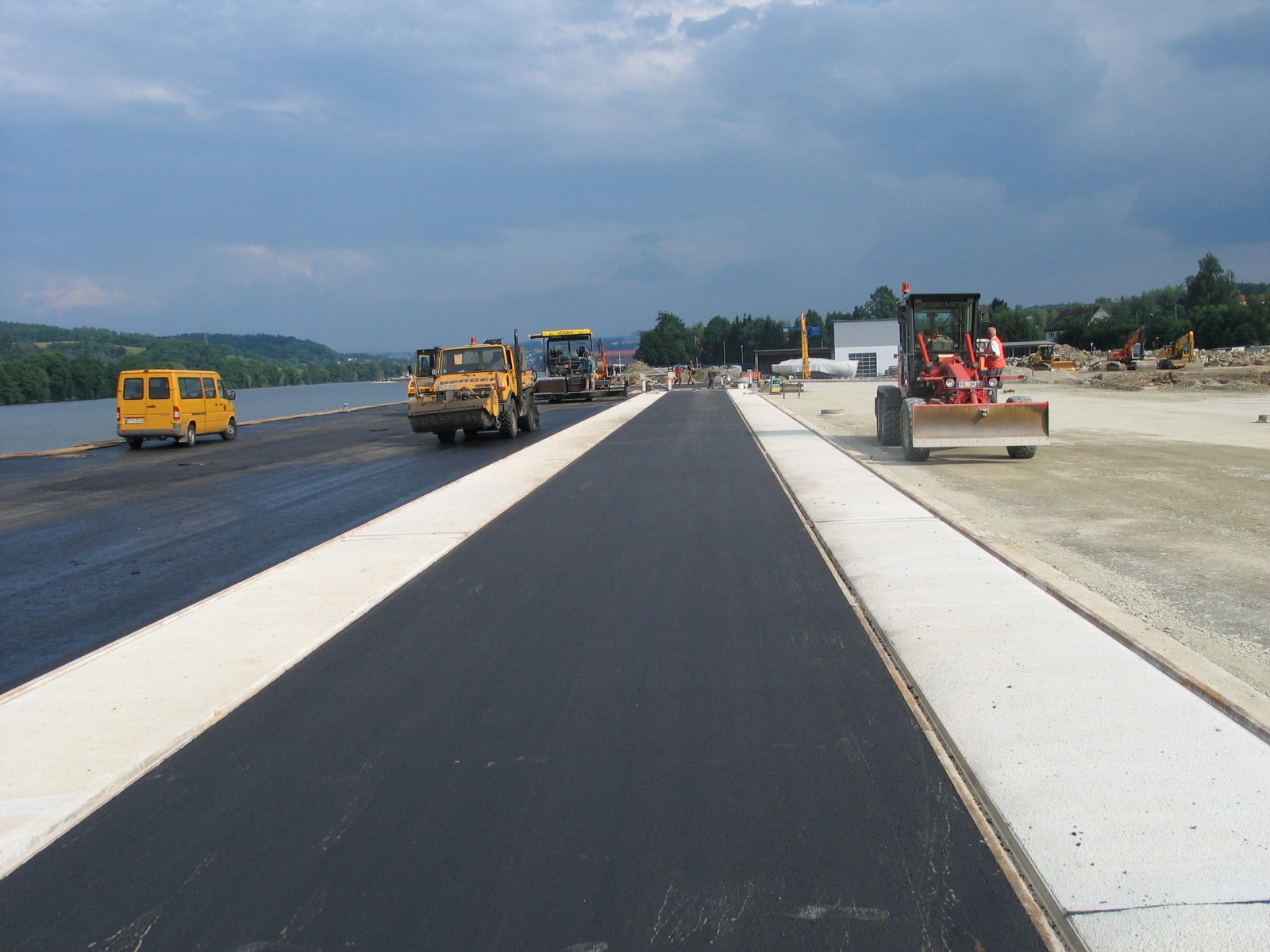 On 27 June 2008, bayernhafen Passau-Schalding opened.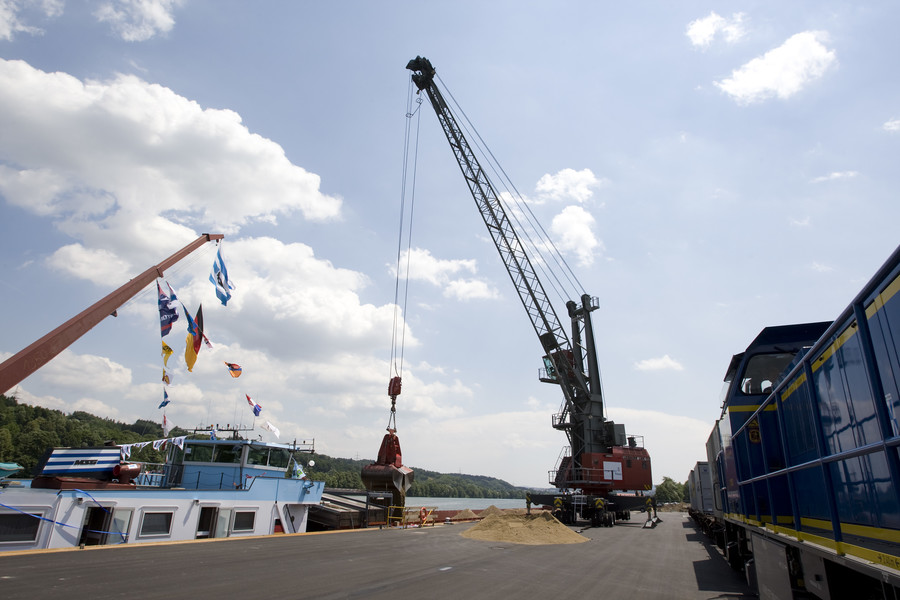 bayernhafen Passau
Bayernhafen GmbH & Co. KGIndustriestraße 12
94036 Passau
0851 2132334-11
passau@bayernhafen.de
0851 2132334-10