9 March 2017 | Bamberg
"Linking modes of transportation makes modal shift possible"
2016 financial year: cargo handling by inland waterway and rail up 4.7% to over 630,000 tonnes; Container traffic +12.3 %; new pier for hotel ships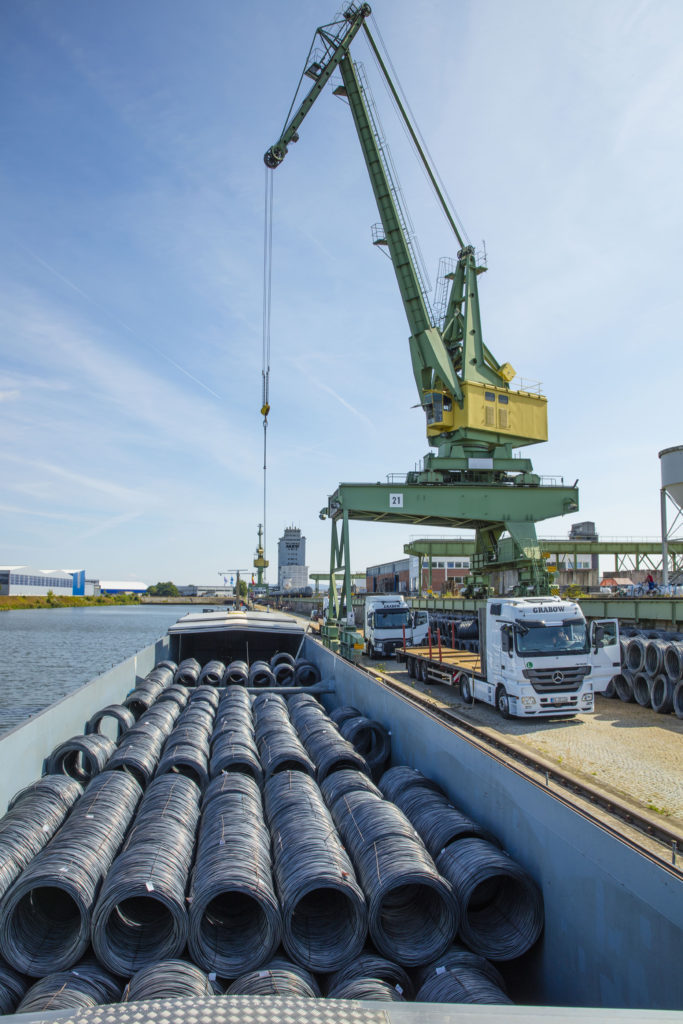 Bamberg, 9 March 2017 – bayernhafen Bamberg (along with Aschaffenburg, Nuremberg, Roth, Regensburg and Passau, one of the six bayernhafen Gruppe port locations) profited greatly from the modal shift in 2016, with a total of 633,286 tonnes of goods moved by the environmentally friendly transport modes of inland waterway and rail – up 4.7% on 2015. Combined transport reported double-figure growth of 12.3%. Around €1 million was invested in bayernhafen Bamberg in 2016, in particular in port infrastructure. For 2017, bayernhafen Gruppe is launching an investment programme totalling around €4.5 million to upgrade its infrastructure and optimise its technical equipment.
Goods transported by inland waterway increased 4.9% on 2015 to 323,390 t; this is mainly the result of growth in the handling of fertilisers as well as human food and animal feed. Rail handling also reported an increase of 4.5% to 309,896 t, the result of an increase in the transportation of fertilisers and container by rail.
In container traffic, 2016 saw 24,962 TEU (1 TEU corresponds to one 20-foot container) moved from road to rail and vice versa in bayernhafen Bamberg, a 12.3% increase on the previous year. Three times a week, a container train links Bamberg to the German North Sea ports of Hamburg and Bremerhaven, opening up access to international markets for businesses in Upper Franconia. The largest share of the transport is via rail, with regional distribution carried out by road. Additionally, bayernhafen Bamberg handles special containers that transport household waste by rail from Erlangen to the waste-to-energy plant in Bamberg – an example of the efficiency that rail offers as a mode of transportation, even for shorter distances.
The extent of the modal shift …
… is evident when, instead of focussing on the tonnage of cargo moved, we consider the transport performance of the individual modes of transportation in tonne kilometres. Data provided by the German Federal Ministry of Transport and Digital Infrastructure (BMVI) showed that, in 2014, freight was transported in Germany an average of 309 kilometres by rail and 259 kilometres by barge. Road transport, which in particular handles the first and last mile legs, only transported freight an average of 94 kilometres. Last year, the average transport distance by inland waterway at bayernhafen Bamberg was 697 km. This comes to around 225 million tonne kilometres for inland waterway at bayernhafen Bamberg. "Each tonne transported long distance by inland waterway or rail takes pressure off the road network and protects the environment," says Michaela Wöhrl, Branch Manager of bayernhafen Bamberg.
Investment 2016 and 2017 project preview
In 2016, bayernhafen Gruppe invested around €986,000 in its corporate location in Bamberg – in particular in the port infrastructure. It is planning to invest €4.5 million in 2017, including in upgrading work on the quays and the road links of quay 4; in a link from quay 3 to quay 4; and in the acquisition of further reach stackers for the container terminal. "Ports are a reflection of economic development. We continually invest in our sites and in our infrastructure and superstructure", says Michaela Wöhrl, Branch Manager of bayernhafen Bamberg. "This enables us to ensure that our sites and infrastructure will also precisely meet the needs of the logistics and freight forwarding sector in the future. This allows us to play to our strength as a logistics hub and connection expert. This is the basis for shifting more traffic from road to the more environmentally friendly transportation modes of rail and inland waterway. Indeed, our efficiency in linking the modes of transportation is what makes sustainable modal shift possible in the first place."
For 2017, bayernhafen Gruppe is kicking off an investment programme at the six bayernhafen locations of Aschaffenburg, Bamberg, Nuremberg, Roth, Regensburg and Passau, with a total of around €30 million earmarked for measures running over a several-year period to optimise rail and inland waterway infrastructure. A key element of the bayernhafen Gruppe business model is its stewardship of available land through ongoing optimisation and regeneration. Through rental and leasehold contracts, as property owner, bayernhafen's strategy of continual site re-development ensures that available land is utilised in a prudent manner.
bayernhafen Bamberg as an employment magnet
In a 2016 empirical study of the impact on regional employment of the six bayernhafen locations, bayernhafen Gruppe examined how many jobs were affected by one inland port. The study was based on guidelines jointly developed by the Federal Association of Public Inland Ports and the Institute for Transport Planning and Logistics of Hamburg University of Technology. The results show that more than 5,000 jobs in the region depend on bayernhafen Bamberg. Each of the approximately 1,800 jobs in bayernhafen Bamberg is matched by almost two jobs in companies in the region.
European premiere: Cruise Ship Open Days
bayernhafen Gruppe invested around €750,000 in the extension of the cruise ship pier in bayernhafen Bamberg in order to compensate for the restructuring work-related loss of the temporary berthing facility. To celebrate the inauguration, the first ever Cruise Ship Open Days took place at the end of 2016. Over 2,500 enthusiastic visitors took a tour around the cruise ship 'Avalon Passion' to gain an insight into this highly important tourism segment for Bamberg. In turn, the organisers had the opportunity to find out from the people of the city what was important to them.
In 2016, 854 cruise ships carrying almost 140,000 passengers docked at bayernhafen Bamberg. Almost 820 hotel ships have pre-registered for 2017.