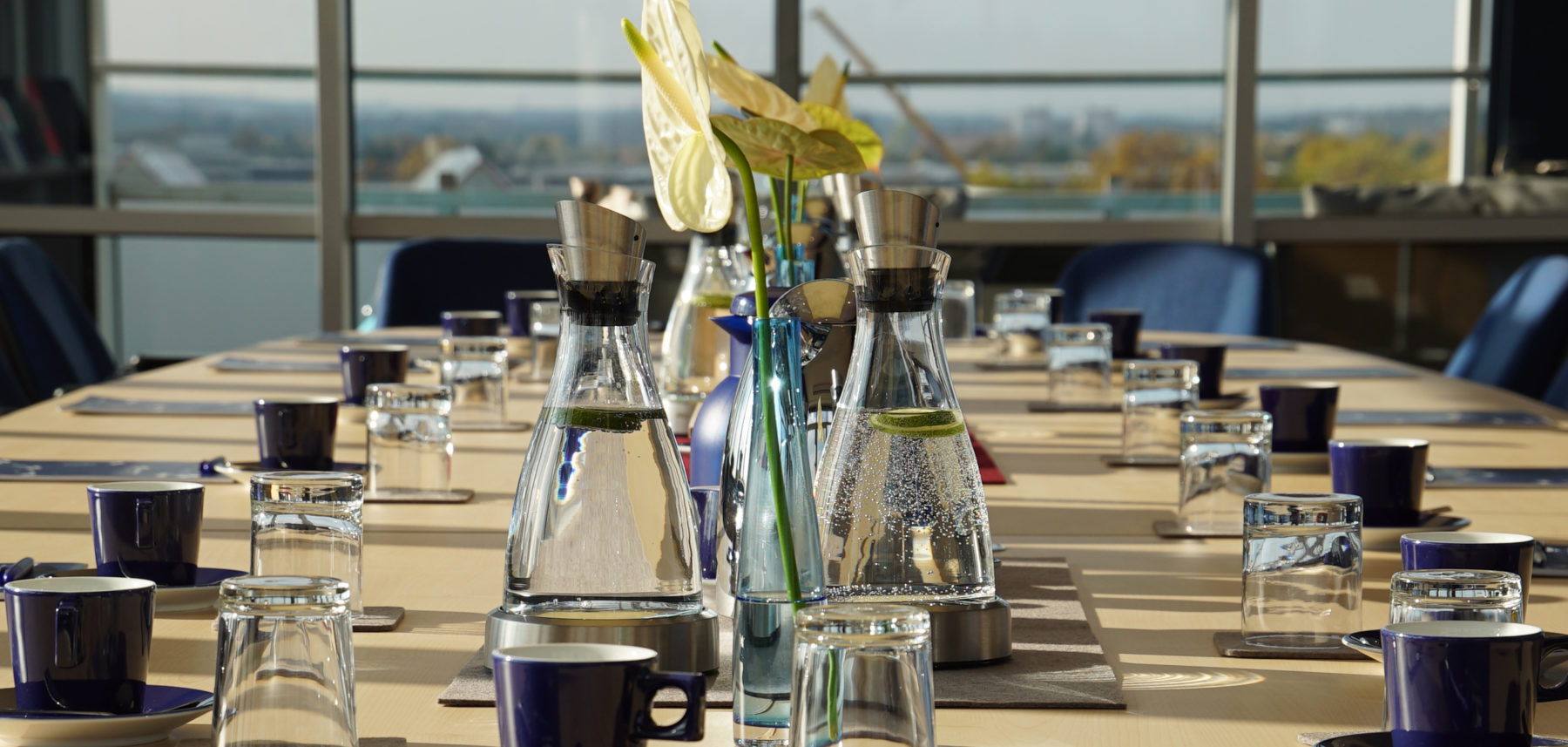 Go with the flow – successful meetings in the port
The ideal location for "idea transfer" at conferences, seminars or workshops.
Our congress and visitor centre at bayernhafen Regensburg and the conference and meeting rooms at bayernhafen Nürnberg offer the ideal conditions for your events:
Individual. Personal. Unique.
Ideal for congresses, conferences, workshops, and so much more.
Attractive conference and meeting rooms for events for up to 150 people
Modern multimedia equipment
Catering service upon request
Free parking
Mobility is the key to your successful seminar, workshop or conference. We offer you the perfect setting - our meetings rooms at bayernhafen Nürnberg. From here it is only a stone's throw to the port and the Main-Danube canal.
Mobility guarantee inside - make your meeting a success at bayernhafen Nürnberg.
We look forward to contributing to the success of your meeting, workshop, seminar or conference.
Simply contact us and we'll do the rest!
Contact person

Our tailored services for your events:
Located in the heart of the European metropolitan region of Nuremberg, bayernhafen Nürnberg has long since gained an excellent reputation well beyond the borders of Germany.
Today, bayernhafen Nürnberg is a premium-class trimodal location with logistics connections across the European continent. Home to 200 companies providing 6,700 jobs and handling over 4 million tonnes of cargo and freight by rail and inland waterway every year, the 337-hectare port has developed into one of the largest and most important multimodal freight villages in southern Germany.
Our meeting rooms are located in Rotterdamer Straße 2. They offer the perfect combination of emotion and functionality, with a wonderful view from bayernhafen to the City of Nuremberg – a special place for a special event.
The Hamburg room: 65 m2 for up to 20 people (access to recently renovated, furnished roof terrace with view of bayernhafen, fully air-conditioned room, multimedia equipment)
The Trieste room: 70 m2 for up to 60 people (multimedia equipment)
Port canteen: 190 m2 for up to 150 people (can be equipped with AV/multimedia equipment)
Also for use: Foyer, 110 m2 for up to 100 people (plasma screen TV, reception counter, standing tables, lounge corner)
We also provide sufficient free parking in front of the building.
In order to gain a better understanding of your ideas and wishes, we would be happy to arrange a meeting to discuss the options available and to show you our rooms. We will then develop with you a concept that meets your needs, which we will adapt in terms of:
The number of participants
The room size
The type of seating arrangements
AV/multimedia equipment required
Our port canteen can provide delicious catering services for your event. If you would prefer external catering services, we can also organise the right catering partner for your needs. In addition, we would be happy to support you in planning your entertainment programme, such as organising a bus trip around the port. An additional benefit is the free parking we offer direct in front of the building.
Whatever your wishes and needs, we will be delighted to advise you and to provide you with an individual quotation. Simply contact us and we'll do the rest!