6 June 2018 | Aschaffenburg
2017 financial year: 1.07 million tonnes of goods moved by inland waterway and rail; investment of €11.7 million initiated
'Fit for the Future' programme enhances port infrastructure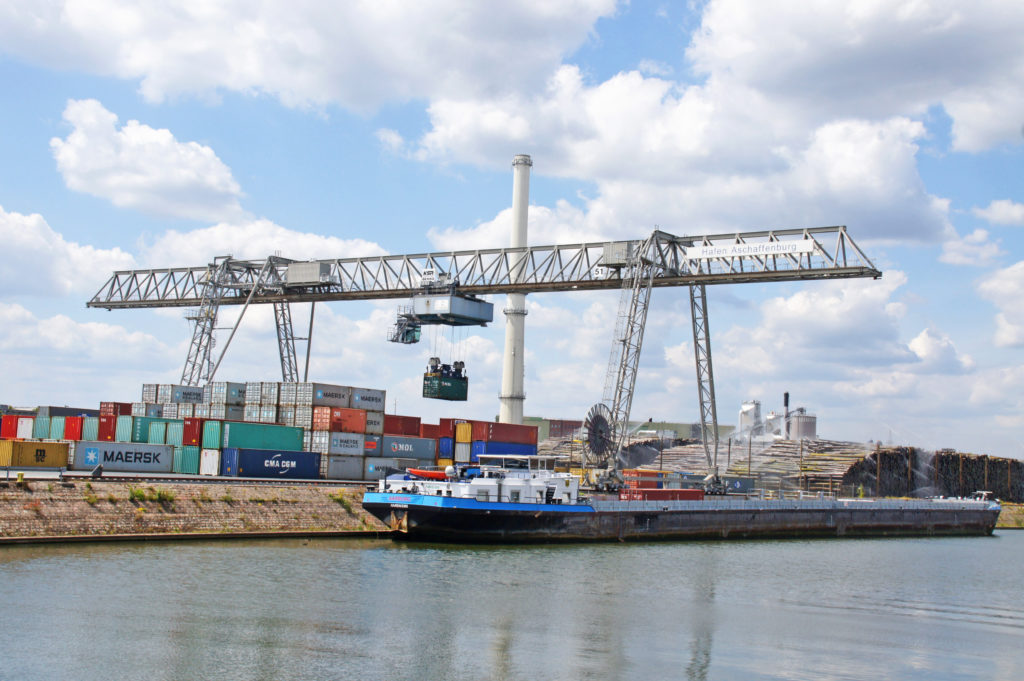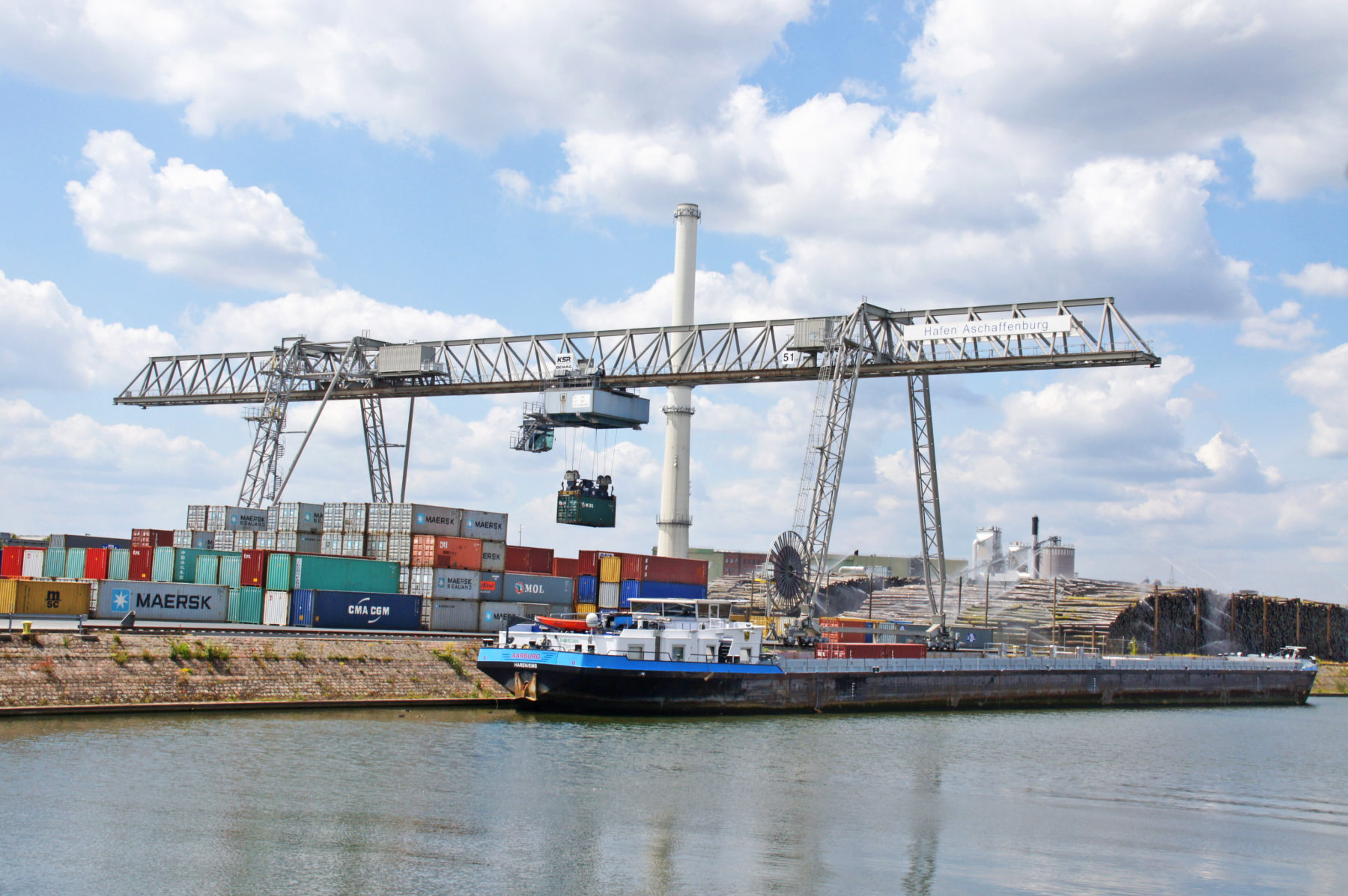 Aschaffenburg, 6 June 2018 – A total of 1.07 million tonnes of cargo and freight were moved via the environmentally friendly transport modes of inland waterway and rail at bayernhafen Aschaffenburg in 2017, down 2.4% on the previous year. bayernhafen Gruppe continued to pursue its strategy of creating the best possible conditions for the transportation of goods by inland waterway and rail at bayernhafen Aschaffenburg as well as at the other ports in the corporate group in Bamberg, Nuremberg, Roth, Regensburg and Passau. In the past financial year, bayernhafen Gruppe launched an investment programme totalling around €11.7 million in bayernhafen Aschaffenburg.
At 801,000 tonnes, goods transported by inland waterway grew 1.3% on the level of the previous year. The lion's share of the shipping tonnage comprised minerals & earths and mineral oil. The volume of coal handled for the power plant of the nearby paper mill increased by around 20% to 120,000 tonnes. The coal is delivered from the European seaports via the rivers Rhine and Main.
270,000 tonnes were transported by rail in bayernhafen Aschaffenburg last year, 12.1% down on 2016. Lower volumes were recorded for, among others, containers, wood and scrap, with the latter experiencing a greater shift to inland waterway.
Container throughput by river and rail reached a total of 22,230 TEU (twenty-foot equivalent unit) in 2017. Although this figure is 16.3% down on the strong growth experienced in 2016, it still matches the 2015 level.
Boosting the environmentally friendly transport modes of inland waterway and rail…
… is one of bayernhafen's primary goals. Key to achieving this goal is intelligent interlinking of the three transport modes in the transport chain: road, rail and inland waterway. Improving the conditions for transporting goods by inland waterway and rail requires investment in rail and river infrastructure. "Efficient and high-capacity infrastructure enables the companies operating from bayernhafen Aschaffenburg to get the most out of the port," says the Branch Manager, Wolfgang Filippi.
In 2017, bayernhafen Aschaffenburg launched an investment programme that will involve allocating around €11.7 million over a several-year period. For example, as part of the modernisation programme of the port marshalling yard, the layout of the rail track will be re-structured to accommodate block trains. This will increase the distance between rail track and residential areas, improve safety in shunting operations and substantially reduce noise and exhaust emissions.
For 2018, bayernhafen Gruppe is planning to invest around €32 million in all of its locations. This includes re-developing sites for commercial use and carrying out optimisation work over several years on the rail and inland waterway infrastructure.
Land recycling instead of land consumption
bayernhafen Aschaffenburg offers its customers temporary land ownership through leasehold and rental agreements. This enables a change in usage at its sites and reduces vacancy rates. It guarantees sustainable use of land – that is, land recycling instead of greenfield site construction.
Wolfgang Filippi was pleased about the opening of the RAIL.ONE plant in April this year: "The new RAIL.ONE facilities cover 35,000 square metres of land and mark the first milestone in the conversion of the former transformer station, which has freed up 100,000 square meters of space for reuse since it was dismantled at the end of 2015. The total investment for the new concrete railway sleeper plant, where RAIL.ONE employs almost 50 jobs in production and administration, amounted to €10 million. Between 2002 and 2007, a number of companies were successfully attracted to the former site of a coal-fired power plant, including Europe's largest hardwood sawmill, Pollmeier.
At the end of September 2017, Aschaffenburger Versorgungs-GmbH (AVG) put a new sewage sludge drying plant into operation on the site of its biomass-CHP plant in bayernhafen Aschaffenburg, with a total investment volume of around €2.5 million.