7 March 2018 | Passau
Inland waterway premiere: 60-metre wind turbine blades loaded onto barge
Impressive project completed in bayernhafen Passau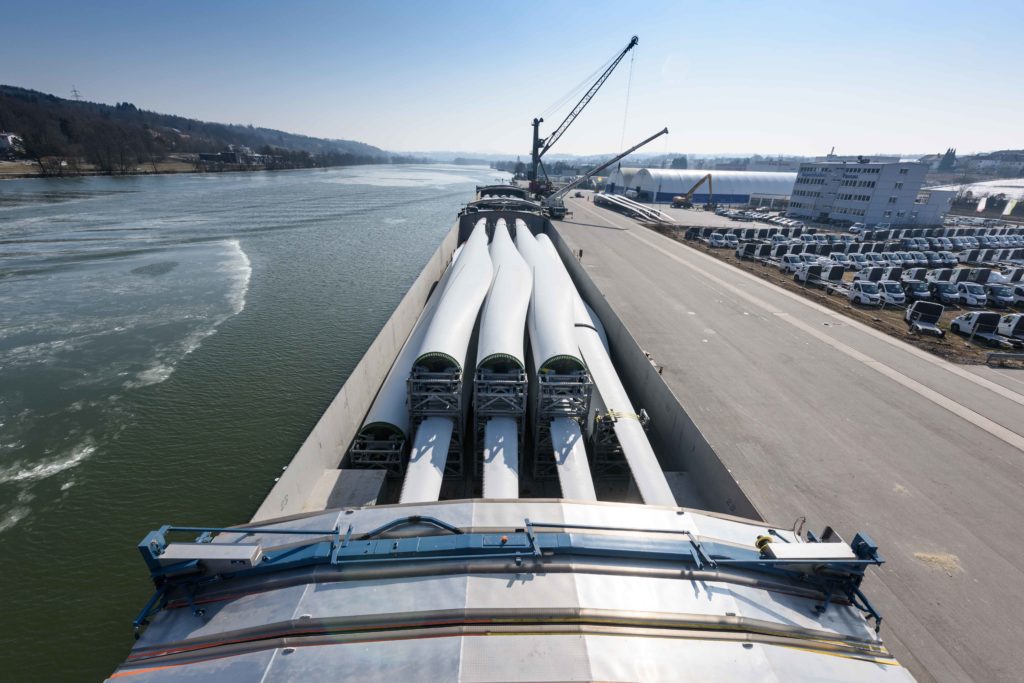 Passau, 07.03.2018 – The beginning of March saw a heavy-lift handling project of the super-sized kind carried out at bayernhafen Passau, with 24 wind turbine blades, each weighing in at around 17 tonnes, loaded onto barge – and, measuring in at 60 metres in length (approximately the length of an ice hockey playing field), also an inland waterway premiere.
The wind turbine blades were transported by road from Poland to Passau-Schalding. bayernhafen Passau was commissioned by the company, Transannaberg, to transfer the wind turbine blades to barge. Coordinating the loading of the blades onto barge between the port's dedicated mobile crane and Transannaberg's mobile crane required a high degree of precision, patience and skill.
The wind turbine blade will continue its journey down the Danube for around 1,100 kilometres to the port of Pančevo in Serbia. The transport will be carried out by the 'Ursa Montana' – at 191.5 metres long and 17.40 metres wide, one of the largest barge convoys in Europe. Due to its size, the 'Ursa Montana' is only able to dock at bayernhafen Passau in Bavaria, which emphasises the special status of this port location for heavy-lift/large-volume transport.
bayernhafen Passau, along with the ports of Aschaffenburg, Bamberg, Nuremberg, Roth and Regensburg, is a member of bayernhafen Gruppe. Due to its excellent accessibility for wide-load and high machinery components, such as transformers, and the associated handling possibilities, the bayernhafen Gruppe locations play an important role in securing the long-term commitment of plant and equipment manufacturers.