17 October 2023 | bayernhafen
bayernhafen and Helrom to use patented technology to shift semi-trailers from road to rail
• Daily service from bayernhafen Regensburg to Hungary to commence operation in April 2024 • Bavarian Transport Minister, Christian Bernreiter, welcomes the boost for combined transport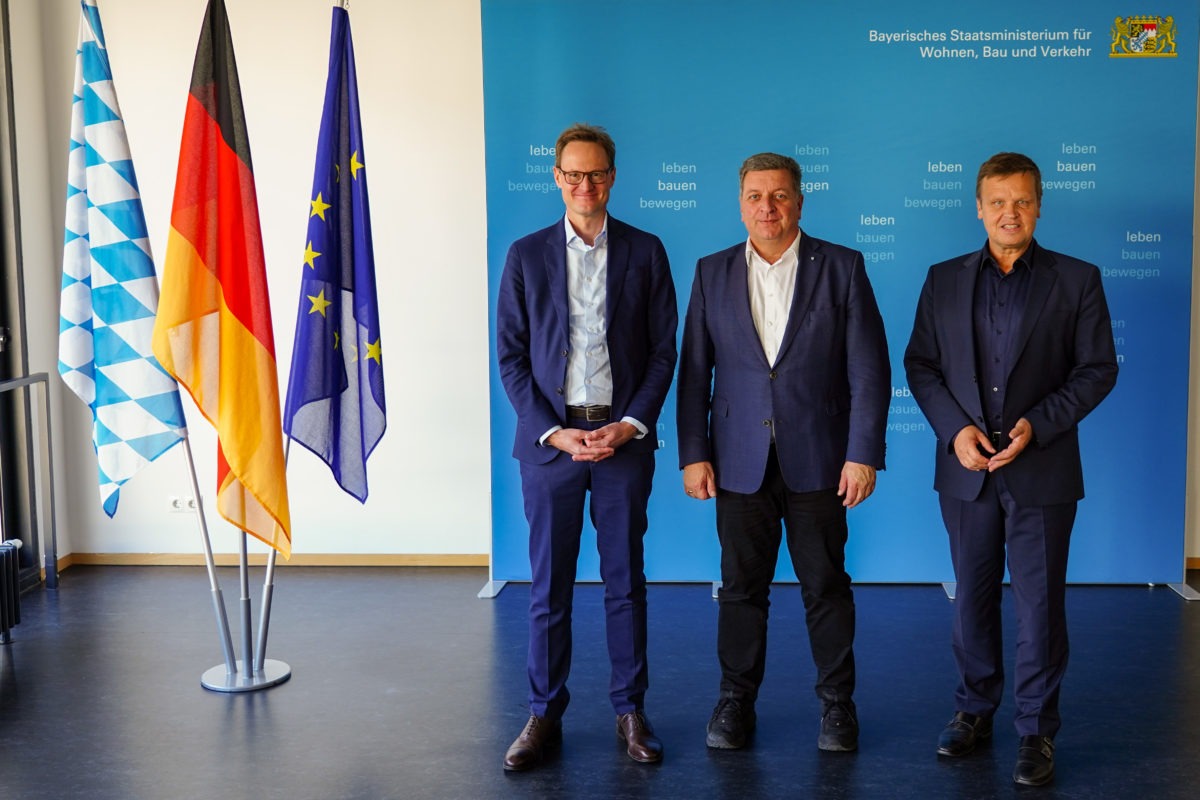 17 October 2023 – bayernhafen brings together a highly diverse range of goods and delivers the right infrastructure to meet the challenge of shifting long-distance traffic from the road networks to the two environmentally friendly transport modes of inland waterway and rail. In the future, this will also involve the use of Helrom's patented trailer wagon technology, which enables easy horizontal loading of semi-trailers onto rail without the need for special crane technology. The new CT service for industrial companies from Bavaria is scheduled to go into operation in April 2024. bayernhafen Regensburg's terminal, the Trailerport, will serve as the hub for the new service.
In April 2024, Helrom GmbH will start operating a daily rail service from bayernhafen Regensburg to Lébény in Hungary to transport production components on behalf of an industrial company based in Bavaria. The new link will use the horizontal loading technology developed and patented by Helrom, which involves uncoupling the trailer from the truck and using an electric powered traction unit to slide it onto the transport bed, which is opened out at the side. Shifting semi-trailers from road to rail will save approximately 11,000 tonnes of CO2 annually and reduce the number of road journeys by around 17,000 a year, taking the strain off the motorways and service stations located between Regensburg and Hungary.
To enable this modal shift, bayernhafen is investing in the modification of its Trailerport, a terminal dedicated to handling swap bodies and semi-trailers that bayernhafen operates at its port in Regensburg. Over the coming months, parts of the terminal site and the entrance gate will be upgraded and recharging infrastructure for electric tractor units will be installed.
"What is really interesting about this system is that it allows non-craneable semi-trailers to be loaded onto rail without the need for the construction of expensive, complex infrastructure," says Christian Bernreiter, Bavarian Minister of State for Housing, Construction and Transport. "I am really curious to see how the system proves its worth in practice. It certainly has the potential to make a significant contribution to the growth of combined transport, which is something I very much welcome. I am particularly gratified to see that this innovation is being developed in cooperation with bayernhafen, a company owned by the State of Bavaria."
"bayernhafen expressed interest in our technology at an early stage – and once things became more concrete, they they took an open and expert approach to the search for the right solutions," stress Helrom's Chief Executive Officer, Roman Noack, and Chief Operating Officer, Wolfgang Maier, who also aim to set new benchmarks in reliability and punctuality.
"In combined transport, containers have already proven to be a success model. Now we need solutions for large-volume traffic on continental routes – that means getting trailers and swap bodies onto the rail network," says bayernhafen's Chief Executive Officer, Joachim Zimmermann. "We are open to all proposals for solutions. Through the Trailerport, we laid the groundwork for this segment at an early stage. It is, however, also clear that the necessary capacity needs to be made available in the rail network. Bulk goods by barge, trailers by train – that would be best way to share the load, both economically as well as environmentally."