7 May 2019 | Aschaffenburg
bayernhafen Aschaffenburg boosts its infrastructure
2018 financial year: 917,013 tonnes of good moved by inland waterway and rail; bayernhafen invests € 6.1 million; conversion of former transformer station; RAIL.ONE and Teamlog attracted to port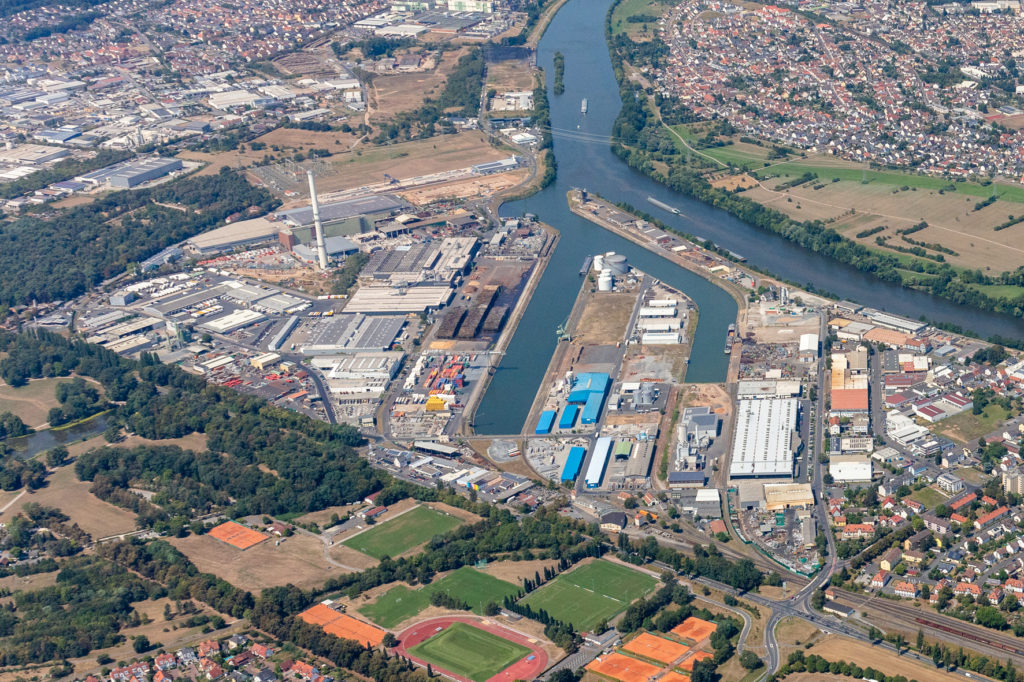 Aschaffenburg, 7 May 2019 – In 2018, bayernhafen Aschaffenburg (along with Bamberg, Nuremberg, Regensburg, Roth and Passau, one of the six bayernhafen port locations) continued the steady development of its port infrastructure. Following on from the € 11.7 million it invested in 2017, bayernhafen initiated a further investment programme of € 6.1 million in boosting the efficiency of its infrastructure. bayernhafen's investment provides industrial, trading and logistics companies with the best arguments for using the environmentally transport modes of inland waterway and rail for their import and export activities. Despite the longest ever low-water level period in history, a total of 917,013 tonnes of cargo were moved by inland waterway and rail at bayernhafen Aschaffenburg in 2018, 14.3% down on 2017.
Robust business model withstands testing conditions
​2018 was the warmest and one of the driest years in Germany since records began. For months on end, hardly any rain fell … and the waters of the Rhine and Danube dropped to historically low levels. This development also had an effect on bayernhafen Aschaffenburg: 2018 saw the volume of goods transported by inland waterway fall by 28% to 576,576 tonnes. However, this decrease was largely compensated for by significant growth in rail transport, with 340,437 tonnes of freight moved by rail, up 26.2% on 2017. "All three transport modes are ready to spring into action at our location," says Wolfgang Filippi, Branch Manager of bayernhafen Aschaffenburg. "and this multimodal link is where our strengths lie. In addition, the mix of industries and freight structure that our customers bring ensures the stability of the location, even when conditions change. This builds the basis for a robust business model."
As in the previous year, fuels made up the lion's share of the shipping tonnage, followed by construction materials, minerals and earths, and scrap metal. Additionally, high-value heavy-lift goods, such as a 92-tonne transformer, were also loaded onto barge at Aschaffenburg to begin their journey around the world. Containers, metals and timber in particular were transported by rail. A new addition to the mix are railway sleepers, which have been produced in the port of Aschaffenburg since the opening of a sleeper manufacturing plant in April 2018.
Steady development in container traffic by rail
bayernhafen Aschaffenburg is linked to the North Sea ports of Hamburg and Bremerhaven by a container train service, with regional distribution carried out by road. Container throughput in the TCA container terminal at Aschaffenburg increased to 20,512 TEU (1 TEU = 1 twenty-foot equivalent unit), up 7.7% on the previous year's level. It was also possible here to largely offset a fall in inland waterway traffic through higher volumes transported by rail. The positive development in rail traffic is also expected to continue in 2019: from May onwards, the operator IGS Intermodal will increase the frequency of its container service from four to five round trips a week.
 bayernhafen invests € 6.1 million in efficiency increases
In 2018, bayernhafen also invested around € 6.1 million in its Aschaffenburg location in re-developing sites for commercial use and in its multi-year project to optimise its rail and inland waterway infrastructure. This includes upgrading quay 1 with railtrack facilities, developing quay 4 and building a construction pier for passenger ships. For 2019, bayernhafen is planning to initiate a further investment scheme of around € 7.6 million in re-developing commercial areas and in the purchase of a reach stacker for container handling.
Anchor point bayernhafen
Thanks to the quality of its locations, bayernhafen also attracted more companies in 2018: In April, RAIL.ONE opened a manufacturing plant in bayernhafen Aschaffenburg that produces rail sleepers for short and long-distance rail traffic. Nearby, Teamlog constructed a new production line for the heavy goods vehicle axle manufacturer, SAF Holland, which will be ready for occupancy in the course of the second quarter of 2019.
Jointly, the two companies already occupy two thirds of the reclaimed site of the former transformer station. Since the demolition of the transformer station at the end of 2015, bayernhafen Aschaffenburg has freed up a total of 100,000 m2 for new use.
Furthermore, quay 2 in the port has a new occupant in the guise of Blasius Schuster, whose activities extend the range of services for construction material recycling and disposal of soils offered at the location. The construction of the new operating facilities will enable the Hafenrandstraße area of the port to be better demarcated from the residential development in Leider.
Wolfgang Filippi explains bayernhafen's recipe for success as a site architect: "The decisions these companies take to invest in bayernhafen Aschaffenburg are a testament to the attractiveness of the comprehensive package of cargo handling and infrastructure services we offer on the basis of rental and leasehold contracts. Through site recycling, we create new opportunities for our customers, even in our existing property portfolio. On top of the trimodal infrastructure, there is also synergy between the companies operating from the port. This combination makes bayernhafen Aschaffenburg a major anchor point for the Bavarian Rhine-Main region."
 Location offers best conditions for the 'white fleet'
Since 1 January 2019, bayernhafen Aschaffenburg has been operating the river cruise ship pier in the Floßhafen area on behalf of the Congress and Tourism Operating Companies of the City of Aschaffenburg. The operational management includes in particular reserving berths, scheduling and accounting. Hotel ships up to 135 metres long can dock in the Floßhafen. Every year, up to 150 moorings are expected. In addition, bayernhafen is building a dedicated pier for passenger ships on the Main river near Werftstraße in 2019 in order to take pressure off the inner-city piers caused by ship-to-bus transfers.
The passenger ships piers in Aschaffenburg, Bamberg, Roth, Regensburg and Passau mean that bayernhafen now offers a one-stop-shop service for the river cruise sector at a total of five locations in Bavaria.