12 March 2020 | Aschaffenburg
bayernhafen Aschaffenburg excels in interface development
2019 financial year: 1.2 million tonnes of goods moved by inland waterway and rail, a 28.8% increase on 2018; bayernhafen invests € 4 million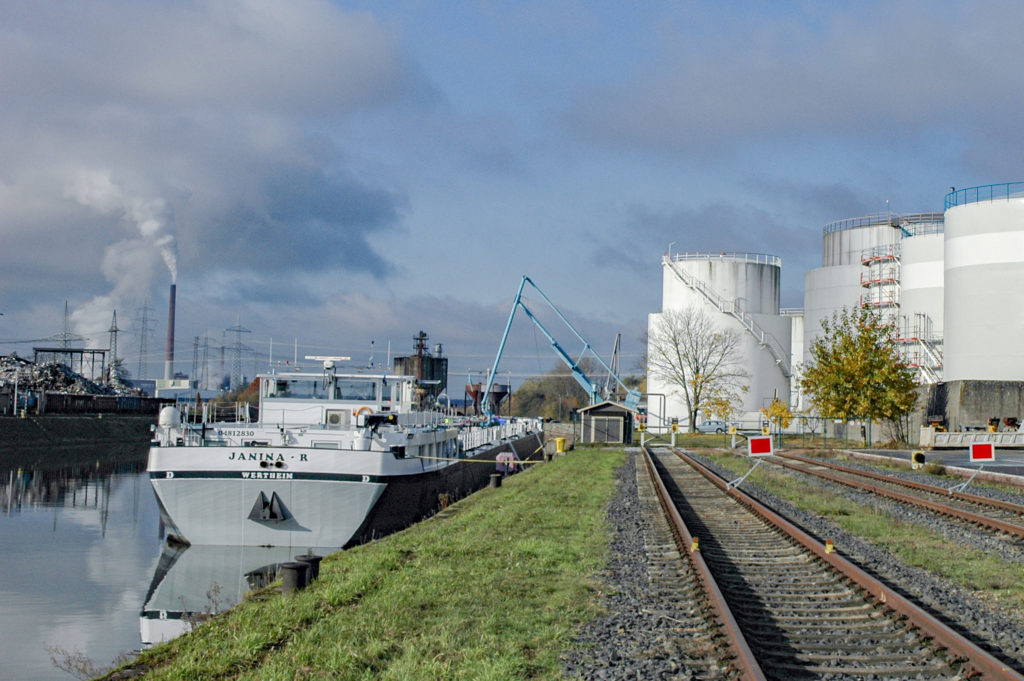 Aschaffenburg, 12 March 2020 – In 2019, bayernhafen Aschaffenburg (along with Bamberg, Nuremberg, Regensburg, Roth and Passau, one of the six bayernhafen inland port locations) consistently pursued its strategy of developing bespoke infrastructure to shift long-distance traffic from the road networks to the more environmentally friendly transport modes of inland waterway and rail. In the 2019 financial year, a total of 1.181 million tonnes of freight and cargo were moved by inland waterway and rail at bayernhafen Aschaffenburg – a 28.8% increase on the 917,013 tonnes of the previous year.
"
We pool freight volumes and link the modes of transport. We are the key to bringing about a modal shift.
bayernhafen CEO Joachim Zimmermann
After the record-breaking low-water levels of 2018, inland waterway handling at bayernhafen Aschaffenburg recovered in 2019, growing by around 157,000 tonnes. Rail freight handling also increased by around 107,000 tonnes. The container terminal in bayernhafen Aschaffenburg, however, experienced a slight fall in 2019, with road-rail/rail-road handling down 5.4% on 2018 at 19,404 TEU (twenty-foot equivalent unit). This fall was the result of a downturn in global trade, a development also reflected in seaport-hinterland traffic.
As in the previous year, fuels made up the lion's share of the shipping tonnage, followed by construction materials, minerals and earths, and metals. Rail freight handling primarily involved containers, timber, rail sleepers and metals.
bayernhafen Aschaffenburg's skill in developing interfaces makes it a guarantor for achieving the modal shift, because the port's ability to efficiently link the different modes of transport enables businesses to opt for rail and inland waterway for long-distance transport as alternatives to transport by road. Through this strategy, bayernhafen Aschaffenburg is making a key contribution to tapping the full potential of the different transport modes. This takes pressure off the road networks and reduces CO2 emissions.
"We pool freight volumes and link the modes of transport," says bayernhafen's Chief Executive Officer, Joachim Zimmermann. "We are the key to bringing about a modal shift. The way we operate is very similar to triathlon transition zones: in relation to the logistics chain as a whole, the focus is on us for only a short time – but when it is, everything must be just right. In the same way that every detail counts in triathlon transition zones, every move we make must also be right. Cargo and freight handling in the port requires optimal interaction with our customers and a perfectly coordinated team. The key prerequisite is the capacity of the port infrastructure."
Continued growth in port infrastructure
In 2019, bayernhafen once again maintained the high level of investment it had made over the previous years, launching a € 4 million investment programme in the redevelopment of bayernhafen Aschaffenburg's commercial sites and port infrastructure. bayernhafen Aschaffenburg continued with the planning work to modernise the port marshalling yard. In addition, it is currently preparing to relocate the container terminal from quay 5 to a larger site at quay 4, where the rail track facilities are able to accommodate trains of 350 metres in length. This will then only require single partitioning of trains, saving significantly on shunting operations and achieving a long-term reduction in fuel exhaust and noise emissions. Furthermore, quay 4 provides considerably more space for train stabling and shunting operations than quay 5. Quay 4 also offers the possibility of expanding the CT terminal to meet demand, thereby enabling bayernhafen Aschaffenburg to satisfy both the politically desired opportunities for growth in combined transport while at the same time reducing the burden of emissions on the general public.
"
Infrastructure is the key to bringing about a modal shift
bayernhafen CEOJoachim Zimmermann
Water-borne timber delivery
Since 2019, Pollmeier, the leading producer of hardwood products in Europe, has increasingly made use of inland waterway for the delivery of timber trunks to its production facilities at bayernhafen Aschaffenburg. In future, it plans to reduce the volume of hardwood delivered by road from the surrounding low mountain ranges whilst increasing water-borne deliveries from a large timber yard. "Infrastructure is the key to bringing about a modal shift," says Joachim Zimmermann. "That is why we are consistent in our investments and the utilisation of our skill as commercial site developers. There is still room for improvement in the pace of planning permission – for this reason, we welcome all political initiatives that speed up approval processes. The ports sector has been advocating this for many years." In 2020, bayernhafen Aschaffenburg is planning to initiate an investment programme that will involve allocating around € 10.5 million over a several-year period.
New companies attracted to bayernhafen Aschaffenburg
As a 'site architect,' bayernhafen creates the right conditions for attracting manufacturing and logistics companies, who use the port intensively to transport cargo and freight over long distances by inland waterway and rail. bayernhafen manages its land strategically, placing a consistent focus on recycling, rather than consuming, land. Through this successful combination of land and infrastructure, bayernhafen provides the companies operating from its ports with the best conditions for doing business. In May 2019, Teamlog inaugurated a further logistics centre at bayernhafen Aschaffenburg to manage the global spare parts business of axle manufacturer, SAF-Holland. The new warehouse, which started operations at the beginning of May 2019, is located on the redeveloped site of the former transformer station, directly next to RAIL.ONE, which inaugurated its concrete rail sleeper production facility on the site last year. The two companies already occupy two thirds of the 100,000 m2 redeveloped site, which is being made available by bayernhafen Aschaffenburg for reuse following the dismantling of the transformer station.
White fleet launches in bayernhafen Aschaffenburg
bayernhafen has been the operator of the Floßhafen municipal pier for cruise ships since January 2019. Over the course of the 2019 financial year, a total of 86 river cruise ships docked at the pier and more than 100 cruise ships have pre-registered for 2020. In 2020, bayernhafen is building a dedicated pier for passenger ships near Werftstraße on the Main river to relieve the pressure on the downtown Floßhafen pier caused by ship-to-bus transfers. This will reduce the bus traffic in the city centre of Aschaffenburg.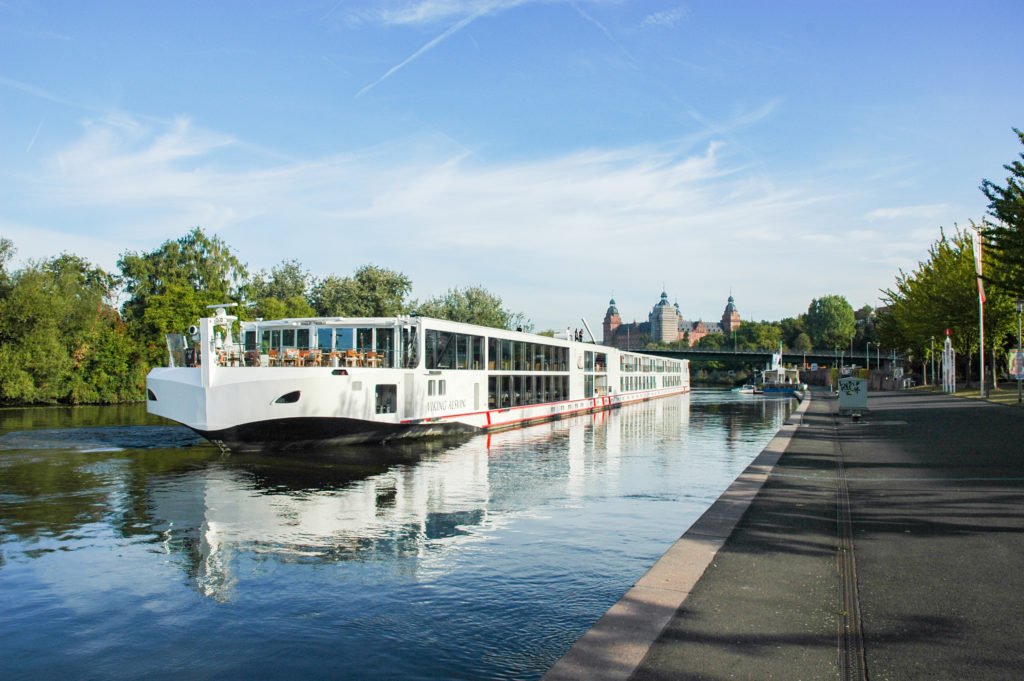 On 1 January 2019, bayernhafen Aschaffenburg assumed the role of operator of the Floßhafen municipal river cruise ship pier. A total of 86 cruise ships docked at Aschaffenburg in 2019.