14 March 2023 | Bamberg
bayernhafen Bamberg – Upper Franconia's gateway to the world – future-proof business thanks to investment
2022 financial year: around 0.5 million tonnes of goods moved by rail and inland waterway; combined transport tops 25,000 TEU; "white fleet" makes a comeback.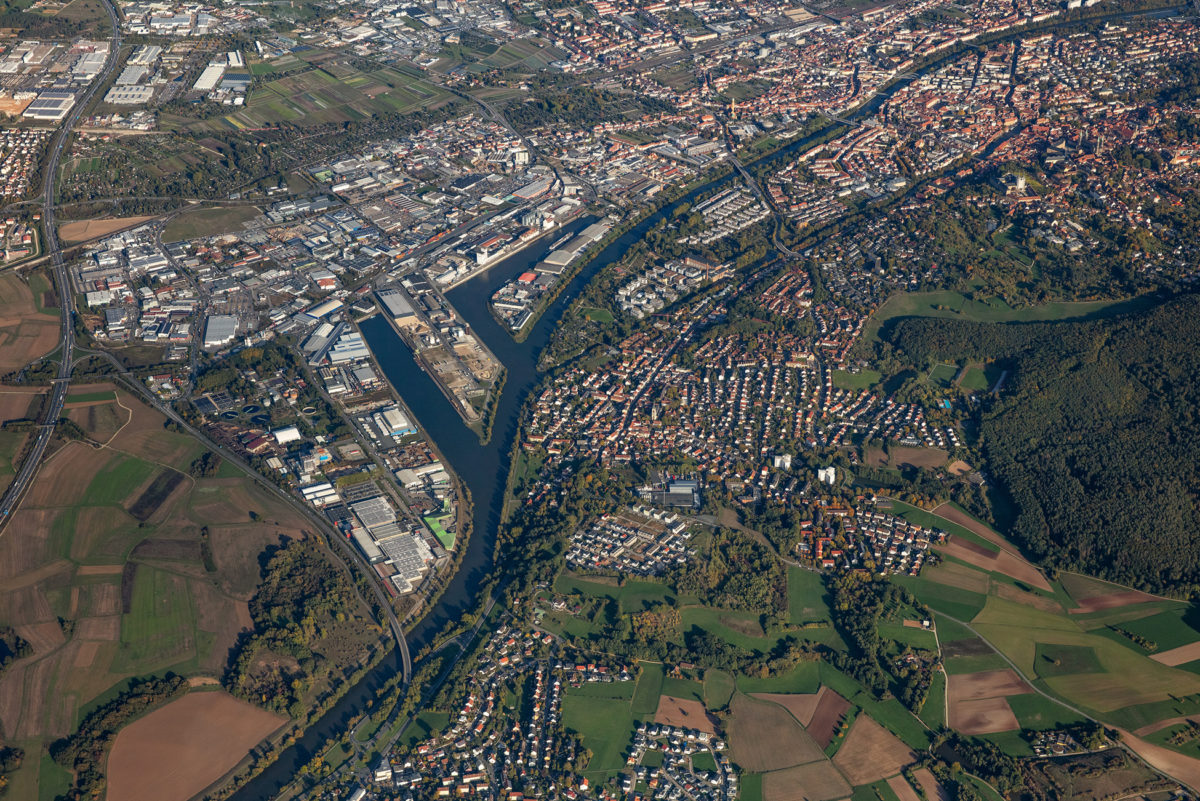 Bamberg, 14.03.2023 – Despite 2022 being a difficult year, bayernhafen showed what it was capable of: 26,000 truck trips (almost 72 per day) were saved by shifting long-distance traffic to the more environmentally friendly modes of transport, rail and inland waterway. bayernhafen moved a total of 9 million tonnes of cargo and freight by inland waterway and rail at its six locations of Aschaffenburg, Bamberg, Nuremberg, Roth, Regensburg and Passau – at 1.8%, only slightly less than the previous year.
In 2022, bayernhafen Bamberg moved a total of 446,124 tonnes of goods by inland waterway and rail, around 20% less than in the previous year, more than half of which (261,111 tonnes) was transported by rail. This corresponds to around 26,000 truck journeys saved (approx. 72 trucks daily) and a CO2 saving of 21,218 tonnes. The combined transport terminal handled 25,763 TEU (twenty foot equivalent unit), generally containing important goods needed to supply the region's industry and population. The terminal connects the Bamberg region with the North Sea ports of Bremerhaven, Hamburg and Wilhelmshaven thanks to regular train connections and thus makes a decisive contribution towards achieving the modal shift.
The volume of goods handled by inland waterway decreased by 36% to 185,013 tonnes. This was mainly due to three factors. Lack of shipping capacity due to the sale of several ships to Eastern Europe to transport grain from the Ukraine to the Romanian Black Sea ports. Further capacity is in short supply on the Main and Danube between Aschaffenburg and Passau as a result of the tremendous demand for coal transport, especially on the Rhine. And lastly, 2022 was a year with severe and prolonged periods of low water.
"
We act as the backbone for the supply of goods to society and industry. This function should not be constrained or even harmed.
Joachim Zimmernann,
Chief Executive Officer of bayernhafen
"Despite the challenges, however, we are seeing considerable interest and a fundamental willingness to expedite the change to inland waterway and rail for transport, not only among our customers but also among companies in Bavaria. This entails undertaking investments to counter the bottlenecks that have developed. To ensure that bayernhafen remains the first port of call, last year we again initiated around €46 million in multi-year investments in our port infrastructure, and this year we're adding another €28 million – €6 million in Bamberg alone," says bayernhafen Chief Executive Officer, Joachim Zimmermann, who is also President of the Federal Association of Public Inland Ports. "We act as the backbone for the supply of goods to society and industry. This function should not be constrained or even harmed," says Zimmermann.
HVO use gets the go-ahead
One of the most significant investments this year include the location-wide HVO refueling project launched in Bamberg. bayernhafen is taking the next step in sustainability by gradually converting its handling equipment to HVO fuel. HVO stands for hydrotreated vegetable oils, and is also known as hydrogenated vegetable oil. This type of organic fuel can be used to completely replace normal diesel. The use of HVO reduces the total amount of harmful emissions in the life cycle of a machine by around 75%, and practically halves pure CO2 emissions. The only emissions are what the plant had previously absorbed. This makes the vehicles climate-neutral. Since recycled fats and oils are used, it also means there is no competition with food products. bayernhafen has already made firm plans to extend HVO use to other locations and also assumes that the additional price will fall steadily as HVO use becomes more widespread.
"
Almost 800 cruise ships have already registered for 2023.
Anja Bokeloh
Head of Technology and Operations at bayernhafen Bamberg
"White fleet" makes a comeback
The return of river cruises after the pandemic is developing very positively, with 784 ships laying anchor at bayernhafen's piers. "This figure is only 10% less than the comparable year 2019," says Anja Bokeloh, Head of Technology and Operations at bayernhafen Bamberg. "So we are back on track. Almost 800 cruise ships have already registered for 2023." Despite the recovery, however, the situation for river cruises in general is still tense due to the shortage of personnel: previously many crews and workers were recruited from Ukraine.
bayernhafen is investing €2 million in the installation of seven shore-power charging points for river cruise and cargo ships. The shore-side power supply connection for hotel ships is scheduled to go into service at Quay 5 at the start of the 2023 season. In addition, electricity charging points for cargo ships are to be installed, enabling bayernhafen Bamberg to make a key contribution to a more energy-efficient future.
Job guarantor and new future-proof businesses
The effect of the port on jobs across the region is considerable and is becoming even more important thanks to the steady influx of new businesses. Over 5,000 people are employed by the companies that use the port directly and that partly rely on its infrastructure. Around 1,800 people currently are employed at the 70 or so companies operating from bayernhafen Bamberg today, and the trend is rising.
Bosch is continuing this trend at bayernhafen Bamberg by inaugurating the new 10,000 m² logistics centre in May 2022. After eleven months of construction, Herbst Logistik GmbH, which carried out the construction of the new building, handed over the logistics centre to the automotive supplier. Bosch has the option for further expansion on an adjoining site.
The Biosyntec tank farm in the port has already been receiving biodiesel by rail from Eastern Europe since mid-2021. After the first full year of operation in 2022, the company is now already planning to significantly expand its activities on the adjacent development area.
Furthermore, this year BayWa will begin the expansion of its construction materials business and the erection of a new timber handling centre on Rheinstrasse.
"
In our role as location architects, we constantly engage in dialogue with our clients about their requirements.
Alexander Zeiger Head of Real Estate Business, bayernhafen Bamberg
"In our role as location architects, we constantly engage in dialogue with our clients about their requirements. This allows us to work together to develop tailor-made opportunities for expansion and ultimately develop larger sites for special logistics projects," says Alexander Zeiger, Head of Real Estate Business at bayernhafen Bamberg.
Heavy-lift expertise at bayernhafen
In December 2022, plenty of helping hands and equipment weighing several tons ensured the smooth heavy-lift transfer of the lock gates to inland waterway. The team from the heavy-lift specialist Felbermayr and Merkel Autokrane loaded the four lock gates, weighing a total of around 120 tonnes, onto barge at bayernhafen Bamberg. From Bamberg, the floating giant headed for the Neckar River, unloading at Horkheim and Deizisau. The lock gates are destined to be used at the Hessigheim lock.