28 June 2023 | bayernhafen
bayernhafen invests in in-house rail engineering expertise with 6-port railtrack team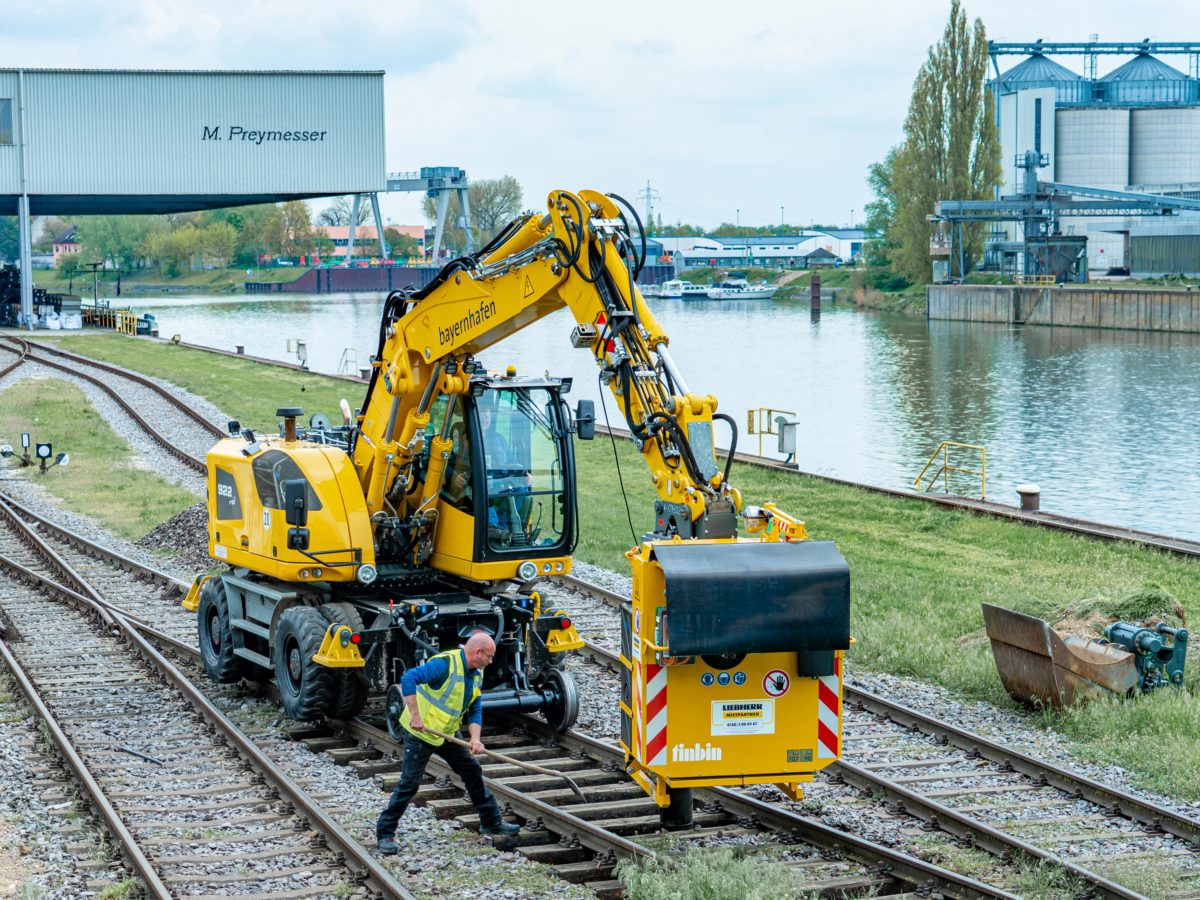 bayernhafen has over 120 km of dedicated rail track
Railtrack team covering bayernhafen's 6 ports ensures its rail infrastructure network remains in excellent condition and fit for the future
State-of-the-art equipment includes a road/rail excavator equipped with attachments and a suction excavator
Further additions to the team are planned
Regensburg, 28.06.2023 – bayernhafen has an extremely impressive rail infrastructure network. With around 120 km of dedicated, partly electrified rail track and corresponding points and level crossings, bayernhafen is the second-largest rail infrastructure operator in Bavaria. All of this infrastructive naturally needs to be kept regularly maintained and fit for the future. To enable bayernhafen to carry out construction and repairs on its rail infrastructure at all times, the port operator is investing in a railtrack construction unit that works across its six locations in Aschaffenburg, Bamberg, Nuremberg, Roth, Regensburg and Passau.
Since the spring of this year, the highly trained team, led by a seasoned railtrack construction specialist, has been hard at work undertaking extensive rail construction work at bayernhafen's ports. For larger-scale projects, bayernhafen also brings in outside engineering companies, some of whom have been working with bayernhafen for many years.
Klaus Hohberger of bayernhafen's Management Board, who heads the Technology, Infrastructure & Operations business unit, is delighted with the new in-house railtrack construction expertise: "Along with our quay facilities, our track infrastructure is absolutely crucial to the success of operations at our ports. Making sure it functions reliably and remains fit for the future at all times is key to ensuring that the companies based at our ports can conduct their business smoothly and without interruption. Our nine colleagues make a valuable contribution to guaranteeing they can do just that."
For all rail-related work, the team is equipped with state-of-the-art equipment. For example, bayernhafen acquired a road/rail excavator with all of the necessary attachments and a suction excavator that facilitates construction work by easily and rapdily removing ballast from the tracks.
A specialist track construction worker and a construction equipment operator were brought on board right from the outset. To further bolster the team, bayernhafen is looking for employees with experience in the field of civil engineering / rail track construction. "Port work means teamwork. That is why we continuously invest in our employees and offer secure, highly interesting roles at our regional ports," says Finni Freese, Head of Personnel and Organisation.