3 April 2020 | Nuremberg
bayernhafen Nürnberg – location quality of the highest calibre
2019 financial year: 4.31 million tonnes of good moved by inland waterway and rail; bayernhafen invests € 1.7 million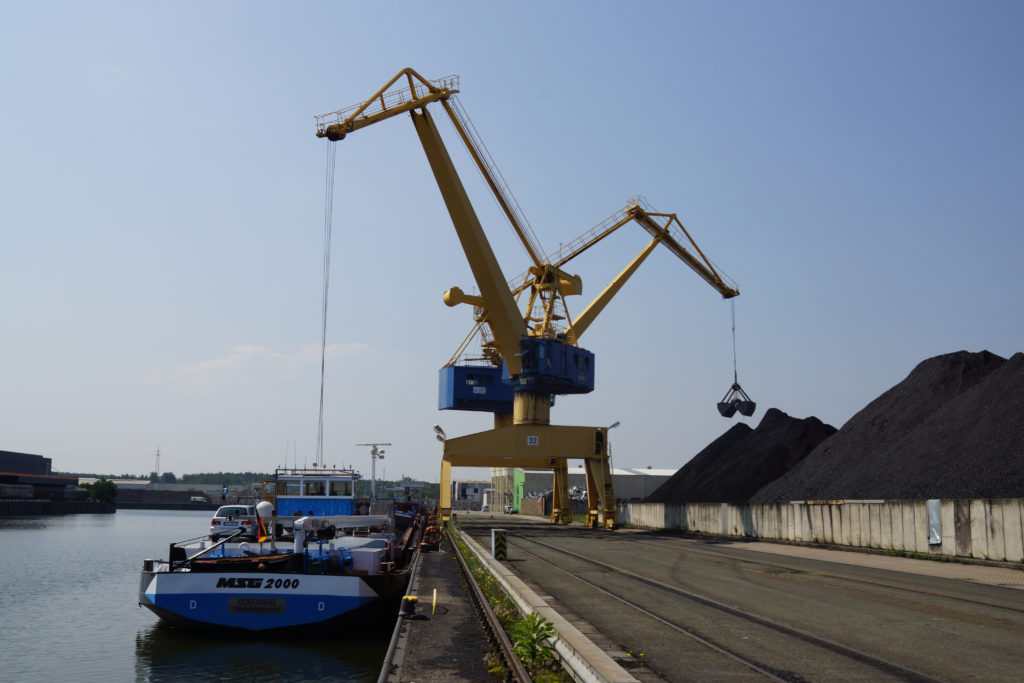 Nuremberg and Roth, 3 April 2020 – bayernhafen Nürnberg and bayernhafen Roth (which, along with Aschaffenburg, Bamberg, Regensburg and Passau, make up the six bayernhafen port locations) consistently pursued their strategy of developing bespoke infrastructure to shift long-distance traffic from the road networks to the more environmentally friendly transport modes of inland waterway and rail. In 2019, a cumulative total of 4.31 million tonnes of cargo and freight were moved by inland waterway and rail at the two port locations – a 28,112-tonne increase on 2018.
After the low water levels experienced in 2018, the cumulative cargo and freight transferred by inland waterway at bayernhafen Nürnberg and bayernhafen Roth increased in 2019 by 15.8% to 303,434 tonnes. At 4,00,076 tonnes, rail freight handling in bayernhafen Nürnberg almost matched the same level as the previous year (2018: 4,019,388 tonnes). The same was true of the container throughput: in 2019, the port handled 301,540 TEU (twenty-foot equivalent unit) (2018: 302,326 TEU). The lion's share of the cargo transported by barge consisted of fertilisers and minerals and earths, while containers and mineral oil products dominated in rail transport.
"
By optimally linking the transport modes, we make a key contribution to shifting long-distance traffic on to rail an inland waterway"
CEO Hafen Nürnberg-Roth GmbH
Alexander Ochs
"By optimally linking the transport modes, we make a key contribution to shifting long-distance traffic on to rail and inland waterway," says Alexander Ochs, the  Managing Director of Hafen Nürnberg-Roth GmbH, the operator of the bayernhafen locations of Nuremberg and Roth. "We will always need trucks for the initial leg and last mile – because this is how food supplies are delivered to supermarkets, textiles are delivered to shops and products destined for export are transported from the manufacturers to the port. However, for the main run we use inland waterway and rail. Each of the three transport modes has its strengths – and our inland port locations efficiently leverage these strengths."
Continued growth in port infrastructure
In 2019, bayernhafen initiated a € 1.7 million investment programme in the redevelopment of its commercial sites and port infrastructure at its two locations in Nuremberg and Roth. In addition, in December, the Federal Minister of Transport, Andreas Scheuer, granted funding to support the expansion of the container terminal in bayernhafen Nürnberg. "We plan to carry out the expansion of the container terminal while maintaining normal business operations," says Alexander Ochs. "This will give combined transport in the metropolitan region of Nuremberg yet another boost."
bayernhafen Nürnberg: a highly attractive location
As a 'site architect,' bayernhafen creates the right conditions for manufacturing and logistics companies, who use the port intensively to transport cargo and freight over long distances by inland waterway and rail. bayernhafen manages its land strategically, placing a consistent focus on recycling, rather than consuming, land. This includes regularly redeveloping commercial sites for new uses. Through this combination of land and infrastructure, bayernhafen provides the companies operating from its ports with the best conditions for doing business. Proximity to infrastructure and terminals is an indispensable criterion for many logistics companies.
The lease on the third new logistics building constructed by greenfield development in bayernhafen Nürnberg was also immediately snapped up. Since May 2019, the tenant of the slightly over 8,000 m2 premises is MTP Messtechnik Produktions GmbH, whose 120 employees are engaged in the manufacture of metrology and testing technology for use in building energy management systems.
Through the expansion and conversion of commercial sites in bayernhafen Nürnberg, the Geis corporate group's production facilities have grown to occupy a total area of around 150,000 m2. "What happens at bayernhafen Nürnberg is a reflection of developments in the economy at large," says Alexander Ochs. "Of course, we do not have infinite land capacity. But where the land we have at our disposal permits, we accommodate our customers' wishes for expansion at the port and ensure we secure the necessary legal certainty and planning reliability. We have these skills in our team."
In the Autumn of 2019, the ground-breaking ceremony was held for a new LNG service station for heavy-goods vehicles that will be developed jointly by Rödl energie and BayWa AG in bayernhafen Nürnberg. LNG ('liquefied natural gas') offers an environmentally friendly, high-performance alternative to diesel for long-distance road freight transport. "We see our role as site architects," says Alexander Ochs. "We create space for the companies operating from our ports to develop new fields of business and enhance the synergy effects between these companies at the port. The new LNG service station developed by our long-standing resident company, Rödl energie, is a further example of this strategy." The result is an efficient and environmentally friendly logistics chain: intermodal trains for long distances and LNG-powered trucks for the initial leg and last mile. "In addition, we develop ideas with experts, such as multi-storey logistics real estate, parking concepts and sharing models, and we find available warehouse and office space for our customers in our ports."
bayernhafen Nürnberg ranks among the top three freight villages in Europe
The Association of German Freight Villages published its third European freight village ranking and once again bayernhafen Nürnberg made it into the top three. A total of 38 evaluation criteria were used for the 2020 ranking, with digitalisation and safety technology making their criteria debut. Once again, great importance was attached to intermodality.
Jobport attracts 1,500 visitors
Following the premiere in 2018, the rallying cry of "Off to the Jobport in bayernhafen Nürnberg!" could once again be heard. A very distinctive kind of recruitment fair: outdoors, surrounded by containers, with interactive booths manned by logistics companies from the port and the Nuremberg region, with a job wall, food trucks and a mobile photo studio for job application photographs. Over the course of the day, a total of 1,500 school and vocational college students, trained electricians, fitters and drivers as well as logistics specialists from the metropolitan region of Nuremberg, Fürth and Erlangen descended on bayernhafen Nürnberg. "At the Jobport, we combine dialogue with experience," says Alexander Ochs. "Logistics once again shows just what it can do and what makes it so fascinating."