9 April 2019 | Passau
bayernhafen Passau boosts its strategic position
2018 financial year in bayernhafen Passau: 331,759 tonnes of goods moved by inland waterway and rail – up 4.5%; bayernhafen invests € 4.3 million on developing the port infrastructure in Passau-Schalding; cruise ship piers in Racklau extended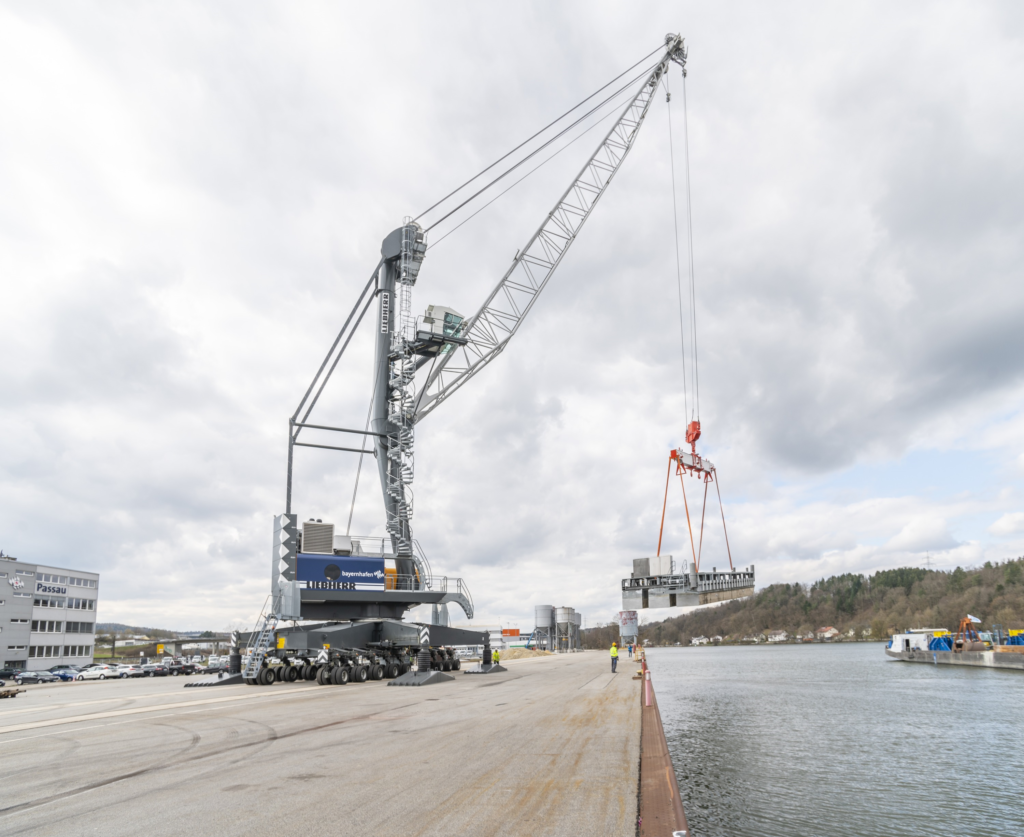 Passau, 9 April 2019 – In 2018, a total of 237,930 tonnes of goods were moved by inland waterway and rail at bayernhafen Passau (along with Aschaffenburg, Bamberg, Nuremberg, Roth and Regensburg, one of the six bayernhafen port locations), a 4.5% increase on 2017. Around ten years after the trimodal port location in Passau-Schalding commenced operations, bayernhafen's infrastructure investment programme has given the strategic position of the port a welcome boost and provided industrial, trade and logistics companies with the best arguments for using the environmentally transport modes of inland waterway and rail for their import and export activities.
2018 was the warmest and one of the driest years in Germany since records began. For months on end, hardly any rain fell … and the waters of the Rhine and Danube dropped to historically low levels. Due to bayernhafen Passau's location just before the undeveloped Vilshofen-Straubing stretch of the Danube, its lightering services play a key role in shipping on the Danube. This contributed to a 14% increase in goods moved by inland waterway in 2018. 294,113 tonnes were transported by barge, around three quarters of which were from the agricultural sector. In addition to de-icing salt, there was also growth in heavy-lift/large-volume transport. This included the loading of 60-metre long wind turbine blades, wind turbine towers, and industrial machinery onto barge. Ro-ro transport plays a significant role at the Passau-Schalding location, with links from Passau via Enns to Vidin and Ruse in Bulgaria.
37,646 tonnes were transported by rail through Passau-Schalding, 37% less than the extraordinary large amount of windthrow handled in 2017. The main goods transported by rail in 2018 were vehicles, fertilisers and, in particular, cement, which was added to the mix in mid-May. A highlight was the brand-new passenger train 'made in Japan', which arrived at bayernhafen Passau in August. Hitachi Rail's Class 385 EMU train was transferred to a low loader via a special ramp for onward transport to Italy.
"The commitment we have shown to the port location of Passau has proven to be both right and important," says bayernhafen's Chief Executive Officer, Joachim Zimmermann. "We realised early on that, without rail connections, there would be no potential for growth at the old Passau-Racklau location. That's why we developed the Schalding location to include staging tracks and handling facilities for rail and inland waterway."
In 2018, bayernhafen initiated an investment programme of around € 4.3 million in the Passau-Schalding location: The quay-side loading tracks were extended from just over 600 metres to 880 metres and it boosted the capacity of its temporary storage facilities fivefold. In addition, a new mobile harbour crane was installed, which was officially inaugurated by the Federal Minister of Transport, Andreas Scheuer. It is the first mobile harbour crane in the world to meet the EU emission standard 5 and is capable of handling single loads weighing up to 120 tonnes.
"Our investments are significantly increasing the efficiency of our infrastructure," says Joachim Zimmermann. "For our customers, efficiency means a boost in reliability, better planning and greater cost efficiency – key factors for using the environmentally friendly transport modes of inland waterway and rail."
Development of the cruise ship piers in Racklau
2018 saw the end of an era in Passau-Racklau: The old port location no longer operates as a cargo-handling facility. This now opens up the opportunity to develop new, viable ways of using the port. The historically low water levels of 2018 also meant Passau played a strategic role for the river cruise sector. The groundwork was laid for Racklau to be even more intensively used by the river cruise sector than previously intended.
In 2018, a total of 254 hotel ships docked at bayernhafen Passau, 238 of which at Racklau, a total increase of 69% on the previous year. In 2019, bayernhafen Passau-Racklau now provides four piers for river cruise ships; it is planned to increase the number of piers to seven in 2020/21, along with electrification and the potential construction of a terminal building.