18 March 2020 | Passau
bayernhafen Passau excels in interface development
2019 financial year: 351,665 tonnes of goods moved by inland waterway and rail, a 6% increase on 2018; bayernhafen invests over € 1.5 million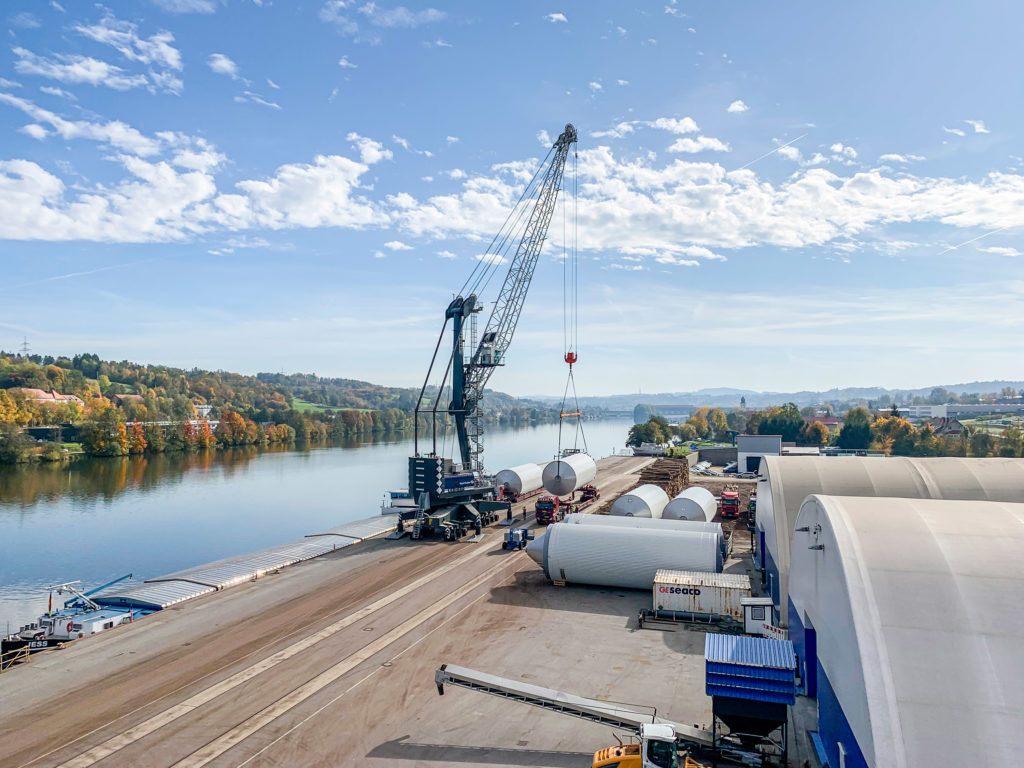 Passau, 18 March 2020  – In 2019, bayernhafen Passau (along with Aschaffenburg, Bamberg, Nuremberg, Roth and Regensburg, one of the six bayernhafen inland port locations) consistently pursued its strategy of developing bespoke infrastructure to shift long-distance traffic from the road networks to the more environmentally friendly transport modes of inland waterway and rail. In the 2019 financial year, a total of 351,665 tonnes of cargo and freight were moved by inland waterway and rail at bayernhafen Passau – a 6% increase on the 331,759 tonnes of the previous year.
"
We pool freight volumes and link the modes of transport. We are the key to bringing about a modal shift.
bayernhafen CEO
Joachim Zimmermann
Inland waterway handling totalled 299,789 tonnes in 2019, up 1.9% on the record-breaking low-water year of 2018. Rail handling increased significantly by 37.8% to 51,876 tonnes.The main goods handled by rail in 2019 were cement, timber and road vehicles. The lion's share of the shipping tonnage was made up of agricultural produce. Both ro-ro transport, which links Passau via Enns to Vidin and Ruse in Bulgaria, and heavy-lift/large-volume transport also continued to play a major role: In October, 24 beer storage tanks changed transport mode – from inland waterway to road – at bayernhafen Passau en route from Upper Franconia to the Budweiser Budvar brewery in the Czech Republic The heavy-lift handling operation included the deployment of the port's dedicated mobile crane, which entered into service at the start of 2019.
Through its skill in developing interfaces bayernhafen Passau is a modal shift guarantor, because its ability to efficiently link the different modes of transport enables businesses to opt for rail and inland waterway for long-distance transport as alternatives to transport by road. Through this strategy, bayernhafen is making a key contribution to tapping the full potential of the different transport modes. This takes pressure off the road networks and reduces CO2 emissions.
"We pool freight volumes and link the modes of transport," says bayernhafen's Chief Executive Officer, Joachim Zimmermann. "We are the key to bringing about a modal shift. The way we operate is very similar to triathlon transition zones: in relation to the logistics chain as a whole, the focus is on us for only a short time – but when it is, everything must be just right. In the same way that every detail counts in triathlon transition zones, every move we make must also be right. Cargo and freight handling in the port requires optimal interaction with our customers and a perfectly coordinated team. The key prerequisite is the capacity of the port infrastructure."
In 2019, bayernhafen initiated a € 1.5 million investment programme at the Passau location in the redevelopment of its commercial sites and port infrastructure, including in silo facilities in Passau-Schalding and in the development of berthing infrastructure for river cruise ships at the Passau-Racklau location. In 2020, bayernhafen is planning to launch an investment programme in Passau that will involve allocating around € 3 million over a several-year period.
River cruise sector
In 2019, a total of 299 river cruise ships docked at bayernhafen Passau, 266 of which at Racklau, a total increase of 17.7% on the previous year.