20 March 2019 | Regensburg
bayernhafen Regensburg – anchor point for the whole of East Bavaria
2018 financial year: 2.78 million tonnes of good moved by inland waterway and rail; bayernhafen invests € 9 million; container throughput + 7.4%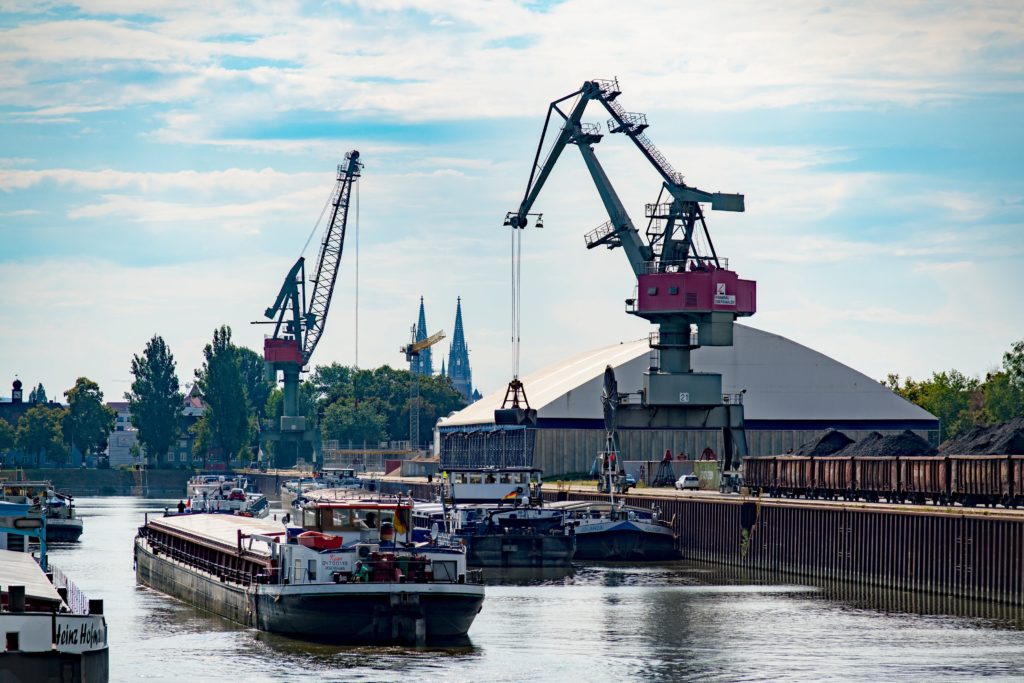 Regensburg, 19 March 2019 – In 2018, bayernhafen Regensburg (along with Aschaffenburg, Bamberg, Nuremberg, Roth and Passau, one of the six bayernhafen port locations) continued the steady development of its port infrastructure. Following on from the € 14 million it invested in 2017, bayernhafen initiated a further investment of € 9 million in boosting the efficiency of its infrastructure to provide industrial, trade and logistics companies with the best arguments for using the environmentally transport modes of inland waterway and rail for their import and export activities. Despite the longest ever low-water level period in history, a total of 2.78 million tonnes of cargo were moved by barge and rail at bayernhafen Regensburg, 9.1% down on 2017.

"Robust business model stands the test of time, even when conditions are tough."
2018 was the warmest and one of the driest years in Germany since records began. For months on end, hardly any rain fell … and the waters of the Rhine and Danube dropped to historically low levels. This naturally also had an effect on bayernhafen Regensburg, the largest port in Bavaria in terms of goods transported by inland waterway: In 2018, the volume of goods transported by inland waterway via bayernhafen Regensburg fell by 22.1% to 1.169 million tonnes. However, this decrease was largely compensated for by significant growth in rail transport, with 1.607 million tonnes of freight moved by rail, up 3.6% on 2017. "Extreme situations such as low water levels may affect us, but they don't knock us out," says the CEO of bayernhafen, Joachim Zimmermann. "The same is true if there is a slowdown in a particular cargo segment. Our business model is robust – multimodal transport links paired with diverse customer and freight structures. This robust business model has stood the test of time, even in years when conditions are tough."
As in the previous year, the lion's share of the shipping tonnage was made up of agricultural products, followed by metals, ores and construction materials. Additionally, high-value heavy-lift goods, such as transformers, were also loaded onto barge to begin their journeys around the world. Cement, mineral oil and containers in particular were transported by rail.
Container throughput + 7.4%
Seven times a week, a container train links bayernhafen Regensburg to the North Sea ports of Hamburg and Bremerhaven, with regional distribution carried out by road. Container throughput at bayernhafen Regensburg in 2018 increased to 124,639 TEU (*twenty-foot equivalent unit), 7.4% up on the previous year. This means that the container terminal in bayernhafen Regensburg has almost reached its full capacity of 128,000 TEU – plans to expand the container terminal are in progress.
€ 9 million investment in infrastructure
In 2018, bayernhafen also invested around € 9 million in its Regensburg location in re-developing sites for commercial use and in its multi-year project to optimise the rail and inland waterway infrastructure. The expansion work on bayernhafen's communications infrastructure was carried out by the Regensburg-based telecommunications company, R-KOM, which connected around 30 companies in Äußere Wienerstraße, Budapesterstraße and Linzer Straße to the East Bavarian fibre-optic network. Data transmission speeds of up to 1 gigabit per second are now possible – a true information superhighway at the speed of light. Plans are underway to connect other parts of the port in 2019. "Our investments are significantly increasing the efficiency of our infrastructure," says Joachim Zimmermann. "For our customers, efficiency means improved reliability, better planning and greater efficiency – key factors for using the environmentally transport modes of inland waterway and rail." For 2019, bayernhafen is planning to initiate further investment of around € 8 million at its Regensburg location.
Out with the old, in with the new: In 2018, bayernhafen demolished a building near the dock in Linzer Straße and then constructed a new 3-storey office building providing around 1,900 m² of space – completion is scheduled for the second quarter of 2019. The first tenants, DTU Donau-Transport- und Umschlagsgesellschaft mbH and Kühne + Nagel Euroshipping, are already on board. "We have expanded our portfolio to include more than just land and now also offer our clients office space," explains Joachim Zimmermann.
Anchor point bayernhafen
The quality of its location has attracted more companies to bayernhafen: In January 2019, bayernhafen Regensburg played host to the ground-breaking ceremony for a 16,000 m² logistics facility that the real estate group, Goodman, is building for the logistics service provider, Kühne + Nagel. "Companies choose bayernhafen locations because the whole package is just right," says Joachim Zimmermann. "As we own the properties, the rental and leasehold contracts we offer provide companies with an excellent basis on which to build. We focus on land recycling instead of land consumption, and, if necessary, we convert commercial sites to prepare them for new forms of use. The trimodal infrastructure is in place. On top of this, there is also synergy between the companies operating from the port sites. This combination makes bayernhafen Regensburg a strong anchor point and a major driver of the entire East Bavarian economy."
bayernhafen – the integrative factor
"Our expertise lies in linking the transport modes of inland waterway, rail and road," says Joachim Zimmermann. "The overarching goal is to share the load more fairly between the transport modes – because only when we leverage the strengths of each of the transport modes will we succeed in bringing about the modal shift. At the same time, we see ourselves as the integrative factor between the industrial, trade and logistics companies who operate from our locations and in the surrounding economic regions. This enables us as 'site architects' to work together with the companies based at our locations to tap new potential for value creation. In order to boost the role of the bayernhafen locations as import and export hubs, we advocate for the acceleration of approval processes and, in the interests of a harmonious neighbourhood, the clear demarcation of port and residential areas. The zoning plan procedures for the west port / oil port are currently in progress with the aim of ensuring planning reliability – for the customers of the port and also for the neighbourhood.