26 August 2022 | Bamberg
Bundestag Member lends a hand at bayernhafen Bamberg
Dr. Jonas Geissler takes a look behind the scenes at the port as an intern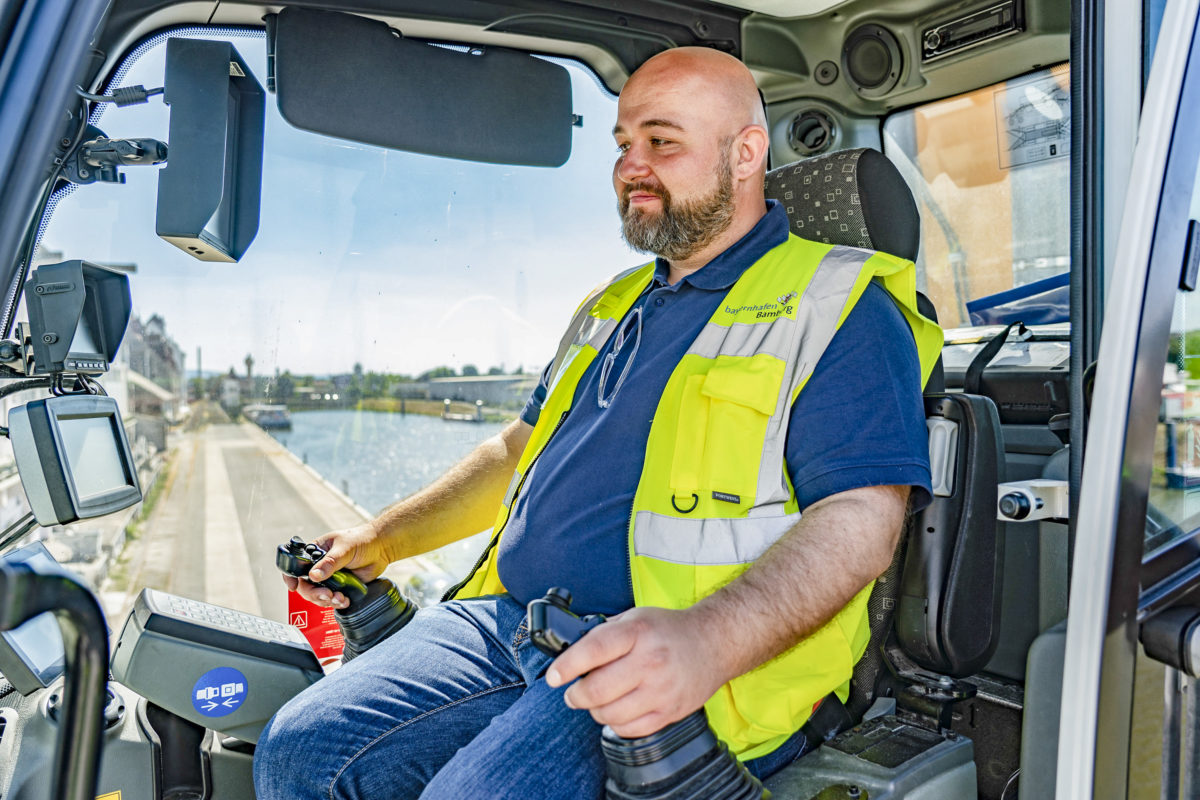 Bamberg, 25 August 2022 – On 11 August 2022, bayernhafen Bamberg welcomed a special trainee: Member of the Bundestag Dr. Jonas Geissler (CSU) swapped his jacket for a high-visibility vest to take a look behind the scenes at the port. bayernhafen comprises the six inland port locations of Aschaffenburg, Bamberg, Nuremberg, Roth, Regensburg and Passau.
His itinerary included several hands-on stops where Dr. Geissler was able to lend a hand. Among other things, he learned about the classic handling activities at the port when he moved a container using a reach stacker at the combined transport terminal, registered and calibrated a barge, and loaded cargo into the barge's hold using a mobile excavator.
Video highlights of the port internship day
The port internship program is a multiplier scheme run by the Federal Association of Public Inland Ports, of which bayernhafen is a member. The aim of the format is to make the role and importance of inland ports accessible to decision-makers in a hands-on way.
"The port internship here in Bamberg was an absolute highlight for me because it was incredibly interesting and varied," said Dr. Jonas Geissler, who was delighted to have the opportunity for this rather unusual change of perspective. "Here at bayernhafen in Bamberg, you can see the large volumes of freight that we can move in an environmentally friendly way via inland waterway. I would like to see us being able to shift even more freight onto water in the future, the oldest of all infrastructure routes, and I am going to work hard to make that happen."
Dr. Jonas Geissler discussed the opportunities and challenges of the port together with Klaus Hohberger, member of the bayernhafen Board of Management, and Anja Bokeloh, Head of Technology and Operations at bayernhafen Bamberg, also in the light of the future topics of the energy transition and more environmentally friendly freight transport.
"We were delighted that we were able to show Dr. Geissler our home port of Bamberg in action and that he himself lent a hand. This allowed him to experience first-hand what the port can do to ensure the reliable supply of goods. Thank you very much for your commitment and dedication," said Anja Bokeloh. As a memento and symbolic recognition for the successfully completed internship, Ms. Bokeloh presented Dr. Geissler with a certificate and a 'The Inland Ports' table flag.
Joachim Zimmermann, the Chief Executive Officer of bayernhafen and President of the Federal Association of Public Inland Ports, was also pleased with the positive response: "The port internship enabled us to show Dr. Geissler in the truest sense of the word that the port is not just a place for barges to lay anchor, but an important hub for many transport chains, a hub for the energy transition and a driving force for economic development and employment in the region. We want to anchor knowledge of the performance and importance of inland ports and their infrastructure even more firmly in the public consciousness through intensive insights, such as through port internships or our port festivals."