1 February 2021 | Passau
Businesses bank on climate-friendly rail service: non-stop from Lower Bavaria to the North Sea
bayernhafen now actively linked to the German seaports by daily freight train services.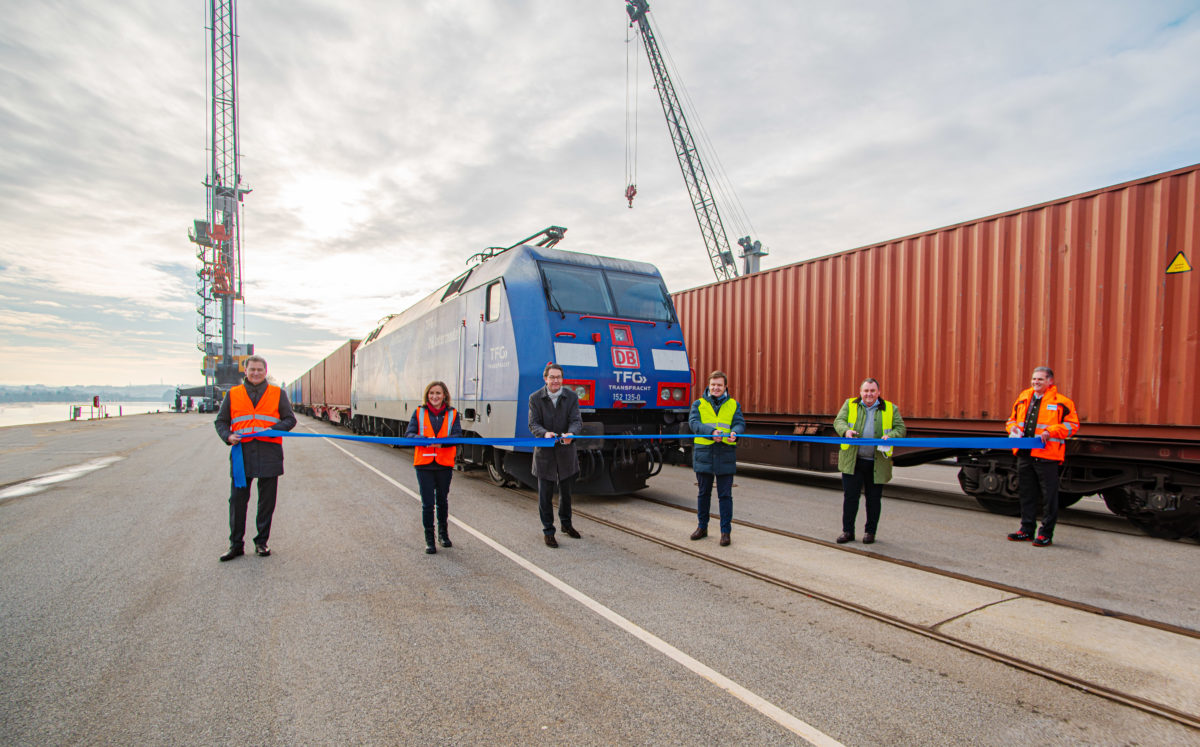 Federal Minister of Transport, Andreas Scheuer, and the Bavarian State Minister for Housing, Construction and Transport, Kerstin Schreyer, praise the logistics cooperation partnership in the region: bayernhafen Passau and the DB Cargo subsidiary, TFG Transfracht, expand the freight train network between Passau and the ports on the North Sea. The project originates from an initiative in the Transport Committee of the Chamber of Commerce and Industry.
Passau, 1 February 2021 – Daily freight train services now actively link bayernhafen to the German seaports, providing a commercial boost to import and export-oriented companies located in Lower Bavaria. The initiative for this new, climate-friendly combined transport (CT) link was taken by companies from the region – the CT link operates without the need for subsidies. The train service is operated by the DB Cargo subsidiary, TFG Transfracht, which has led the market in so-called seaport-hinterland container transport for more than 50 years.
The AlbatrossExpress started transporting freight from Passau to the North Sea ports at the beginning of February. The terminus and logistics hub is the terminal at bayernhafen Passau. Primarily containers with automotive components and commercial goods are transported to Lower Bavaria from the north. Exports to the north include products from businesses in Lower Bavaria, including the automotive, regenerative technology and agricultural sectors. The seaports of Hamburg, Bremerhaven, Bremen and Wilhelmshaven are linked to bayernhafen Passau by environmentally friendly rail services. Reachstackers and a mobile crane, in use since early 2019, are used to handle containers at bayernhafen Passau.
In addition to combined transport, the partners DB Cargo, TFG Transfracht and bayernhafen offer an additional service for wagonload transport.
The idea of establishing Passau as a port-hinterland location was conceived in 2019 in the Transport, Logistics and Infrastructure Expert Committee of the Lower Bavarian Chamber of Industry and Commerce (IHK).