18 June 2021 | Passau
Drivers of Sustainability – bayernhafen attends future dialogue forum
Joachim Zimmernann, the Chief Executive Officer of bayernhafen, joins the "DRIVERS" at Sparkasse Passau's digital discussion forum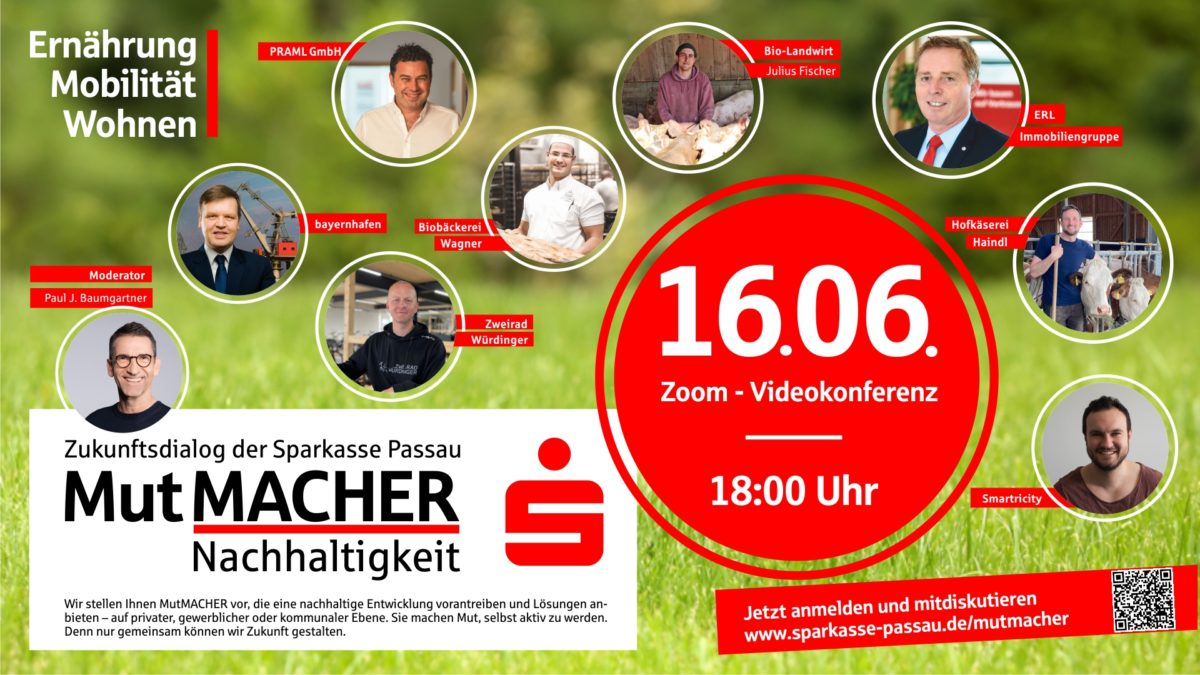 On 16 June 2021, the Passau-based bank, Sparkasse Passau, invited members of the public and the business community to the future-oriented digital dialogue, "Drivers of Sustainability". The bank's objective for the dialogue was to present individuals and companies from the region who are encouraging sustainable development and driving solutions – at the private, commercial or municipal level.
Joachim Zimmernann, the Chief Executive Officer of bayernhafen, was also a member of the discussion panel. He illustrated how bayernhafen Passau-Schalding is cooperating with its partners to continually implement environmentally friendly logistics solutions, making it a true "DRIVER port".
Additionally, the discussion was attended by a number of drivers in the fields of mobility, nutrition and housing:
Harald Praml, from solar panel experts, PRAML GmbH
Stefan Würdinger, from the bicycle specialist, Zweirad Würdinger
Ferdinand Wagner, from the organic bakers, Biobäckerei Wagner
Julius Fischer, farmer
Andreas Huber, from the organic dairy products specialist, Hofkäserei Haindl
Michael Hasler, from the digital electricity experts, Smartricity
Thomas Bily, from the real estate group, ERL Immobiliengruppe
The Mayor of Passau Jürgen Dupper and county councillor Raimund Kneidinger also took part in the event.
The Antenne Bayern radio presenter Paul Johannes Baumgartner moderated the digital discussion and briefly introduced each topic. Then the audience were shown the video inserts for each DRIVER example that were pre-produced by Niederbayern TV. Despite the summer weather and the European Cup, an audience of 120 tuned into the online event. They actively used the opportunity to ask the speakers questions via chat and to make their opinions on the topic of sustainability felt via live poll.
The video insert on bayernhafen Passau can be seen here: (Source: Sparkasse Passau / Niederbayern TV)