25 February 2019 | Passau
Federal Minister of Transport inaugurates new crane in bayernhafen Passau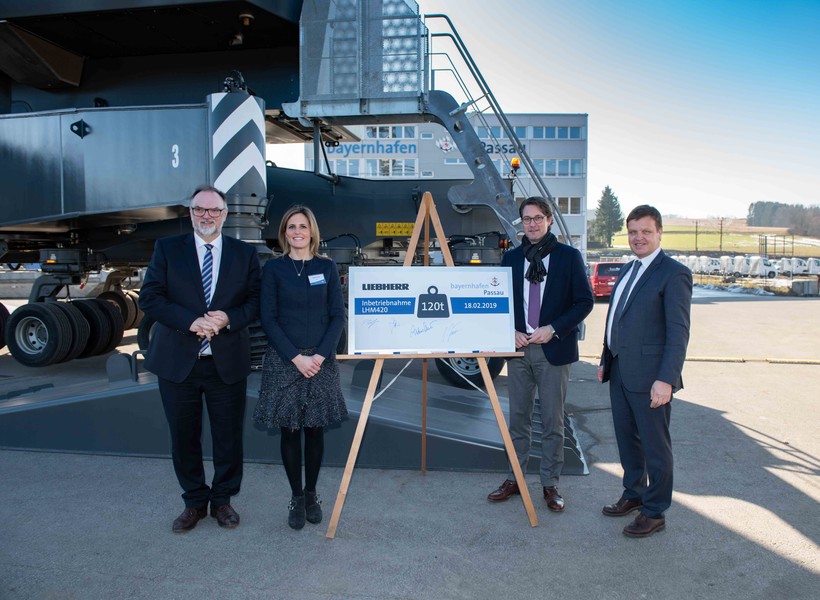 On 18 February 2019, Andreas Scheuer, the Federal Minister of Transport and Digital Infrastructure, officially inaugurated the brand-new mobile harbour crane at bayernhafen Passau. The Type LHM 420 crane can handle single loads weighing up to 120 tonnes – practically double the capacity of its predecessor. It is the world´s first mobile harbour crane from Liebherr to meet the EU emissions standard 5. bayernhafen is investing in its trimodal infrastructure, thereby paving the way for the development of new fields of business in Passau.
The new mobile harbour crane can be used for bulk cargo, groupage as well as for container handling. It can also be equipped to handle heavy-lift cargo, such as complete wind turbines. Although the previous crane was able to handle relatively light wind turbine blades, an additional external crane was needed for the heavy towers and generators that individually weighed up to 100 tonnes. The new 120-tonne crane can do this on its own, resulting in faster and more efficient processes. This will enable bayernhafen to strengthen the special role of the Passau site for heavy-lift and high-volume transport and represents, says bayernhafen's Chief Executive Officer, Joachim Zimmermann, "a strong basis for further growth and the development of new fields of business."
Investment totalling € 4.2 million in infrastructure expansion in bayernhafen Passau
Around ten years after the inauguration of the trimodal port site in Passau-Schading, bayernhafen has once again significantly expanded its infrastructure. For example, the quay-side loading tracks were extended by around 280 metres to cover the entire length of the approximately 880-metre quay. Additionally, the storage capacity for bulk cargo was increased from two to ten silos to an approximate total of 1,800 m³. bayernhafen's customers use these facilities as a trimodal transit station for temporary interim storage. bayernhafen's investment in the new expansion of its infrastructure of around € 4.2 million represents a highly concrete contribution to shifting the transport of goods onto the railway and inland waterway networks and has created the conditions for a new 'interaction' in Passau: the interlinking of waterway and rail into an integrated transport concept.
The Federal Minister of Transport, Andreas Scheuer, explained: "The new crane will boost the port location of Passau on the Danube." At the inauguration, he was able to fulfil a dream by performing the first crane lift in his life. The Minister added that they were working intensively on the master plan for inland waterway, saying: "Inland waterway is a highly important mode of transportation. Our goal is to intelligently combine the transport connections via the transport modes and to leverage the potential for shifting freight and cargo transportation on to the waterways."
For Passau's Lord Mayor, Jürgen Dupper, the new mobile harbour crane is a continuation of the city's successful port history: "These are bold investments that will contribute to Passau's development."
The LHM 420 was built in Liebherr's factory in Rostock, true to the motto of 'made in Germany.' Patricia Rüf, the third generation of Liebherr company owners, said: "This new crane will enable bayernhafen Passau to considerably increase its performance, and we are really happy that we played our part in making this happen."
bayernhafen Passau is Bavaria's gateway to and from Southeast Europe. Through its lightering services, it plays a key role in shipping on the Danube. For ships arriving from Southeast Europe and Austria, it is the last Danube port before the undeveloped Vilshofen-Straubing stretch. As a certified cargo and freight handling company, bayernhafen also provides lightering services directly to shipping operators in Passau, which helps them save costs. If long-haul transportation is to be shifted on to the environmentally friendly transport modes of inland waterway and rail, the interfaces – the inland ports – need to be strengthened. bayernhafen is consistently pursuing this strategy at its six locations of Aschaffenburg, Bamberg, Nuremberg, Roth, Regensburg and Passau.
Video:
Timlapse-Video: