11 December 2022 | Regensburg
Flood protection system completed
Danube embankment / Westhafen Regensburg section ceremonially inaugurated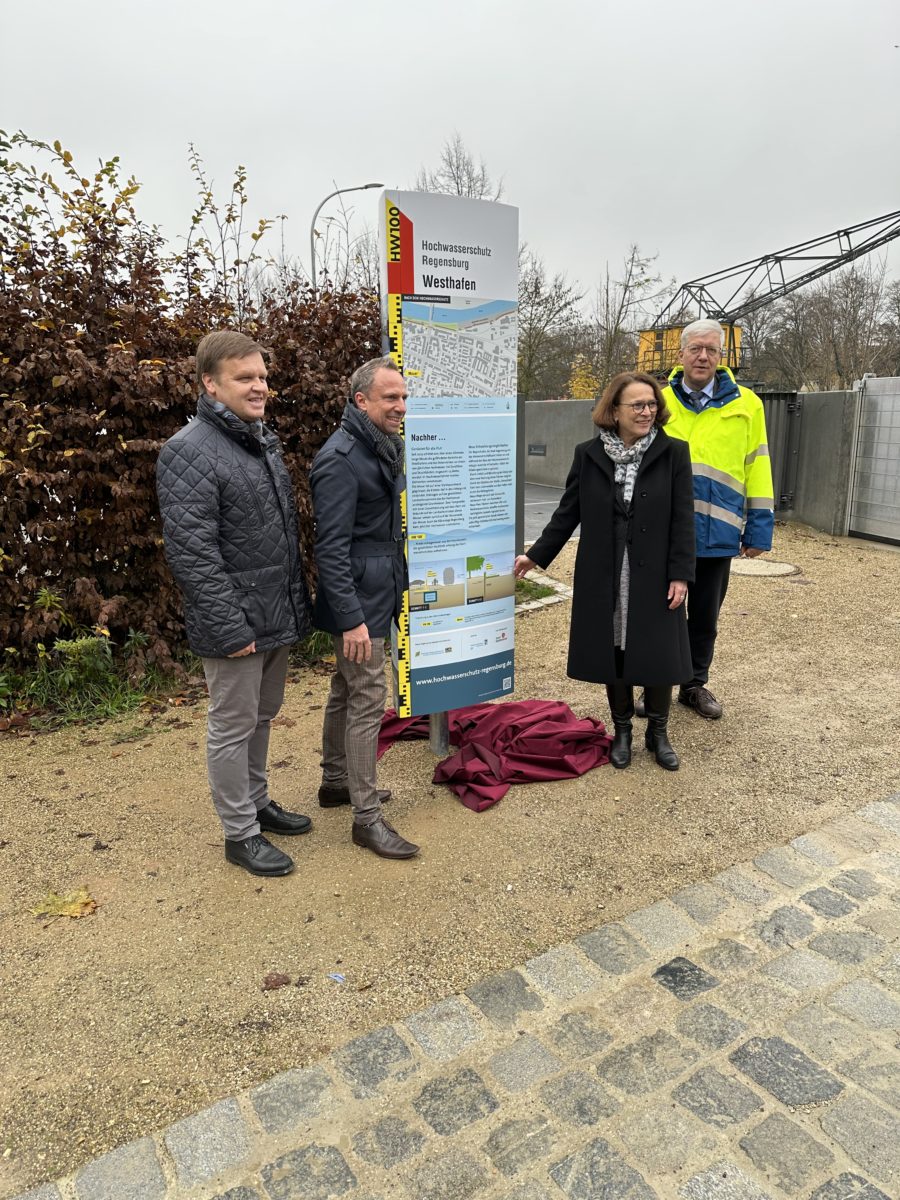 After a construction period lasting around two and a half years, the flood protection work along the riverbank between the Royal Villa and Linzer Strasse / Westhafen was finally completed. In November, the Minister of the Environment for Bavaria, Thorsten Glauber, travelled to Regensburg for the inauguration ceremony. Covering an area of around 80 hectares, the flood protection system will provide greater protection for a large number of businesses and around 5,000 residents in the neighbouring communities. The flood protection system will also provide greater safety for companies located on the Danube embankment and in the Westhafen port.
A sheet pile retaining wall was installed over a length of around 900 metres. Depending on the terrain, the wall is between 1.50 and 2.50 metres high and penetrates to a depth of up to eight metres. At passage points, flood protection is provided by mobile elements. The project is being implemented by the Free State of Bavaria, represented by Regensburg Water Management Authority (WWA). The total cost of the approximately € 10 million project will be shared by the Free State of Bavaria and the City of Regensburg. The land required for the construction of the flood protection system was made available by bayernhafen as the owner of the land, and preparatory construction work was carried out in advance.
After completion of the flood protection system, the next step is to redevelop the riverbank area between Österreicherstadel and Babostraße. bayernhafen and the City of Regensburg are working together to continue the attractive redevelopment of the 'Danube promenade' from the western part of the passenger ship docking area to Babostrasse. The riverbank path was opened up to the public following the development of the current river cruise ship pier on the Danube embankment. Bicycle and pedestrian traffic is also permitted on the riverbank path and requires mutual consideration from all sides. The riverside path, originally a purely commercial path used by the port, has only been in existence since the mid-1990s. The entire Danube embankment was used by ships and trains right up until the early 1990s. There are also plans to build a children's playground on the Danube embankment. The land required to do so has been provided to the City by bayernhafen.
More information on flood protection
Section Q – Ostenvorstadt/Westhafen| flood protection Regensburg (bayern.de).