18 August 2018 | Aschaffenburg
Getting axles safely to their destination
Teamlog is building a new logistics centre in bayernhafen Aschaffenburg for the spare parts business of axle manufacturer, SAF-Holland.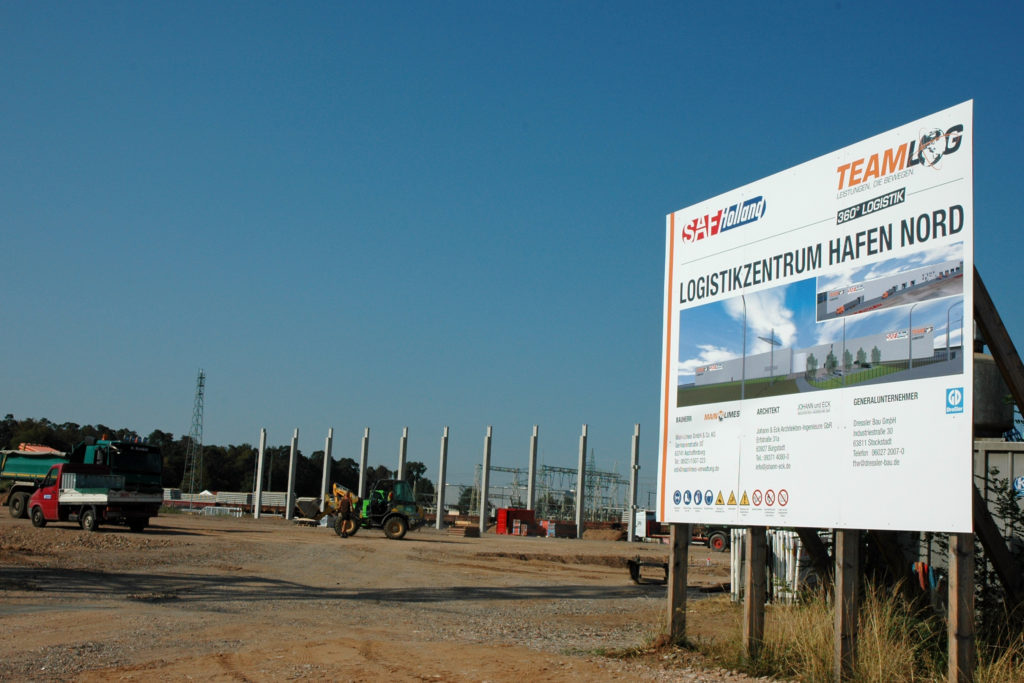 Axles are essential for road mobility because they transfer the power of the engine to the wheels. For this reason, the manufacture of trucks, trailers and buses, along with the downstream spare parts business, absolutely needs the axles to be at the right place at the right time. This is where the logistics Service Provider Teamlog (approx. 400 employees) comes in. For more than ten years, the bayernhafen Aschafenburg-based Company has been providing precisely this Service to the axle manufacturer SAF-Holland. The supplier of parts for trucks, trailers and buses has its Headquarters in Bessenbach in the county of Aschaffenburg.
Now, Teamlog and SAF-Holland are intensifying their cooperation in the field of industrial contract logistics through the construction of a second warehouse facility at bayernhafen Aschaffenburg, which together with the Inland port Locations of Bamberg, Nuremberg, Roth, Regensburg and Passau, is one of the six bayernhafen locations. The new facility, which will be used to store spare parts for axles, suspensions and fifth wheels, will cover an area of approximately 14,000 m² and will have 6,500 storage bays, 1,500 small parts bays and 4,500 m² of space dedicated to block storage. The construction of the facility on the site of the dismantled substation is scheduled to be completed by the second quarter of 2019. The building costs alone amount to around € 10 million.
Continuous growth at SAF-Holland meant that the previous Teamlog spare parts facility in Germanenstraße had been stretched to the limit. Teamlog will use the new building to supply more than 25 SAF-Holland sales subsidiaries worldwide, as well as numerous national distributors and aftermarket resellers. "We do not merely store, but also ensure the optimisation of processes and inventory," says Teamlog Managing Director, Jürgen Huth. He adds that the new warehouse facility is designed to accommodate continued growth at SAF, and that process optimisation will also reduce traffic flows.
For Wolfgang Filippi, Branch Manager of bayernhafen Aschaffenburg, the new building is a logical progression of the long-standing cooperation between Teamlog and SAF-Holland. "Logistics is increasingly becoming one of the decisive factors for success. Professionally planned and executed logistics create efficiency, smooth processes an the highest degree of reliability. By linking inland waterways, rail and road transport, we provide the best possible conditions for logistics and industrial companies in bayernhafen Aschaffenburg."
The local news organisation, the Main-Echo, spoke to the companies involved. Watch the interviews with Bernd Oberding (Managing Director Teamlog), Alexander Geis (Managing Director SAF-Holland) and Wolfgang Filippi (Branch Manager bayernhafen Aschaffenburg):
"Under construction at the port of Aschaffenburg"