4 July 2018 | Nuremberg
Jobport premieres at bayernhafen Nürnberg
Surrounded by containers and imbued with pure curiosity, conversation, fun and a fantastic atmosphere, high-school students, recent graduates and job seekers flocked to bayernhafen Nürnberg to meet potential employers in the field of logistics and soak up the Jobport atmosphere!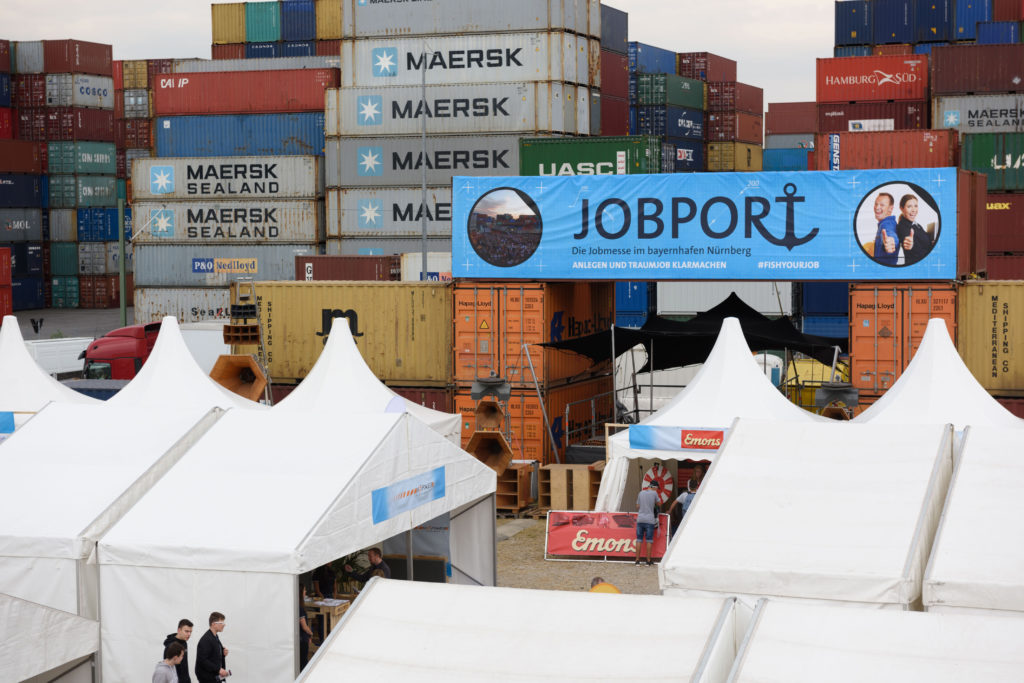 Nuremberg, 4 July 2018 – The 'Jobport' was due to kick off at 10 sharp – and that is exactly what it did. Students from Nuremberg schools flocked to the container event in bayernhafen Nürnberg, which, along with the locations of Aschaffenburg, Bamberg, Roth, Regensburg and Passau, is one of the bayernhafen group of companies. Aspiring specialists in warehouse logistics came with their teachers, business school graduates checked out potential first employers, and young people were keen to know what makes international freight forwarding, container terminals and transport companies so exciting. And, from one minute to the next, the more than 20 exhibiting logistics companies from bayernhafen Nuremberg and the metropolitan region were inundated with visitors, with a total of over 1,000 visitors descending on the port to experience logistics live.
The host, Alexander Ochs, Managing Director of the operating company of bayernhafen Nürnberg, Hafen Nürnberg-Roth GmbH, immediately sensed in his welcoming address that the young visitors were keen to have a look around, try things out and ask questions. And so he invited them to do just that, saying: "Logistics means diversity. Form your own impression and shape your own future!" "Logistics is cool," was the message of Dr. Michael Fraas, Spokesman on Economic Affairs of the City of Nuremberg. "This sector has a lot to offer, and jobs in logistics provide challenging, complex duties." He also stressed that logistics offers opportunities to climb the career ladder – right up to positions at the top. Alexander Ochs and Dr. Michael Fraas then opened the Jobport with the signal horn of a shunting locomotive that is typically heard throughout the port.
The visitors then moved from tent to tent to soak up the logistics atmosphere. They enquired about internships, apprenticeships and job offers, were amazed at the global activities of the companies, listened to the employees of the exhibiting companies – and some promptly left behind their CVs. They also had a lot of fun: One stand offered cool sunglasses, another starter kits; at yet another, a wheel of fortune was waiting, and at another a one-armed logistics bandit. And again and again there was the almost incredulous sight of the 'Job Wall', boasting over 150 (!) job opportunities on offer from the exhibiting companies.
"We deliberately chose logistics because it is an industry with a future," said one of the aspiring specialists in warehouse logistics. And a ninth-grader said: "I didn't know the port had so much to offer. I particularly like the fact that the companies here all work so internationally." The exhibiting companies also expressed how satisfied they were. "We were very positively surprised," said Manuela Kistner, Head of Training at Emons. "Great location, top organisation – we got a lot of job applications and made many contacts." The Managing Director of TriCon Container Terminal, Marcus Dober, also chatted to a lot of interested people: "Young people are interested in technology and opportunities for development. The container location was a great place to have a casual chat. It is quite a special feeling to be able to introduce young people to the diversity and broad range offered by logistics in this fantastic environment." Jeanette Köber, Training Officer for the Geis Group, gave similar feedback: "We immediately got talking about training and career opportunities. The setting has shown its worth – interaction such as our goal wall is such a simple way to bring people together." The open-air location – surrounded by impressively large containers – also contributed to the atmosphere. The exhibitors' tents were equipped with stools and benches designed like pallets; food trucks provided catering; and a professional photographer had set up a small studio to shoot job application photos for free. "It was a truly well-rounded event," said Alexander Ochs. "We are really pleased about the positive response to the very first job fair. We had many interesting discussions with the exhibiting companies. It's fantastic to see young people discover their passion for logistics! I'm already looking forward to the second Jobport next year."