13 April 2018 | Passau
Leveraging the potential of inland waterway and rail
bayernhafen Passau in the 2017 financial year: cargo handling by inland waterway and rail grows by a third (317,617 tonnes); call for expression of interest for Passau-Schalding completed; concept for Racklau Winter Port presented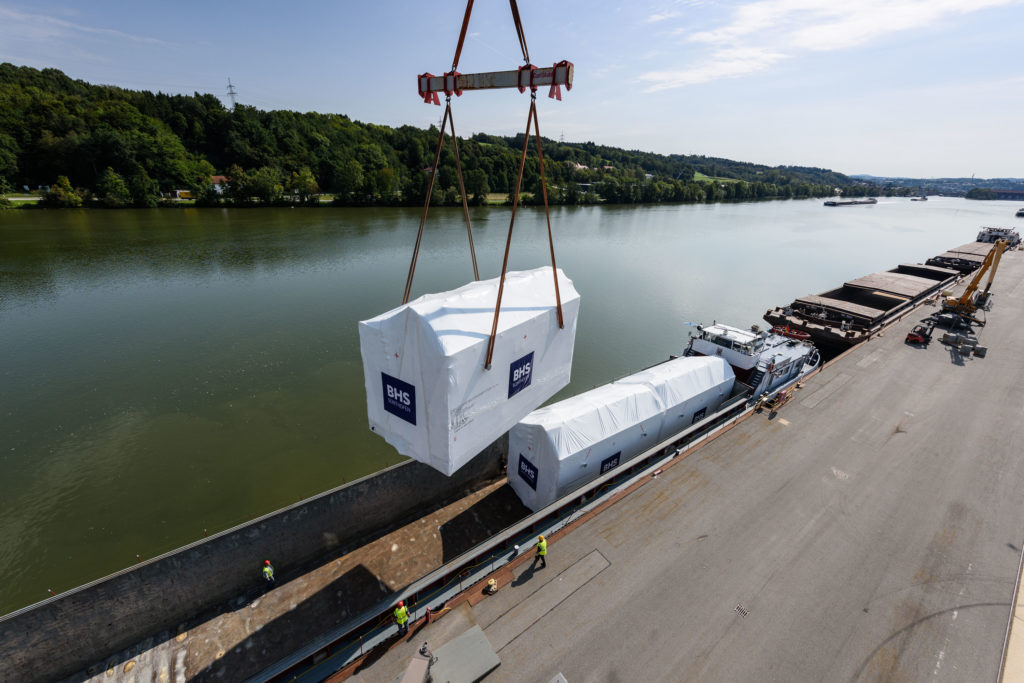 Passau, 13 April 2018 – A total of 317,617 tonnes of freight were moved via the environmentally friendly transport modes of inland waterway at bayernhafen Passau in the past financial year, up by a third on the previous year. There was 11.3% growth (257,982 tonnes) in goods transported by inland waterway. Rail traffic increased almost tenfold (59,635 tonnes), mainly due to the handling of windthrow. In 2017, bayernhafen Passau, along with Aschaffenburg, Bamberg, Nuremberg and Roth, and Regensburg, one of the six bayernhafen Gruppe locations, continued to pursue its strategy of creating the best possible conditions for the transport of freight by inland waterway and rail. In 2017, in order to ensure the long-term development of the Passau corporate location, it conducted a so-called call for expression of interest.
For months, the windthrow caused by thunderstorm 'Kolle' in Lower Bavaria dominated cargo handling in Passau. Between the middle of September and December 2017, more than 58,000 tons of windthrow were loaded onto block train and inland waterway at bayernhafen Passau to be shipped to various sawmills in Germany, Austria and Romania. In addition to providing the port infrastructure, bayernhafen also performed the role of coordinator to ensure non-discriminatory access for various forest owners and associations, enabling them to serve a range of customers using the different modes of transportation. This made it possible to sell the windthrow in a number of regions.
The lion's share of the shipping tonnage comprised the freight classes of 'agricultural products' and 'human food and animal feed'. Through its lightering services, Passau is of particular importance for shipping on the Danube. The port of Passau also occupies a special position in the heavy-lift/large-volume transport sector. For example, BHS-Sonsthofen GmbH commissioned the loading onto barge of three 44-tonne candle filter skids and three 39-tonne pressure plate filter skids. The filters will be deployed at a new natural gas production facility in Saudi Arabia.
bayernhafen Passau's ro-ro facility saw intensive use in 2017. Donau Star BG EOOD operates a scheduled ro-ro service between Passau and Bulgaria, calling in at various ports on the Danube in Austria, Slovakia, and Romania. Among other things, it transports tractors and combine harvesters as well as general cargo such as transformers. Hitzinger Transporte has been using the ro-ro ferry to serve customers in the mobile home market since mid-2017. Panel vans of the models Citroen and Peugeot are mainly transported by rail to Passau, where the vehicles are prepared and transported by barge to Budapest.
Call for expression of interest for Passau-Schalding

In order to ensure that its operational processes and services best meet the needs and requirements of all of its customers, bayernhafen Gruppe conducted a call for expression of interest for Passau-Schalding in the past financial year. Although the bayernhafen location, which opened in 2008, offers ideal conditions for moving goods by inland waterway, rail and road, the 450 metres of quayside at its disposal mean that it is limited in terms of space and infrastructure. Over 80 companies, including existing customers, in the region were approached. The insights gained from the responses received will be used to further develop the products and services provided at the location. Under consideration, for example, are collaborations, sharing models and services offered through bayernhafen as the platform operator – naturally, in non-discriminatory form.
"Maintaining and developing infrastructure is a never-ending task,"

says Joachim Zimmermann, Chief Executive Officer of bayernhafen Gruppe. "Infrastructure is the backbone of our industry – it must be constantly kept up to date. In our capacity as owner-developers, we carry out this work ourselves at our locations. Improving the conditions for transporting goods by inland waterway and rail requires persistence and perseverance. That's why we invest continually in rail and water infrastructure and in the services we deliver at our locations."
For 2018, bayernhafen Gruppe is planning to invest around €32 million in all of its locations. This includes re-developing sites for commercial use and carrying out optimisation work over several years on the rail and inland waterway infrastructure. It is planning to invest in its crane fleet and railway infrastructure in Passau.
River cruise sector
In 2017, a total of 150 hotel ships docked at bayernhafen Passau, 74 of which at Racklau. In May, Jürgen Dupper, the Mayor of Passau and Joachim Zimmermann, the Chief Executive Officer of bayernhafen, presented the plans for 'Racklau Winter Port'. The plans have since been further pursued and the current status will soon be presented to the City's Committee for Urban Development and Transport. The 'Living with Water' concept study envisages use of the port for tourism and leisure activities and takes flooding-related aspects of the location into account. The aim is to construct piers for four to five cruise ships along with a terminal building. In the past, high demand meant that some river cruise operators in Passau were diverted to piers in nearby Austria. The concept also includes building water-borne holiday apartments, so-called 'floating houses'. Also under discussion is the construction of stilt/aqua houses, piers for houseboats and water taxis, as well as parking spaces for mobile homes. The existing infrastructure for the water rescue service is to be retained.