21 September 2023 | Passau
Multimodal transport chains are the future
The Chamber of Industry and Commerce of Lower Bavaria, bayernhafen, TFG Transfracht and Spedition Pfeil showcase "Passau as a Multimodal Hub" at the Praxisdialog 2023 forum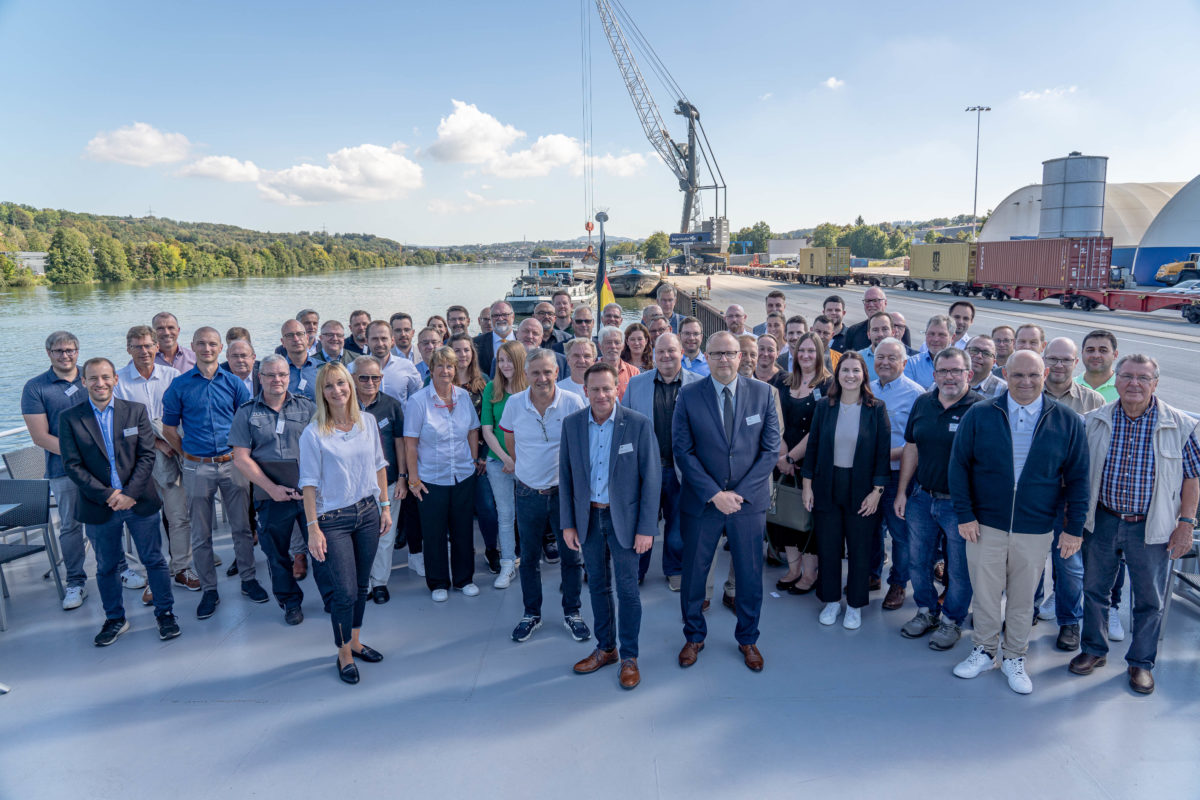 "The port itself is not very big, but the opportunities Passau offers are tremendous," said Klaus Jaschke, Deputy Managing Director of the Chamber of Industry and Commerce, welcoming the 80 or so business leaders attending the Chamber of Industry and Commerce's "Praxisdialog 2023" forum at bayernhafen in Passau-Schalding. Passau efficiently links inland waterway, rail and road and offers numerous opportunities for shifting freight traffic onto trains and barges. The Lord Mayor of Passau, Jürgen Dupper, appealed to the business leaders to take full advantage of this highly promising, intelligent and efficient opportunity. "There is a need in the economy currently for a great deal of flair and instinct, and we need commercial traders, service providers and industrial companies to secure the future viability of our city. bayernhafen is a calling card for Passau and we also offer the ideal conditions for protecting the climate," said Dupper.
This was confirmed by representatives from two Passau-based companies, Christian Köppl from Hornbach and Helmut Gaspar from Berger Beton, as well as Johann Brunhuber from Rolls-Royce Solutions in Ruhstorf. "You have to have the confidence to set your sights on new solutions. Distributing freight loads here at bayernhafen Passau offers advantages that cannot be matched by other transport modes," said Gaspar. Even if risks such as low water levels or disruptions to lock operations cannot be entirely ruled out, road transport is also not without its problems, such as traffic congestion, road works, shortage of HGV drivers or the Sunday driving ban. This is why the shift to ship and rail is a workable solution that meets the different needs of logistics service providers.
The freight forwarder Jürgen Pfeil, who has long advocated the expansion of the port of Passau for the same reasons, highlighted the numerous advantages of switching to ship and rail, such as higher loading capacity, greater energy efficiency and reduced regulatory requirements. This was also confirmed by the guest speaker Ulf Meinel from viadonau, the Austrian inland waterway operator, who gave numerous examples from daily operations of the many efficient ways in which the Danube can be used.
Christian Süß from TFG Transfracht, a maritime and port-neutral operator that organises global combined transport supply chains, was also enthusiastic about the opportunities offered by Passau. When it comes to "green logistics", combining transport by rail with inland waterway and road is also an ideal solution, he said. "We deliver flexible and reliable solutions to companies throughout Germany and in the process also drive sustainable protection for the environment," he confirmed to the Praxisdialog participants.
The real benefits of trimodality could be read in black and white: Berger Beton, Hornbach and ZF Friedrichshafen AG received certificates from TFG Transfracht and DB Cargo for saving up to 800 tonnes of CO2 in 2022.
During the subsequent tour of the facility, which involved a live demonstration of cargo and freight handling, Klaus Hohberger of the bayernhafen management team demonstrated how efficiently the port interlinks inland waterway, rail and road, particularly thanks to the almost daily train services to the German seaports. Through its lightering services, Passau plays an important role in shipping on the Danube. "As a result of its storage facilities and excellent accessibility for wide-load and high machinery components and the associated handling possibilities, bayernhafen Passau is key to securing the commitment of Bavarian plant and equipment manufacturers to remain in the region," said Hohberger. Since 2022, bayernhafen Passau has also boasted an enlarged customs station at the quay, which guarantees uncomplicated clearance not only for inland waterway cargo handling, but also for transport by rail and road.
The participants of the Chamber of Commerce & Industry's "Praxisdialog 2023" forum were impressed: "It is really inspiring to see the opportunities that are available to us right on our doorstep. The field of logistics is changing rapidly. Trimodality will in future clearly be more than just yet another of many alternatives," confirmed one entrepreneur.