29 May 2019 | Passau
New XXL-size luxury river cruise ship drops anchor
The 'AmaMagna' pays first visit to bayernhafen Passau-Racklau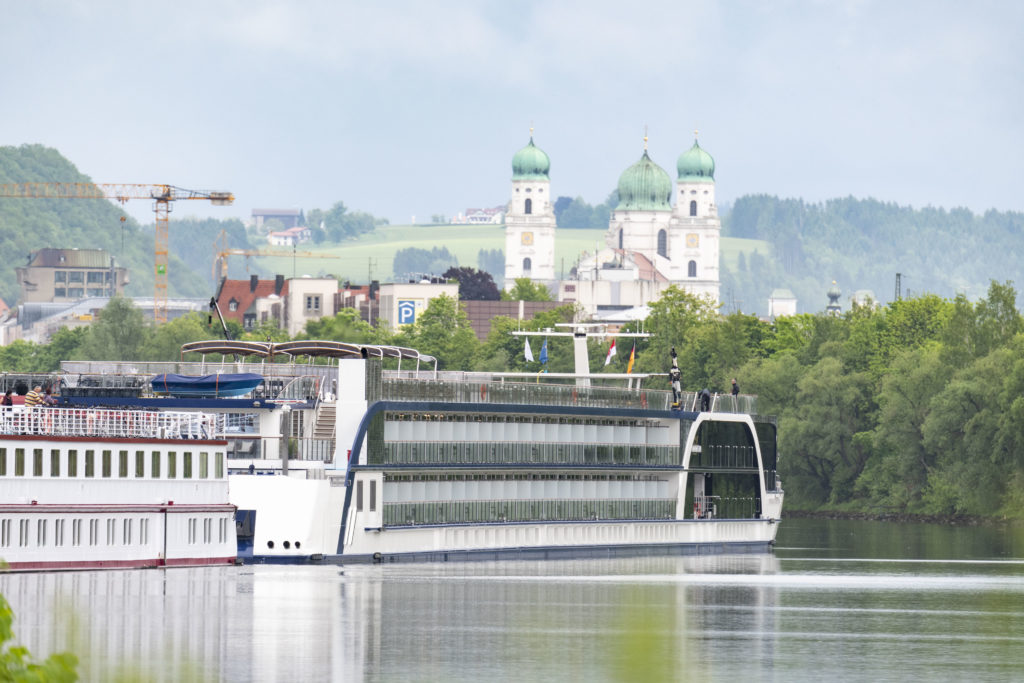 28y May 2019 – At 22 metres wide and 135 metres long, the new river cruise ship 'AmaMagna' is almost double the size of "traditional" river cruise ships, with their standard width of 11.45 metres. Throughout the 2019 season, the luxurious 'floating hotel', operated by the US river cruise company AmaWaterways, will travel on a weekly schedule along the Danube between Vilshofen and Budapest. Ships of this width can not travel on the Main-Danube-Canal due to the size of the locks. Last week, the 'AmaMagna' paid its first visit to bayernhafen Passau-Racklau.
The 'AmaMagna' lives up to her name: The new luxury cruise ship operated on the Danube by the river cruise company AmaWaterways is impressively large and spacious and equipped with a whole host of features. Over half of the 98 staterooms are between 33 and 66 m² in size and the 196 guests have a choice of four unique restaurants where they can dine. Built in 2019, the floating hotel is powered by an innovative hybrid diesel/electric multi-engine configuration.
When docking at the pier in bayernhafen Passau-Racklau, the captain demonstrated consummate skill, elegantly "parking" the 'AmaMagna' at Racklau. Depending on how the mood took them, the guests had a wide variety of guided shore excursions to choose from including  a walk through the historic centre of Passau, a bicycle tour, or visit to the Veste Oberhaus.
With passenger ship piers in Bamberg, Roth, Regensburg and Passau, and a further pier in Aschaffenburg added at the beginning of the year, bayernhafen offers the river cruise sector docking facilities at five locations in Bavaria from a single source. Over 1,900 'floating hotels' laid anchor in 2018, 238 of them at Racklau. bayernhafen Passau-Racklau already provides four berths for river cruise ships. For 2020/21, bayernhafen plans to increase the number of berths to seven, along with electrification and the prospective construction of a terminal building. In Aschaffenburg, bayernhafen is building a dedicated pier for passenger ships on the Main river in order to take pressure off the inner-city piers caused by ship-to-bus transfers.