5 September 2018 | Nuremberg
Nuremberg and China: another step closer
Second weekly Nuremberg-Chengdu service launched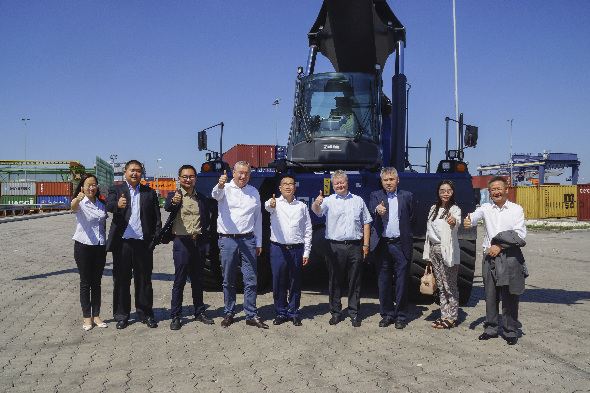 Nuremberg, 05 September 2018 – Nuremberg and China take another step closer: The Nuremberg-Chengdu freight train service is now operating twice a week – in both directions. As before, the journey time in one direction takes around 15 days, only half the time it takes by sea. A significant proportion of the 40-foot containers will carry automotive products, both for import and export.
Since October 2015, as part of China's 'One Belt – One Road' initiative, also known as the 'New Silk Road', a freight train has been running once a week between the 14-million inhabitant metropolis of Chengdu in western China and bayernhafen Nürnberg, which, along with Aschaffenburg, Bamberg, Roth, Regensburg and Passau, is one of the six bayernhafen locations. Now, due to high demand, the operator of the train service, Railport Chengdu, is doubling the weekly frequency: from now on, two trains a week will run in both directions. The journey via Poland, Ukraine, Belarus, Russia, Kazakhstan to China takes around 15 days.
The new train service will run continuously with a total of forty-one 40-foot containers, remaining the same even after changing between the standard gauge and the Russian broad gauge. No re-marshalling operations are required when changing track, thus making the train service even faster. In Chengdu, the train arrives at the Railport, from where the containers are distributed to destinations all across China – the same applies in the opposite direction.Dr. Michael Fraas, Spokesman on Economic Affairs of the City of Nuremberg, stresses the importance of the Nuremberg metropolitan region as an automotive industry location and the close economic ties with China "Nuremberg is now on the Silk Road! The high level of acceptance of the Nuremberg-Chengdu freight train connection and the doubling of the service frequency will strengthen the status of the trimodal freight transport centre of bayernhafen Nürnberg as the regional hub of the 'New Silk Road' for southern Germany and northern Italy. This will enable Nuremberg to act as a bridge and platform for the whole of Bavaria and southern Germany for trade between Europe and China." During the visit of a Nuremberg commercial delegation to Chengdu in November 2017, Nuremberg's Spokesman on Economic Affairs, Dr. Michael Fraas, and Chengdu's Lord Mayor, Luo Qiang, signed a commercial cooperation agreement between the two cities.
"If the economic power of the regions is good, it will also be possible to implement dual traffic over the longer term," says Alexander Ochs, Managing Director of Hafen Nürnberg-Roth GmbH, the operating company of bayernhafen Nürnberg. "This will give companies throughout the Nuremberg metropolitan region the opportunity to further expand their cooperation with Chinese customers and partners – this will offer customers lasting added value. The second train to Chengdu proves that the concept of the Iron Silk Road is gaining acceptance in Bavaria. Double is better."