21 June 2017 | Aschaffenburg
Our aim is a sustainable modal shift
2016 financial year: 1.1 million tonnes of goods moved by inland waterway and rail; 18.5% growth in container traffic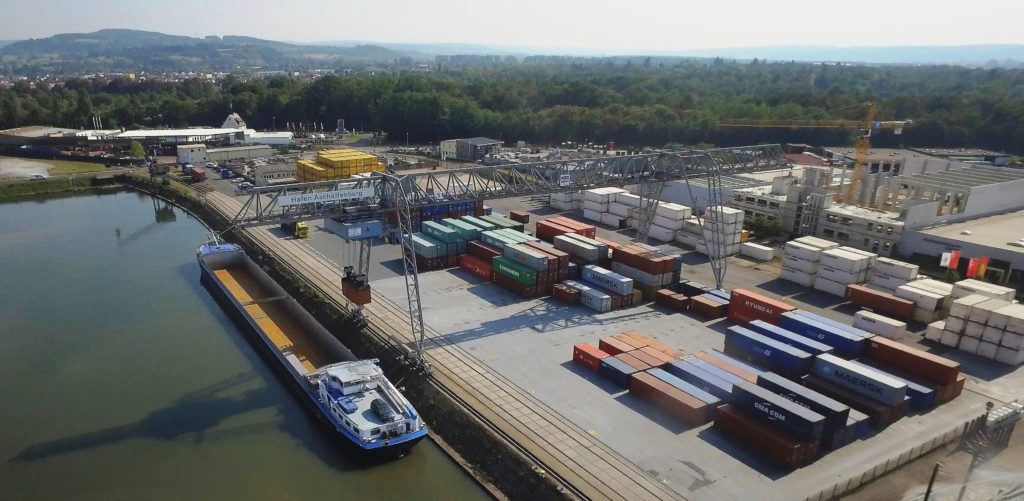 Aschaffenburg, 21 March 2017 – In bayernhafen Aschaffenburg, along with Bamberg, Nuremberg, Roth, Regensburg and Passau, one of the six bayernhafen Gruppe locations, a total of around 1.1 million tonnes of goods were moved by inland waterway and rail in 2017 (PY: 1.2 M t) – a double-figure growth of 18.5% in container traffic. In 2016, bayernhafen Aschaffenburg invested around €717,000 – in particular in port infrastructure. For 2017, bayernhafen Gruppe is launching an investment programme at its Aschaffenburg location totalling around €11.7 million to upgrade its infrastructure and optimise its technical equipment.
307,000 tonnes were moved by rail in bayernhafen Aschaffenburg last year, 9.2 percent down on 2015. Decreases were recorded for scrap metal, steel and timber, amongst other main freight products. Around 56,000 tonnes of timber were handled for the Pollmeier sawmill in 2016.
In container traffic, a total of 26,572 TEU (1 TEU corresponds to one 20-foot container) were loaded from road to rail and water or vice versa, an 18.5% increase on the previous year. The industries and trading companies along the Bavarian Untermain intensively use the inland waterway links via Mainz to the ZARA ports of Zeebrugge, Amsterdam, Rotterdam and Antwerp, as well as the rail links to the German seaports of Bremerhaven and Hamburg. The collection and distribution of goods in the region is undertaken by road for this transport chain.
There was a 3.8% decrease to 790,000 tonnes for goods transported by inland waterway. This was the result of falls in the main classes of goods such as quarry products, cellulose, coal and mineral oil. An increase was recorded in the handling of scrap metal, which doubled to almost 100,000 tonnes. Recycling companies in the port shipped various types of scrap collected throughout the wider region, for example, to steelworks in the Rhine-Ruhr region, where metal scrap is processed to steel.
Modal shift in long-distance freight transport …
… is one of bayernhafen Aschaffenburg's primary goals. Key to achieving this goal is intelligent interlinking of the three transport modes in the transport chain: road, rail and inland waterway. The extent of the modal shift is evident when, instead of focussing on the tonnage of cargo moved, we consider the transport performance of the individual modes of transportation in tonne kilometres. Data provided by the German Federal Ministry of Transport and Digital Infrastructure (BMVI) showed that, in 2014, freight was transported in Germany an average of 309 kilometres by rail and 259 kilometres by barge. Road transport, which in particular handles the first and last mile legs, only transported freight an average of 94 kilometres. Last year, the average transport distance by inland waterway at bayernhafen Aschaffenburg was around 500 km. This comes to around 350 million tonne kilometres for inland waterway at bayernhafen Bamberg. "Each tonne transported long distance by inland waterway or rail takes pressure off the road network and protects the environment," says Wolfgang Filippi, Branch Manager of bayernhafen Aschaffenburg.
Investment 2016 and 2017 project preview
In 2016, bayernhafen Gruppe invested around €717,000 in its Aschaffenburg location – in particular in port infrastructure. Further investments amounting to around €11.7 million are planned for 2017. These will include the introduction of measures, running over several years, to optimise the traffic infrastructure, like the modernisation of rail and handling facilities. "We invest on an ongoing basis", says Wolfgang Filippi, "in order to ensure that the port continues to do justice to its function as company location and logistics hub in the future and meets the requirements of the established companies and transport industry. Efficient linking of the modes of transportation are the prerequisite for attracting more companies to the location and shifting more traffic from road to the more environmentally friendly transportation modes of rail and inland waterway."
Developments at port companies
Various companies located in bayernhafen Aschaffenburg have developed positively in this environment. This is demonstrated through expansion work conducted at their headquarters last year. The asset management and investment company, NATE, refurbished the company headquarters of both of its tenants at the port, redcoon GmbH and DSV Road GmbH. The online electronics dealer was provided with more floor space for its administrative offices, and the Aschaffenburg branch of the Danish transport and logistics provider modernised its logistics centre to optimise processes and create room for expansion. Helmut Westarp GmbH & Co. KG, the waste management company specialising in the collection, transportation and processing of scrap, also expanded its administration offices. The fuel oil partner, Adolf ROTH GmbH & Co. KG, known as ROTH Energie, expanded its administration facilities in Kohlenkaistraße. The Linde forklift dealer, Suffel Fördertechnik GmbH & Co. KG, started the refurbishment and construction of its hydraulics and technology centre at its headquarters in the port.
bayernhafen Aschaffenburg as job magnet
In a 2016 empirical study of the impact on regional employment of the six bayernhafen locations, bayernhafen Gruppe examined how many jobs were affected by one inland port. The study was based on guidelines jointly developed by the Federal Association of Public Inland Ports and the Institute for Transport Planning and Logistics of Hamburg University of Technology. The results for bayernhafen Aschaffenburg: The 60 companies settled in the port provide around 2,500 primarily skilled and highly skilled jobs. Around 7,000 jobs in the region also depend on the port. This means that for each job at the port, there are 3 further jobs at companies in the region.
'The port experience – live' on Sunday, 24 September 2017
The people of Aschaffenburg and surroundings are once again warmly invited to visit the port and its resident companies on 24 September 2017. Technology galore, lots of movement, a fascinating look behind the scenes and, of course, an exciting trip on the historical steam train – all this awaits big and small visitors at the port festival.