19 April 2018 | Aschaffenburg
RAIL.ONE opens sleeper plant
bayernhafen Aschaffenburg reaches conversion milestone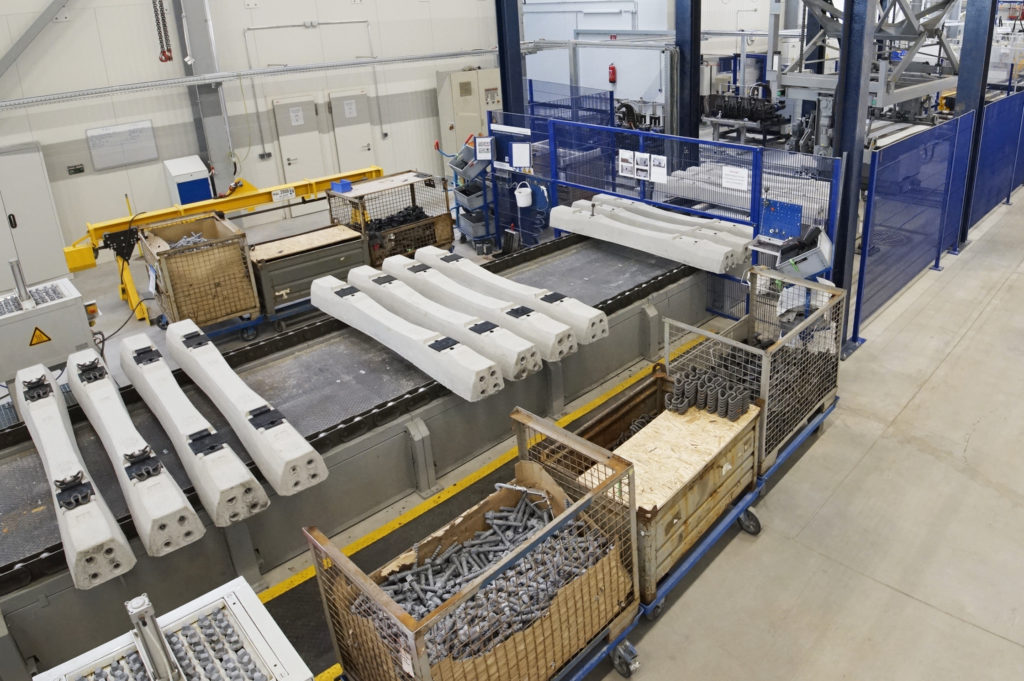 bayernhafen Aschaffenburg has once again demonstrated its key role as a location for industry: After a construction period of ten months, the Neumarkt-based RAIL.ONE Group is to start serial production of up to 600,000 concrete sleepers per year at its new plant in bayernhafen Aschaffenburg. The sleepers are destined for long-distance and local rail transport, in particular, in Germany. Every day, around 1,600 concrete sleepers on average will roll off the production line at the new plant in Aschaffenburg – enough for almost one kilometre of railway track. The total investment for the new plant, where RAIL.ONE will create almost 50 jobs in production and administration, amounted to € 10 million.
The plant in Aschaffenburg will replace the previous production facilities in Langen, in the federal state of Hesse. Several location-specific factors convinced RAIL.ONE to choose bayernhafen Aschaffenburg: Chief among them was the central location with trimodal links both for deliveries of raw materials and for shipping the finished concrete sleepers, along with the large storage capacity of up to 120,000 sleepers. RAIL.ONE uses two loading tracks with a capacity of 20 to 22 wagons per train.
At the inauguration of the plant, Jochen Riepl, Chief Executive Officer of PCM RAIL.ONE AG, said: "Our new site is a very important addition to our other production sites in Germany and key to the long-term success of our entire corporate group. For our most important customer, Deutsche Bahn, we will retain a presence at four locations." Kamal Kumar Mittal, Chairman of the Supervisory Board, who had travelled from India in honour of the occasion, said he was proud of this "addition to our family of a state-of-the-art sleeper production plant.
Lord Mayor Klaus Herzog emphasised that the jobs brought through the opening of the RAIL.ONE plant was a major boost to bayernhafen Aschaffenburg as a location for industry. Joachim Zimmermann, Chief Executive Officer of bayernhafen Gruppe, said: "The rail track network at the bayernhafen Gruppe locations alone covers some 120 kilometres. One example of this is the port marshalling yard at Aschaffenburg, which is currently being modernised.
Wolfgang Filippi, Branch Manager of bayernhafen Aschaffenburg, was also delighted: "The 35,000 square metres of land covered by the new RAIL.ONE facilities mark the first milestone in the conversion of the former transformer station, which has freed up 100,000 square metres of space for reuse since it was dismantled at the end of 2015.
Between 2002 and 2007, Europe's largest hardwood sawmill Pollmeier, was one of a number of companies that we were able to attract to the former site of a coal-fired power plant.
bayernhafen Gruppe, to which bayernhafen Aschaffenburg belongs, offers its customers temporary land ownership through leasehold and rental agreements. This ensures that land is used sustainably, reduces vacancy rates and enables a change in usage at its sites – site recycling instead of greenfield site construction.