Improvement to rail traffic accessibility in the European Core Network Port Regensburg
EU funds rail infrastructure upgrade in bayernhafen Regensburg
Eliminate bottlenecks for rail traffic – this is the goal driving a €5.48 million investment program by bayernhafen Regensburg in its rail infrastructure up to 2018. €1.096 million will come through a grant awarded to bayernhafen by the EU. bayernhafen Regensburg is the recipient of funding through the EU financing instrument 'Connecting Europe Facility' (CEF), based on the EU Commission's recommendations to the CEF Committee on selected projects. The EU funding emphasises yet again the importance of bayernhafen Regensburg as a logistics hub in Europe.
The investment is earmarked for improvement work such as extending the rail facilities to accommodate block trains, expanding electrification of the rail facilities and improving the flow of traffic at level crossings in the port. Along with bayernhafen Nürnberg, bayernhafen Regensburg is one of two inland ports in Bavaria that the EU has defined as Core Network Ports of European importance, located as it is on one of the nine central transport routes in Europe, the Rhine-Danube Corridor.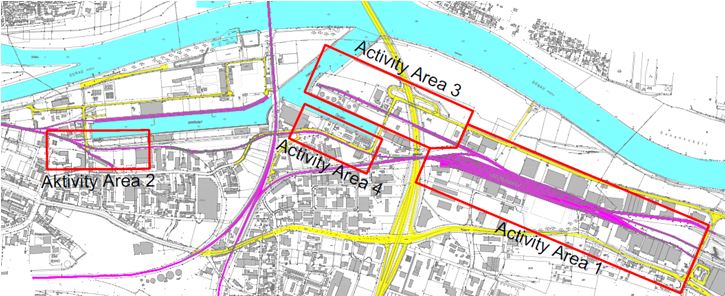 Project profile:
Title:  'Core Network Port Regensburg – Improving Accessibility'
Grant recipient:  Bayernhafen GmbH & Co. KG
Investment volume:  € 5.48 million
Funding: 20% through the EU Connecting Europe Facilities CEF fund
Measures:
Improving accessibility through adapting the marshalling yard to accommodate trains of 740m in length and through expansion in electrification.
Eliminating interference in the flow of traffic through optimisation of level crossings
Improvement in co-modality for road-rail transportation through construction of an electrified load transfer yard
Greater traffic safety through upgrading work to signaling and points switching systems
Responsibility for the information and views set out in this publication lies entirely with the author. Neither the European Union institutions and bodies nor any person acting on their behalf may be held responsible for the use which may be made of the information contained therein.