31 July 2023 | Bamberg
Shore-side eco-power for river cruise ships in Bamberg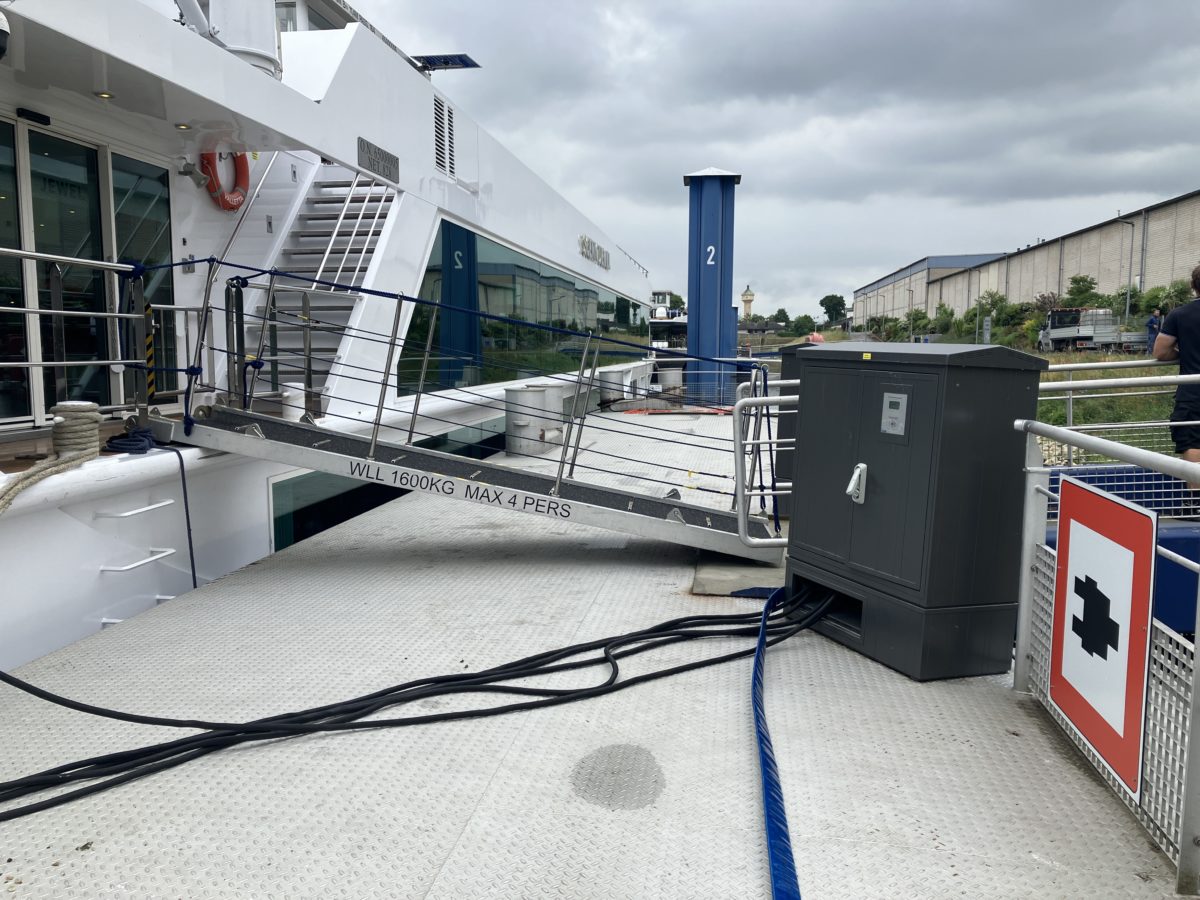 Würzburg/Bamberg, 30.07.2023 River cruise ships docking at bayernhafen Bamberg's piers near Regnitzstraße will in future be supplied with electricity from renewable sources delivered via shore power distribution terminals. The shore power distribution terminals in Bamberg were installed by bayernhafen and are operated by Würzburger Hafen GmbH (WHG). By supplying shore power, it will be possible to significantly reduce emissions that would otherwise impact on both the immediate vicinity of the port and the city of Bamberg at large.
Unlike the use of on-board diesel generators to produce electricity, powering the ships from the shore side is significantly more environmentally friendly and quieter.
The use of shore power significantly reduces nitrogen and sulphur oxide emissions, as well as fine dust, CO2, noise and mechanical vibration. The energy terminals installed at the Regnitzstraße pier will supply up to six river cruise ships with electricity from renewable energy sources at the same time for the entire duration of their stay.
bayernhafen has commissioned WHG to operate the shore power distribution terminals for the next 5 years. The concession covers the operation and monitoring of the facilities as well as the billing of customers for the use of the energy terminals. The terminals can be accessed via WHG's Service Card, which is already in use in several ports throughout Germany.
Thanks to its extensive experience and high level of expertise in the field of shore power supply, WHG has acquired contracts from customers throughout Germany for the operation and monitoring of energy terminals. In addition to supplying the six energy terminals, WHG has recently commenced supplying and selling shore power beyond the borders of Würzburg.
"We anticipate total sales of 400,000 to 600,000 kWh per year," explains Sandra Schmitt, Managing Director of WHG. "By using green electricity from renewable sources, we can reduce CO2 emissions by approximately 250 tonnes per year. We are excited about our partnership with bayernhafen because it enables us to make yet another important contribution to achieving net zero emissions."
bayernhafen operates docking facilities for river cruise ships at its ports in Aschaffenburg, Bamberg, Roth, Regensburg and Passau and continually invests in the expansion of the infrastructure at these locations as well as in the facilities available to supply the ships. "In addition to Bamberg, we already offer shore power in Regensburg," says Joachim Zimmermann, the Chief Executive Officer of bayernhafen. "Additional distribution terminals are in the pipeline for bayernhafen Regensburg and bayernhafen Passau as part of our energy concept."
Anja Bokeloh, Head of Technology and Operations at bayernhafen Bamberg, is excited about the joint project: "As a port operator, we see it as our responsibility to work together with our customers to develop sustainable energy concepts. By providing the new shore power distribution points for river cruise ships and also for cargo ships, we are doing our bit to prevent emissions impacting on both the immediate surrounding area and the environment at large.
WHG is both a pioneer and an experienced operator and supplier of shore-side power and energy terminals throughout Germany. That's why we really appreciate having WHG on board as a partner for the shore power project in Bamberg."
The project involves an investment of around € 1.6 million and has received funding from the Federal Ministry for Economic Affairs and Climate Action (BMWK) and the Bavarian State Ministry of Housing, Construction and Transport.