12 December 2017 | Bamberg
Strong partners deliver storage boost to sheltered workshops
More space through swap body sponsoring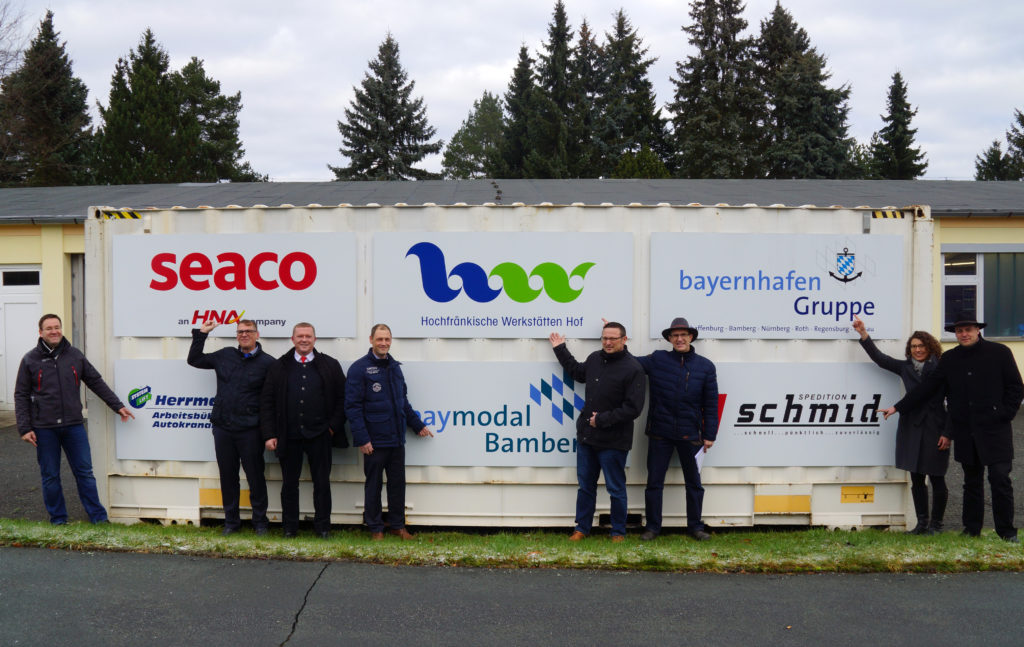 Hof, 30.11.2017 – Hochfränkische Werkstätten Hof (HW) manage a group of approved sheltered workshops for people with disabilities. With a current workforce of 520 employees in production and 120 employees in administration, the workshops provide production facilities that enable people with disabilities to be integrated into working life. They welcome people with mental, physical or psychological disabilities, giving them the opportunity to work under the most normal conditions possible while also focusing on meeting their individual needs.
Hochfränkische Werkstätten's Schollenteichstraße site primarily produces pattern sample chains for REHAU. For several years, the storage of raw materials and finished goods was a major issue. Although there had been ongoing discussions on acquiring a swap body to solve this problem, the decision was repeatedly postponed due to the high costs involved.
In order to turn this into reality, a group of sponsors agreed to jointly finance and organise the acquisition of the swap body.
Seaco – one of the largest container leasing companies in the world – sold a swap body for a 'special price' to bayernhafen. At bayernhafen Bamberg, the swap body was cleaned, repaired and refurbished by baymodal Bamberg, which is responsible for the operation and marketing of the high-performance container transfer facility. After affixing the sponsor logos, Schmid Transport und Spedition transported the swap body to the Hochfränkische Werkstätten Hof site, where it was offloaded and positioned with the help of a telehandler by the local service provider Herrmann & Wittrock. Since then, it has been used for storing raw materials and finished goods.
The sponsors assembled at the Hochfränkische Werkstätten site to officially hand over the swap body, combining the ceremony with a peak behind the scenes of the wide range of working areas.
Further information:
www.bayernhafen.de
www.baymodal-bamberg.de
www.seacoglobal.com
www.spedition-schmid.de
www.wittrock-gruppe.de
www.hw-hof.de