14 March 2023 | Nuremberg
Supply chain guarantor bayernhafen Nürnberg rises to the challenge
2022 financial year: bayernhafen Nürnberg and Roth move 4.4 million tonnes of goods by inland waterway and rail. At more than 350,000 TEU, combined transport remains at a high level.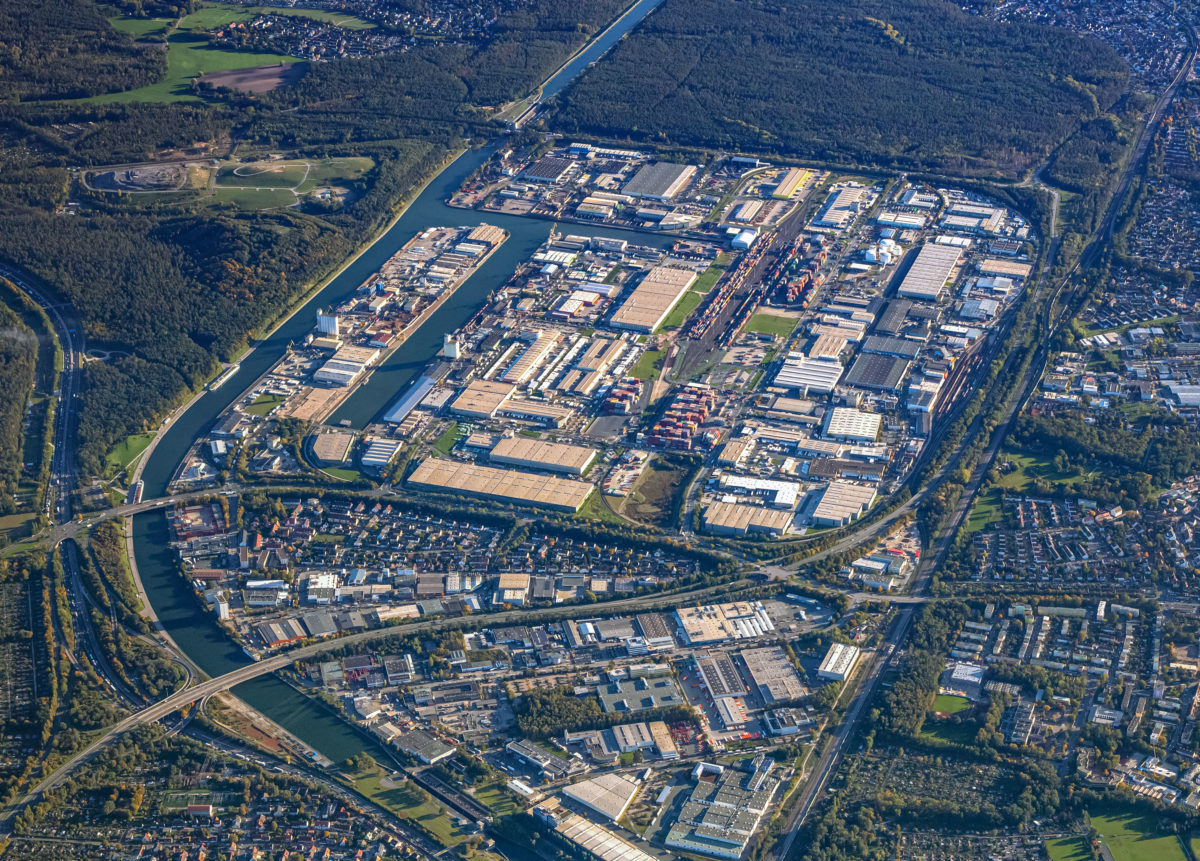 Nuremberg, 14.03.2023 – Despite 2022 being a difficult year, bayernhafen Nürnberg and Roth showed what they were capable of: 250,000 truck trips (almost 700 per day) were saved by shifting long-distance traffic to the more environmentally friendly modes of transport, rail and inland waterway. bayernhafen moved a total of 9 million tonnes of cargo and freight by barge and train at its six locations of Aschaffenburg, Bamberg, Nuremberg, Roth, Regensburg and Passau – at 1.8%, only slightly less than the previous year.
At bayernhafen Nuremberg, the total volume of goods moved by inland waterway and rail in 2022 amounted to 4.3 million tonnes, an increase of 4.4% on the previous year. Inland waterway volumes at Nuremberg and Roth fell slightly by 2% to 284,000 tonnes. This was mainly due to three factors. Lack of shipping capacity due to the sale of several ships to Eastern Europe to transport grain from Ukraine to the Romanian Black Sea ports. Further capacity is in short supply on the Main and Danube between Aschaffenburg and Passau as a result of the tremendous demand for coal transport, especially on the Rhine. And lastly, 2022 was a year of severe and prolonged periods of low water.
"
We act as the backbone for the supply of goods to society and industry. This function should not be constrained or even harmed.
Joachim Zimmernann,
Chief Executive Officer of bayernhafen
"Despite the challenges, however, we are seeing considerable interest and a fundamental willingness to expedite the shift to inland waterway and rail for transport, not only among our customers but also among companies in Bavaria. This entails undertaking investments to counter the bottlenecks that have developed. To ensure that bayernhafen remains the first port of call, last year we again initiated around €46 million (€30 million of which in Nuremberg) in multi-year investments in our port infrastructure, and this year we're adding another €28 million," says bayernhafen Chief Executive Officer, Joachim Zimmermann, who is also President of the Federal Association of Public Inland Ports.
"We act as the backbone for the supply of goods to society and industry. This function should not be constrained or even harmed. That is why we also take a clear position against the construction of an ICE factory in the Nuremberg port basin and the displacement of customers and the loss of hundreds of jobs that this would entail," says Joachim Zimmermann.
Combined transport remains at high level
At precisely 356,501 TEU (twenty foot equivalent unit), bayernhafen Nürnberg could report consistently high levels of combined transport – an increase of 7.7% on the previous year. The development of the first module of the trimodal (road, rail, inland waterway) CT terminal is already in full swing, both on the expansion and existing sites – all while daily operations continue. The public tender for the acquisition of three new container cranes has been issued, and the new reach stacker for mobile stacking and handling of containers has already been delivered. The expansion means that the CT terminal, which since entering into operation in 2006 has now reached the limit of its capacity, will gain a 21% boost in crane capacity.
"
We are constantly optimising and expanding our intermodal network of seaports and major logistics hubs.
Peter Stäblein
Chief Executive Officer, Hafen Nürnberg-Roth GmbH
We are constantly optimising and expanding our intermodal network of seaports and major logistics hubs. From the middle of January 2023, we will be premiering a weekly round trip between the Jade-Weser Port in Wilhelmshaven and Nuremberg," says Peter Stäblein, the Chief Executive Officer of Hafen Nürnberg-Roth GmbH, the operating company of bayernhafen Nürnberg and bayernhafen Roth.
Significant increase in heavy-lift
In heavy-lift cargo handling, a number of "heavy-weights" were transferred from road to water. Both bayernhafen Nürnberg and bayernhafen Roth loaded a total of more than 13,000 tonnes (up 69% on 2021), involving more than 130 components. In addition to boilers and office & accommodation container modules at bayernhafen Roth, this includes the shipping of numerous transformers, refrigeration units or generators via Nuremberg – anything that is difficult to lift and causes road blockages, but can easily be transported by water.
Investment in the future
In addition to the CT terminal, the most significant bayernhafen investments – in the double-digit millions – include the renovation of the quay facilities at bayernhafen Nürnberg, which is already in progress. At quay 1, the drainage infrastructure of the quay on the Main-Danube Canal is being upgraded to the latest modern standards over a length of 425 metres at a cost of around €2.3 million. This will include the installation of 6 large-scale treatment plants for sedimentation and rainwater filtration. The new rainwater system was designed by bayernhafen itself. The next step is to modernize the road and rail transport facilities at the quay to enable the use of mobile cargo handling equipment. New mobile material handlers have already been ordered for both bayernhafen Nürnberg and bayernhafen Roth.
Optimal infrastructure to attract new businesses and ensure efficient cargo handling
DURMIN Entsorgung und Logistik – "The Green Angels" – has been operating from bayernhafen Nuremberg since 1996. By leasing a 3 ha site at quay 1, where the quays are currently undergoing redevelopment, it is expanding its portfolio to approximately 16 ha. DURMIN intends to invest tens of millions of euros at the new site in a number of processing plants for mineral and non-mineral waste and products. The Green Angels' 360 employees process waste and ensure that the things we throw away become green again.
In addition, Rhenus Freight Logistics is currently planning a modern warehouse and handling facility of around 10,000 m² on the almost 40,000 m² of available area at quay 2. The preparatory work on the site has been completed, the building permit has been granted, and the project can now enter the implementation phase.