21 March 2019 | Bamberg
"We are making our infrastructure even stronger"
The 2018 financial year in bayernhafen Bamberg: 520,911 tonnes of cargo moved by inland waterway and rail – down 12%; bayernhafen invests € 2 million; container traffic +18%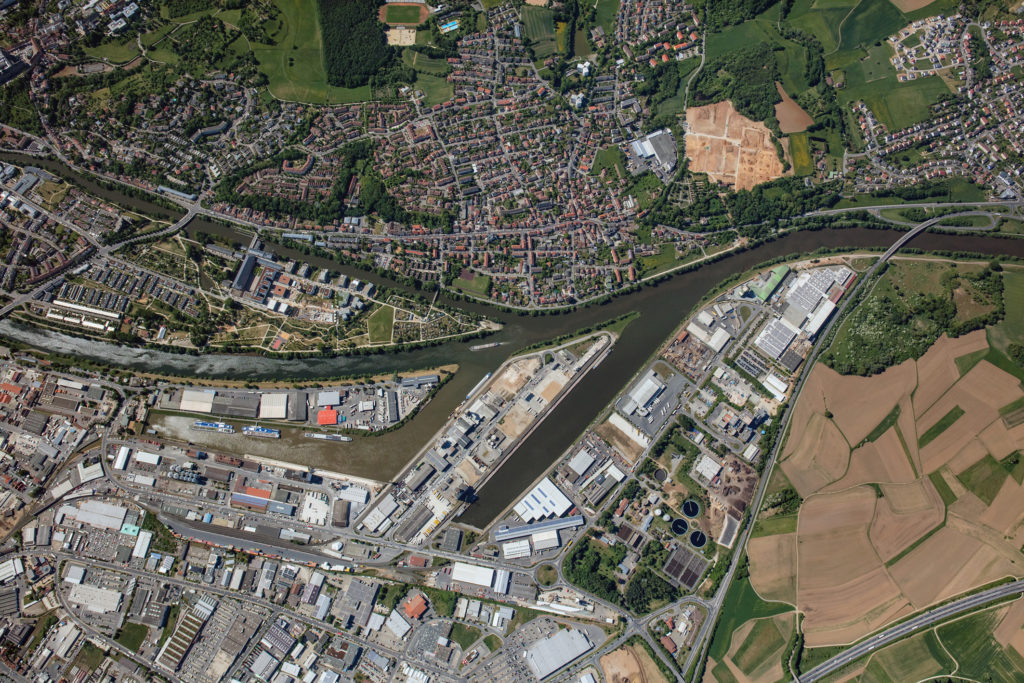 Bamberg, 21 March 2019 – In 2018, bayernhafen Bamberg (along with Aschaffenburg, Nuremberg, Roth, Regensburg and Passau, one of the six bayernhafen port locations) continued the steady development of its port infrastructure. In the past financial year, bayernhafen Bamberg followed the € 4.6 million it invested in 2017 with a further investment of € 2 million. The objective of the investment is to improve the efficiency of its infrastructure and provide industrial, trade and logistics companies with the best arguments for using the environmentally transport modes of inland waterway and rail for their import and export activities. In 2018, 520,911 tonnes of goods were moved by inland waterway and rail in bayernhafen Bamberg, 12% less than in 2017. However, container traffic recorded growth of 18%.
2018 was the warmest and one of the driest years in Germany since records began. For months on end, hardly any rain fell … and the waters of the Rhine and Danube dropped to historically low levels. This development also had an effect on bayernhafen Bamberg: In 2018, the volume of goods transported by inland waterway fell by 20.2% to 215,673 tonnes. This was mainly due to declines in fertilisers, animal feed, minerals and scrap. Agricultural and forestry products continue to account for more than 35% of the goods transported by inland waterway at bayernhafen Bamberg. Rail handling also reported a decrease of 5.2% to 305,238 t, the result of, in particular, a decline in the volumes of mineral oil and fertilisers transported by rail.
€ 2 million investment boosts efficiency
In 2018, bayernhafen also invested € 2 million in its Bamberg location. For example, in 2018, the loading and unloading of cargo from and to barge was optimised through the conversion of a sloped bank into a vertical bank. In addition, in the port marshalling yard, the existing wooden sleepers were replaced with concrete sleepers and a mobile material-handling machine was added to the crane fleet. "We are targeting investment in our infrastructure to make it even more efficient," says Michael Wöhrl, Branch Manager of bayernhafen Bamberg. "For our customers, this means greater reliability and improved efficiency in the planning of their logistics chains."
18% growth in container throughput
At 29,610 TEU (*twenty-foot equivalent unit) in the 2018 financial year, the combined transport (CT) terminal in bayernhafen Bamberg significantly exceeded the 25,089 TEU reached in the previous year by 18%. The CT terminal in bayernhafen Bamberg has been linked to the German North Sea coast by intermodal train since 2018: Services now run two times a week from and to Wilhelmshaven and four times a week from and to Hamburg / Bremerhaven. This has brought the companies based in Upper Franconia even closer to the global market – for importing intermediate products, components and commercial goods as well as for exporting regional products. In combined transport, the lion's share of transport is by rail, with regional distribution carried out by road, the so-called first and last mile. At bayernhafen Bamberg, special containers are handled in which Deutsche Bahn transports domestic waste to Bamberg for the waste-to-energy plant in Erlangen.
Investment and plans for 2019
In 2019, bayernhafen is planning to invest more than € 700,000 in Bamberg, including in the optimisation of the road infrastructure, preparatory work to extend its commercial sites and in ongoing maintenance of its rail infrastructure. "As a modern, market-focused service provider, bayernhafen naturally regularly examines whether its infrastructure meets the current market conditions and customer requirements," says Michaela Wöhrl.
Utilisation of the cruise ship pier stable
In 2018, 764 cruise ships carrying around 124,000 passengers docked at bayernhafen Bamberg – 5% fewer than the previous year and likewise the result of the months-long low-water levels. For 2019, advance registrations have been received for almost 830 hotel ships. The solutions developed in cooperation with the City of Bamberg and the cruise ship operators have proved to be successful in better reconciling the interests of river cruise ship tourists and the inhabitants of the city. Some of the many ideas include smaller groups, alternative routes and the use of local products on the ships.
'The port experience – live' on 15 September 2019
bayernhafen Bamberg is planning to stage its port festival once again in 2019. On Sunday, 15 September 2019, under the slogan of 'The port experience – live', bayernhafen Bamberg will open its doors to the public. Just like during the port festival in 2012, it will bring together a range of companies and partners from the port who will offer visitors an exciting behind-the-scenes look into the three transport modes of inland waterway, rail and road, and offer visitors a hands-on experience of the fascinating technology on-site. Lots of fun for young and old. "We are looking forward to showing the visitors everything that our port has to offer, with all the aspects that make ports so interesting and valuable for everyone," says Michaela Wöhrl.