12 March 2019 | Regensburg
Zero emissions delivery-van sharing for world heritage site
bayernhafen and the City of Regensburg launch car sharing pilot project ELSA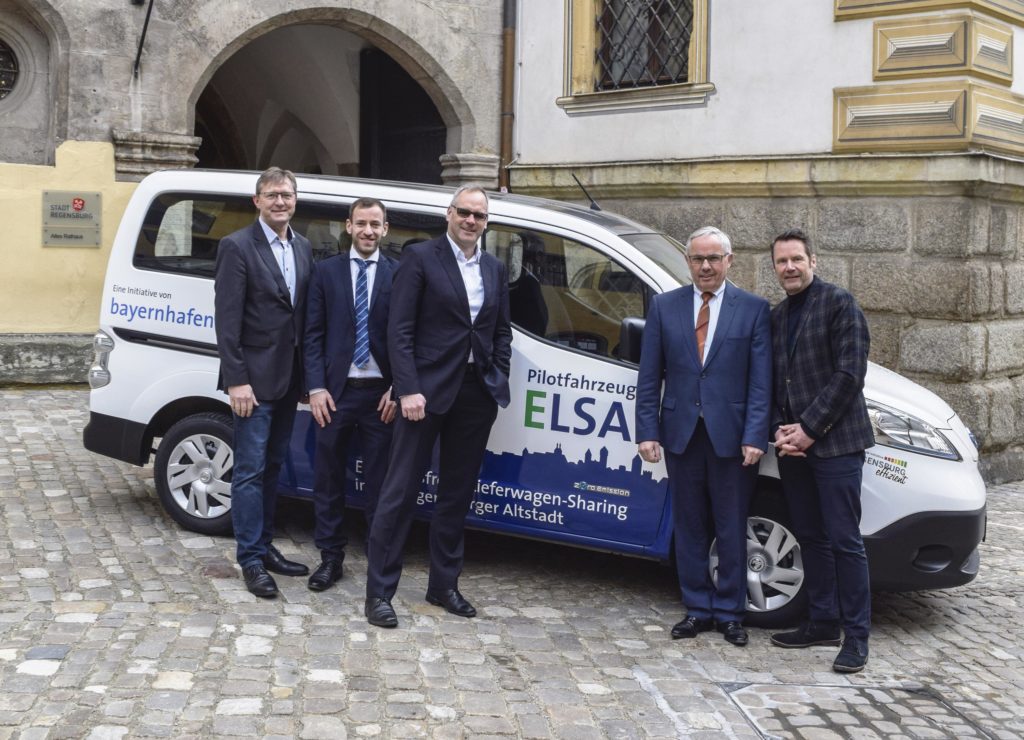 The car-sharing pilot project, ELSA, will in future provide tradespeople with exclusive access to delivery vehicles. Shop owners, hotel operators and restaurateurs will be able to rent the right vehicles that they need for deliveries and waste disposal via a specially developed reservations platform.
"Sharing is an everyday reality in the port. We provide access to facilities and machines that can be used by the companies operating from the port as and when they need them," explains Klaus Hohberger of bayernhafen's Management Board. "ELSA transfers this model to the historical old town. When several traders share the same electric vehicles, this means fewer parking spaces will be needed and no emissions will be released."
Project partners
As the project-executing agency and partner of the City of Regensburg, bayernhafen is responsible for managing and coordinating the project. bayernhafen will also finance the two electric transporter vans as well as the software and hardware needed for the reservation system. bayernhafen will rent parking spaces and recharging infrastructure, manage vehicle maintenance, set up a 24/7 hotline for questions and problems, and will pay the costs of the electricity provided by the local energy provider, REWAG, using renewable energies.
The "Energy and Climate Mission Statement" developed in consultation with the inhabitants of Regensburg attaches great importance to mobility and transport. That is why the City of Regensburg is incorporating ELSA into its energy and climate protection management programme as a further service in the car-sharing sector. The aim of this new service and the use of electric vehicles is to make commercial transportation more energy-efficient, climate-neutral and better for the environment. It will also improve the air quality of the city. Further plus points will be the reduction in the number of vehicles and an increase in the acceptance of both the car-sharing concept and e-mobility.
Energieagentur Regensburg will be responsible for advising the project partners and will coordinate scientific support, which will be provided by Regensburg University of Applied Sciences in the form of student dissertation work and in cooperation with Professor Sonja Haug of the Faculty of Social Sciences.
"This project can be a further building block for an attractive historic town centre where our customers happily spend time and enable us traders to transport our goods in a way that is good for both the environment and our customers," says Ingo Saar of the association Faszination Altstadt e.V.
The vehicles
Two NISSAN eNV 200s will initially be used for the two-year pilot phase: one vehicle with storage space for transporting only parcels and goods, the second for mixed transport, such as for ferrying up to four hotel guests and large-sized luggage.
Locations
The vehicles and recharging points will be located in the multi-storey car parks in Petersweg and on Dachauplatz.
Advantages
Access to the pedestrian zone also possible outside stated delivery times (special permit)
Cheaper price: € 2.99 / hour
Vehicles designed for use in the historic town centre with low vehicle width, small turning radius and low cargo space
Two vehicle types: goods transport and mixed transport
Access to the vehicle fleets of "das Stadtwerk.EARL" and "KERL eG"
Central vehicle locations: multi-storey car parks on Dachauplatz and in Petersweg
High availability due to exclusive use for traders
Zero emissions and quiet
Your contact:

Andreas Plank
Kfm. Assistent der Geschäftsleitung
Tel. 0941 79504-53
a.plank@bayernhafen.de
[Download not found]
Videoabout ELSA from Local TV-Station TVA:
https://www.tvaktuell.com/mediathek/video/regensburg-pilotprojekt-elsa-soll-altstadt-entlasten/