8 June 2020 | Bamberg
"Welcome to the World Heritage City of Bamberg!"
bayernhafen Bamberg receives first cruise ship after Corona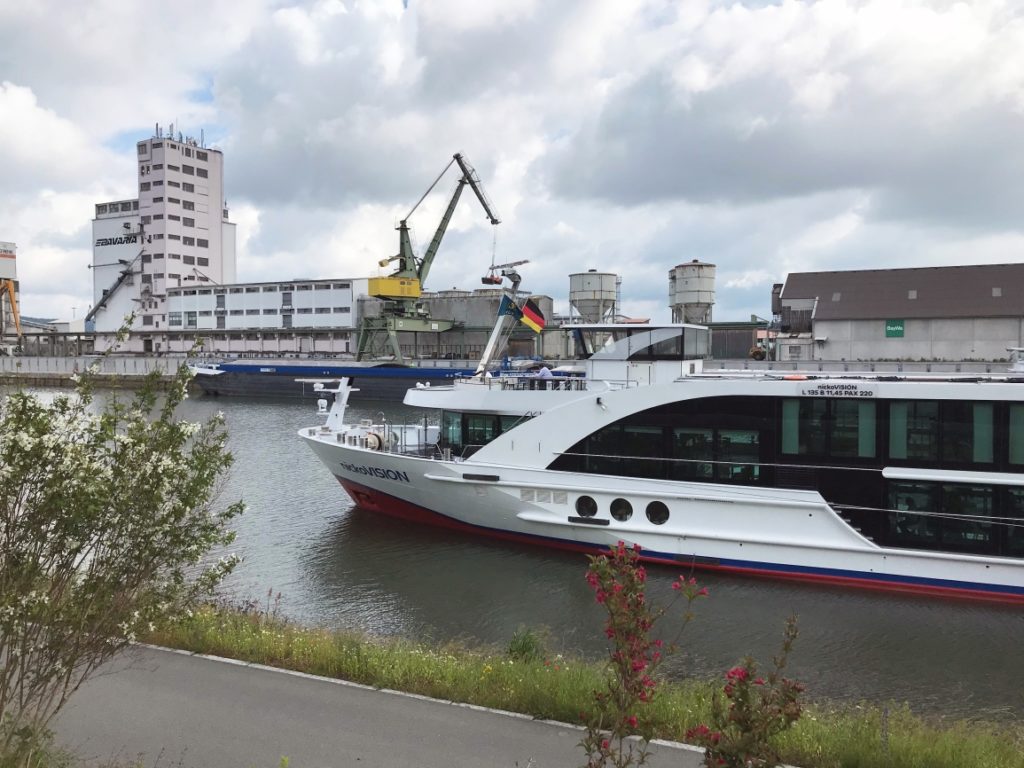 Bamberg, 8 June 2020 – Since the middle of March, the Coronavirus has put tourism – and with it the river cruise sector – on hold. Now, tourists in Germany have started to travel again and enjoy the beauty of Bavaria's river landscapes. On Friday, 5 June 2020, after a hiatus of around ten weeks, the first river cruise ship – the 'nickoVISION' operated by the Stuttgart-based tour operator nicko cruises – called in at bayernhafen Bamberg en route from Straubing to Düsseldorf.
On board the 'nickoVISION' were a crew of 31 and 34 passengers, who, due to the travel restrictions that will remain in place until the middle of June, were exclusively tourists from Germany. They were greeted by a team from bayernhafen Bamberg, who naturally paid strict attention to the rules on physical distancing and hygiene. The bayernhafen team presented the passengers with a small souvenir of Franconian wine in a traditional rounded 'Bocksbeutel' bottle as well as a bayernhafen keychain in the shape of an anchor. The tourists were then driven by bus to the city centre, where two guides took them on a fascinating tour of the World Heritage City.
"Over the coming weeks and months, people will be re-discovering the beauty of Bavaria," says the Chief Executive Officer of bayernhafen, Joachim Zimmermann. "This will also help the river cruise sector get back on course. It is a good signal." As a consequence of the Coronavirus, cruise ship operators are required to submit a suitable hygiene management plan before their hotel ships will be allowed to dock at bayernhafen Bamberg. In 2019, 830 river cruise ships called in at bayernhafen Bamberg; the impact of the Coronavirus will most certainly result in a significantly lower number docking in 2020.
Cargo handling will also resume in the coming days as the port swings back into operation. bayernhafen Bamberg is a cargo and freight hub that connects the regional economy of Upper Franconia to the rest of the world and ensures that long-distance traffic is shifted from the road networks to the environmentally friendly transport modes of inland waterway and rail. The port is home to 70 companies that together provide 1,800 jobs. The importance of efficient supply chains and a robust infrastructure has also become particularly evident in the light of the challenges posed by the Coronavirus. "The people who keep the 'show on the road' are in particular those employees whose work cannot be done from home," says the Chief Executive Officer of bayernhafen, Joachim Zimmermann. "Whether high up in a crane, behind the wheel of a forklift or reach stacker, at the helm of a barge, in the warehouses, in the recycling centres, or indeed anywhere on site – they all deserve our utmost respect."